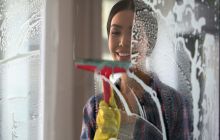 Is your home about to go on the market? Or has it been lingering there for some time, gathering viewers but no offers? Perhaps you've followed the standard advice to declutter, remove photographs and other personal knick-knacks, touch up tired paintwork, pressure-wash the patio, and ensure pots and planters give your garden colour and interest. What more, you may ask, can you do to push your home into local sold property prices listings?

Here are seven ideas to try that you might not have thought about.

1. Wash the windows

A national home improvement company conducted a study that revealed that the average property viewer spends around a fifth of every viewing looking out of the windows. Yes, they may well be checking whether or not passengers on the top deck of the buses that pass along the road can see into the bedrooms. They might also be gauging if the view from the living room window is obstructed by the neighbour's car. However, even if they're doing as you'd hope they would and are admiring your carefully-tended garden, can you be sure that they're not going to be distracted by dirty or smeary windows?

Late winter is perhaps the time of year when windows need all the help they can get. Weeks of wind and rain may have spattered them with grime even as you decide to hold off on the window cleaning until the weather improves in the early spring. This can be a mistake: with a little effort (yours or your local window cleaner's), you can have your home's windows gleaming and streak-free. While you're at it, have a look at the window dressings. If you have Venetian blinds or plantation shutters, are they dust-free? If not - and, to be fair, most people's are not - wrapping a ruler in a piece of soft felt makes a very effective duster. Don't forget to check the blinds work properly too and have appropriate child-safety features fitted to their cords. Curtains, too, should be inspected for dust, especially along the pleats at the top. If washing or dry-cleaning isn't a possibility, you may have a hoover attachment to remove the worst of the dirt. Meanwhile, any net curtains should be absolutely pristine - and you might also bear in mind that their presence may make many viewers conclude that privacy is a serious issue in the house.

2. Paint your front door for a good first impression

Of course, you can't do this if it's a PVC door but wooden doors can often benefit from a fresh coat of paint. Choose the colour carefully. Sage greens or strong yellows might be currently fashionable but their impact is reduced if yours is the tenth house in the road with the same "quirkily" coloured door. Indeed, some estate agents take the view that many buyers prefer black or dark grey doors. However, the bottom line is almost certainly not to choose a colour that is out of keeping with either the property or the immediate neighbourhood.

3. Don't neglect your hallway

If your hallway is little more than a passing place, it can be tempting not to give too much thought to its presentation. And, yes, you may not have room for an elegant console table or even so much as a shoe rack but you can make sure that it is clean, fitted with appropriate flooring and that you've picked up the post. This last point is something that many estate agents notice their clients frequently neglect to do - and, if an estate agent notices, you can be sure a viewer will too. A pile of post on the mat might not be enough to dissuade someone from putting in an offer but, as with the colour of the front door, initial impressions count for a lot. If viewers have to shove the door open against a resisting snowdrift of post or try to avoid trampling on it as they enter, they are more likely to conclude that this is a property that is somewhat neglected or unloved.

4. Descale the bathroom

This is particularly important in hard water areas, where limescale deposits cause unsightly build-ups on tiles and ceramics. Worse, they also obstruct the flow of water from taps and, especially, shower heads. With more buyers than ever choosing to test water pressure and flow by turning on taps and shower heads, it makes sense to ensure yours is in the best possible condition.

5. Break out the good towels

You might already be a seller who has special viewing bedding: duvet covers, cushions and the like that are carefully ironed and only come out for estate agents' photographs or viewings. Why not go one better and ensure that your bathroom is supplied with new towels? Not only can you then ensure that they are folded just so, there's no danger of them being damp (and potentially also making your bathroom smell slightly musty). White towels are often a good choice, as they are reminiscent of the sort often provided in upmarket hotels. Just make sure they're sufficiently large and fluffy to give your bathroom an air of luxury.

6. Don't forget the For Sale sign

Many estate agents report that some buyers are increasingly reluctant to have a For Sale sign outside their property. They may fear the loss of privacy that comes when their immediate neighbours know that the house is up for sale. They may also not want to be bothered by opportunistic viewers. While both reasons are understandable, sellers should also bear in mind that, even in the internet age, a For Sale sign can be immensely valuable in attracting viewers. If you ask around, you're almost certain to find at least one friend, colleague or acquaintance who bought a house as a result of seeing a For Sale sign outside it. Why make it harder for potentially interested buyers to find your property?

7. Consider a professional makeover

Given the potential cost, this probably isn't an option to consider at the outset of trying to sell your property. However if your home does not attract the right sort of attention, a professional makeover might be one way of changing its fortunes. Costs vary depending on the level of service required.

Obviously, there are no guarantees when it comes to selling your home. However, with sold property prices stagnating in some areas and viewer interest dipping, it is only prudent to put your house in the best possible position to secure a buyer.
You can sign up to our newsletter and join Nethouseprice's community of over 190,000 members who get regular property tips, relevant offers and news, click here http://nethouseprices.com/auth/user-register
Source: Nethouseprices 07.02.19