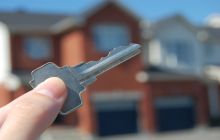 On the face of it, 2019 might not seem the most auspicious time to contemplate buying your first home. However, if, perhaps, you're keen to buy a house before starting a family or have outgrown a current rental property, you may feel you do not have time to wait for the wider economic and political situation to change. Fortunately, there are several factors in your favour and several more steps you can take to improve your chances of becoming a homeowner.

It might surprise you to learn that the number of successful applicants for first-time mortgages is actually rising. Last year, in 2018, more first-time buyers made it onto the property ladder than in any other year since 2006. In total, 367,038 first time UK buyers secured a mortgage deal, compared to 362,800 in the previous twelve months. What could you do to put yourself among the successful applicants in 2019 or beyond?

1. Know your finances

Saving for home ownership is a significant hurdle for most people. As you probably appreciate, it's also unlikely to be one that you can clear in a matter of months. Recent research shows that the average first-time buyer saved for four years in order to afford a deposit. Of course, you may be in the fortunate position of having help from parents or other relatives (although do make sure you - and they - understand the terms on which the money is to be lent or given), or perhaps a generous bonus on the horizon. Even if you are, you should still sit down and work out what size of deposit you anticipate having. This is essential because, for most people, size of deposit is crucial in determining which mortgage products may be available to you. If reaching your goal of saving for a deposit looks further away than ever, consider whether there's anything you can do to improve your financial situation. This might mean making sure that your savings are working as hard as possible for you. It might also mean taking up a second job. It can also mean going through your existing budget with a fine tooth comb to see where further savings can be made. You might already have cut out the takeaway coffees and the expensive food shops. However, have you investigated whether switching energy providers could save you money? Are you paying more than you need to for your TV package? And are you really using that gym membership - and, if so, have you considered whether a local council-run gym could save you money while still offering similar facilities? You may find it helpful to use one of the online budgeting apps that categorise and track your spending.

2. Investigate the mortgage market

Once you have a clear idea of the size of your deposit, it's time to look into mortgages. What you can borrow, and at what interest rate, depends on a number of factors:

- your deposit;

- your income;

- your expenditure; and

- your credit rating.

Other relevant factors include your employment status (self-employed or employed - and for how long), number of dependents and, potentially, whether or not you are on maternity leave or expect to go onto it shortly.

3. Know your local property market

If you have an idea about where you want to buy your first property, it makes sense to investigate the local market. In particular, this means knowing:

- the types and sizes of property available in the area;

- average asking prices as compared to average sold property prices;

- the average length of time between a property going on the market and going under offer;

- roughly how many of the right sort of properties come onto the market in any given period of time;

- which (if any) local estate agents specialise in selling properties from the area; and

- how the majority of viewings are conducted (e.g. are open houses common in the area?).

The answers to these questions will help you gauge what's available, whether you might be able to afford it, and the size of the potential competition. If the answers aren't satisfactory, you may need to consider looking at a different area or rethinking your finances. The average first-time buyer actually ends up buying a property that is just over five miles outside their original search area.

4. Investigate help-to-buy schemes

There are still several of these around and they can make all the difference, particularly when sold property prices seem entirely unattainable. In particular, check out help-to-buy ISAs, help-to-buy loans, shared ownership schemes, and the proposed starter home initiative.

5. Investigate the mortgage market

Now is still an excellent time to be looking for a mortgage. That said, the number and variety of mortgage packages available can be bewildering. It may be tempting to go for whatever is being offered by your own bank - but you may be doing yourself a financial disservice. Although it is possible to do your own research using the many free online sources available, some people choose to seek the advice of an independent financial adviser. The "independent" part is crucial. Although your own bank or building society may offer you the services of a financial adviser, they will only be able to recommend mortgage packages provided by their own institution. An independent adviser operates under no such constraints. However you choose to do your research, remember that the mortgage market changes daily. In addition, you'll want to think about how you want to repay your borrowings and, in particular, whether you would prefer a fixed rate or a tracker mortgage. The answer to this will depend largely on your own appetite for risk.

6. Check your credit rating

Your credit rating will be of huge significance when a bank or other lending institution comes to assess your application for a mortgage. It is essential that your credit report contains no surprises. You should make it a priority to get hold of a copy of your report from all three of the UK's major credit reference agencies (because you do not know which agency any particular bank will use): Experian, TransUnion and Equifax. First, check them for inaccuracies and for any hint of identity fraud. Next, consider if you could improve your credit rating. Making sure you are on the electoral roll at your current address is a good basic first step.
You can sign up to our newsletter and join Nethouseprice's community of over 190,000 members who get regular property tips, relevant offers and news, click here http://nethouseprices.com/auth/user-register
Source: Nethouseprices 07.02.19