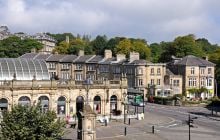 The south-east in general, and London in particular, gets perhaps more than its fair share of attention in the property press. However, for the average mover, the UK is considerably larger than just this one corner. One area that consistently attracts home-hunters from elsewhere in the country, as well as those already living there, is the Midlands. Its geographical position in the centre of England and its excellent transport links make it ideally located for commuters who need to reach many of the UK's major cities, including London. And, with average sold property prices in the West Midlands currently standing at around £220,000 and those in the East Midlands at just below £200,000, it's easy to see the financial appeal. Of course, in the family market, transport and finances are only part of the equations. Schools - and, in particular, state schools - are of prime importance. So, too, is the scope for enjoyable activities for all the family.

Late last year, The Times conducted its own survey on the ten best places in the Midlands for family life. We take a look at each of them, examine some of their main attractions and highlight what you might expect to pay for an average semi-detached and detached property. Whether you like opera, food fairs, racing or enjoying the countryside, there's a good chance you'll find that the list offers at least one prospective new house-hunting location.

1. Shipston-on-Stour, Warwickshire
It might not have a high profile outside the Midlands, but that might be how the inhabitants of Shipston-on-Stour prefer it. This small market town lies close to the Cotswolds - and much of its architecture, which includes some delightful period homes, is reminiscent of it - but it's far enough away to enjoy its own distinct identity without having to cope with an influx of tourists. However, its appealing lifestyle and good schools has not gone unnoticed by developers. Families looking to move to the town can expect a detached home to cost in the region of £595,520, while semi-detacheds cost an average £368,520.

2. Harborne, Birmingham
No list of the best places in which to live in the Midlands could be complete without an entry from Birmingham - and, in this survey, it's the suburb of Harborne. Home to two Ofsted 'Outstanding' primary schools that also feed into the King Edward VI grammar, it's fortunate that Harborne is well-supplied with housing stock to appeal to family buyers. Victorian and inter-war semis start at an average of £317,190, while larger detached places have average sold property prices of £538,930.

3. Buxton, Derbyshire
Beautiful Buxton has been popular since Roman times. As well as its history, it's loved for its picturesque setting in the Peak District, its opera house and International Festival, some excellent schools and its proximity to Manchester and Sheffield. Although its sweeping Georgian terraces are its best-known houses, more modest mid-market semis fetch average prices of £210,000, while family homes cost around £339,890.

4. Fiskerton-cum-Morton, Nottinghamshire
Fiskerton and Morton are actually two villages, situated close to the River Trent. There's plenty going on for all the family to enjoy, including a sports club and a number of annual festivals and fairs. Nearby, Southwell is home to outstanding infant and secondary schools, while the bright lights of Nottingham are only 20 minutes by train. The average price for a semi is £306,870, while detached properties cost around £528,090.

5. Lincoln
Lincoln is packed with history. Not only is there the cathedral, there's a castle and streets of historic houses. Steep Hill, known for its independent shops, ranks nationally as a shopping destination, while a variety of farmers' markets, a sausage festival and some excellent restaurants mean that foodies are equally well-catered for. The continuing success of the University of Lincoln means that there are plenty of more everyday attractions, especially in the Downhill area of the city. While the most expensive homes are to be found in the historic Uphill, the city-wide average price of a mid-market semi is £158,730, while a detached costs around £255,790.

6. The Malverns, Worcestershire
Employers that include the carmaker Morgan and the defence company Qinetiq are part of the attraction of the spa town of Great Malvern and the other surrounding Malverns towns. However, there are also elegant Regency and Victorian buildings, several well-known private schools and high-performing state ones. House-hunters can expect to pay in the region of £272,640 for a semi-detached property and £413,640 for a detached home.

7. Market Harborough, Leicestershire
Locals really rate their town's attractive centre, which has a good range of independent shops while also providing for everyday needs. Many of them also like its relative accessibility to London (an hour by train), its outstanding state secondary and its popular theatre. Mid-market semis cost an average of £282,400, while detached properties go for around £507,320.

8. Shrewsbury, Shropshire
With 660 listed buildings, Shrewsbury is perfect for architecture buffs. And, with Victorian buildings jostling for space with Georgian and Tudor ones, there's something for fans of every period. There are also two excellent state secondary schools and a wonderful covered market. Semi-detached homes cost an average of £211,130 and detached ones fetch around £333,590.

9. Stamford, Lincolnshire
It might feel as if it has featured in more costume dramas than anywhere else in the UK, but Stamford also has plenty of modern attractions. There's a weekly market, an arts centre and, of course, the nearby Burghley Horse trials. Mid-market semis cost an average of £292,790, while detached homes sell for around £537,410.

10. Warwick
Warwickshire's county town might seem the surprise inclusion on the list. Admittedly, it owes much of its popularity to its proximity to the lovely Leamington Spa, but it also has its own Georgian street-scene, a castle, a rich artistic scene, a racecourse, good access to the motorway network and some excellent schools. Buyers can expect to pay in the region of £307,980 for a semi-detached home and £517,100 for a detached one.
You can sign up to our newsletter and join Nethouseprice's community of over 190,000 members who get regular property tips, relevant offers and news, click here http://nethouseprices.com/auth/user-register
Source: Nethouseprices 14.02.19