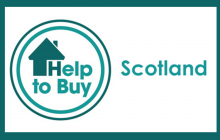 Financing the purchase of a property can seem an insurmountable challenge, especially in areas where sold property prices are holding firm or even rising. To add to the problem, average real wages fell consistently from the time of the 2008 financial crash until mid-2014. Two years of low inflation between 2014 and 2016 was not sufficient to see wages rise to pre-crash levels - and now inflation has risen and wages are again falling behind.

Although, on average, Scotland has not suffered the steepest falls in average wages (that particular award is reserved for London and the south-east of England), many of its would-be homebuyers have faced significant struggles in either getting onto the property ladder or moving up it. The Scottish government has taken the problem seriously and has come up with several ways to attempt to alleviate the problem. We're taking a look at one of the most important: the Help to Buy (Scotland) Affordable New Build scheme.

Help to Buy (Scotland) Affordable New Build scheme - an overview
The Help to Buy (Scotland) Affordable New Build scheme is a shared equity scheme that allows beneficiaries to repay all or part of the stake held by the Scottish government. Unlike many similar schemes that target only first-time buyers, it is open to first-time purchasers and existing homeowners alike, provided they want to buy an affordable new build home from a participating home builder. The scheme runs until 31 March 2021. This means that interested parties have until that date to conclude a transaction. No transactions under the scheme will be permitted to conclude after 31 March 2021. However, the scheme's rules do not permit applications for assistance to be submitted more than 9 months from the date of expected settlement of the purchase.

Applicants to the scheme must not own any other residential property, whether outright or in part. Receiving help from the scheme also depends on buying a property from a home builder who has received approval to participate. Home builders should be able to inform prospective buyers whether or not they have received such approval, but buyers may also like to confirm this with the Scottish government's own list, which is available online at the registered builders section of the Help to Buy (Scotland) Affordable New Build Scheme website.

Interested parties should also note that the scheme:

- is not available to buy-to-let investors

- does not permit a buyer to part-exchange their existing property with a developer and then buy a new home from them

- cannot be used to buy any property other than a new-build home.

Help to Buy (Scotland) Affordable New Build scheme - conditions for making an application
Before applying to the scheme, interested buyers must choose and reserve a property and obtain a Reservation Agreement from the home builder. Applicants are also subject to the threshold prices applicable to the financial year in which they complete the purchase. Finally, unless they are aged 60 or over, they are required to take out a repayment mortgage with one of the approved participating lenders listed on the Help to Buy (Scotland) Affordable New Build Scheme website. Other than for applicants aged 60 or over, mortgages must be for no less than 25 per cent of the purchase price.

Authority to Proceed
Successful applicants will be issued with an Authority to Proceed Letter. It is essential that missives for the purchase of the property are concluded within 3 months of the date of that letter's issue. Failure to do so will result in automatic ineligibility to benefit from the scheme. Cooperation from legal advisers is essential to ensure that matters proceed smoothly, especially where the scheme applicant is an existing homeowner who needs to tie in a sale to their purchase.

The next deadline to adhere to comes 9 months after the date of issue of the Authority to Proceed letter. It is by this stage that the applicant must complete the purchase of their new home. For avoidance of doubt, this means that they must have paid the full purchase price and, in return, received the keys. Failure to meet this deadline will result in ineligibility to receive financial assistance from the scheme. Again, legal advice can be crucial in ensuring a smooth transaction, but it is equally as important to keep in regular contact with the home builder. In particular, it is essential not to apply to the scheme if a builder suggests that a property's likely completion date is more than 9 months in the future.

Mortgage lender expectations
Most mortgage lenders will expect scheme applicants to contribute a deposit of at least 5 per cent. Note that the equity stake provided by the scheme cannot go towards the deposit. Other than for applicants aged 60 or over, the mortgage must account for at least 25 per cent of the purchase price. (Applicants aged 60 or over are permitted to take out a lesser mortgage or no mortgage at all.) Together, any mortgage and the deposit must cover at least 85 per cent of the purchase price of the new build property.

Means testing
Applicants to the scheme are subjected to means testing in accordance with the rules currently in force. At the time of writing, for a joint application, this equates to 3.5 times joint gross income. For a single applicant, it equates to 4.5 times gross income. Applicants must provide pay slips to verify the information they provide in their application form and will not be permitted to borrow more than these multiples from the mortgage lender. However, in certain circumstances, they may be permitted to borrow slightly less. As a basic rule of thumb, applications are assessed on the basis that participation in the scheme will not result in monthly costs that exceed 45 per cent of net disposable income. Equally, scheme applicants cannot choose to take out a lower mortgage if their affordable income multiple indicates they can service a higher one.

Repaying the equity
Purchasers have no set deadline by which they must repay the Scottish government's stake in the property. However, in certain circumstances, such as the sale of the property, there is an obligation to repay the stake. Repayments are calculated on a percentage basis but homeowners may, of course, choose to wait to sell until sold property prices suggest that both the owner and the Scottish government will benefit from an increase to the home's value.
You can sign up to our newsletter and join Nethouseprice's community of over 190,000 members who get regular property tips, relevant offers and news, click here http://nethouseprices.com/auth/user-register
Source: Nethouseprices.com 25.02.19