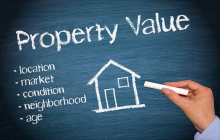 Whether you're thinking of buying or selling, it can be extremely difficult to know exactly what any given property is really worth. One person's "steal" or "bargain" may be someone else's "overpriced money pit". The variety of opinions may lead you to conclude that there is no one right answer and that a property really only is worth what someone is prepared to pay for it. However, a word of caution: there's a considerable amount of information out there to help you gauge any property's true value. Can you be sure that you've investigated all of it? After all, even if you don't, another buyer or seller might - and, ultimately, you could lose out, whether that's by overpaying or by deciding not to pursue a property that actually might have represented a "good buy".

Here are five issues to investigate before making a final decision.

1. Discover whether previous buyers overpaid or got a bargain
You'll doubtless be familiar with the concept of using online data as regards sold property prices to discover which properties have been sold, for how much and when. There are several ways of doing this - for example, via Nethouseprices - but all the data derives from the same source: the Land Registry and the Registers of Scotland. However, what the data doesn't highlight is the condition of the property. For example, was it recently modernised? Did it have underfloor heating? Did it have any heating at all? What about a landscaped garden or a top-of-the-range kitchen? Some online resources allow you to match sold property prices with the original property adverts, including descriptions, floor plans and, crucially, asking prices. All of this information helps you to assess whether or not asking prices correlate with sold property prices - and why.

2. Housing market forecasts
Perhaps you've held off buying in the hope or expectation that the market is overdue a correction (or even a crash). Equally, you might be wary about selling if you hold similar fears. Whatever your opinion, it may be correct - but it is essential to remember that property prices involve markets and no-one, regardless of their qualifications or experience, can guarantee to predict their movements with 100% accuracy. That said, you may like to keep an eye on HousePriceCrash.co.uk. Although those behind the website are hoping for a property price crash, the site itself contains a wealth of interesting and potential useful statistics from reputable sources such as the Financial Times and the Land Registry. If you're careful, meticulous and patient, you can use some of this data to make your own judgment calls.

3. Crime rates
Crime rates can have a significant effect on a property's current and future value, as well as influencing how easy (or difficult) it is to sell on. Police.uk offers an online crime mapping service that covers England and Wales. It can make for unnerving reading but learning how recorded crime is affecting any particular street is valuable in two main ways. First, of course, it may influence whether or not you may actually want to live there. Secondly, it indicates likely insurance costs.

4. School catchment areas
Although the first step, when it comes to marrying up a home purchase with a good school, is to check out catchment areas, buying a house in the catchment area of a well-regarded state school is no guarantee that your child will get a place there. Next, you'll need to examine the admissions criteria applied by the relevant local authority - and they all differ. For example, living in catchment may not help you secure a place if the school in question prioritises children of a particular religion. Equally, even if catchment is everything, a school that is over-subscribed within its own catchment area may use straight line distance to determine which children actually get a place. Don't forget, too, that in-year admissions may be treated completely differently. Ultimately, there is little substitute for speaking directly to the local education authority to find out which schools have vacancies in the relevant year groups and doing your own research to assess your likelihood of gaining a place based on past admissions. Once you have a shortlist of possibilities, it's time to visit the schools in question. As a final point, don't be too hasty to judge particular schools, especially if your children are some years away from admission age. A change of headteacher, large housing developments and demographic movements are just some of the factors that can cause one school to fall out of favour while another's star rises.

5. Meet the neighbours
It's surprising how few would-be home buyers take the time to knock on their potential new neighbours' doors. Perhaps their reluctance stems from natural social caution or a fear of being perceived to be "judging" others but, whatever the cause, enough neighbour disputes hit the press every year to make it clear that bad neighbours are a significant problem for many people. Yes, sellers are legally required to disclose any disputes they have had with their neighbours but the law is grey in terms of what counts as a dispute. Certain events, such as boundary disputes are clearly covered. Equally, anything that prompted the seller to complain in writing to their neighbour or local authority is also likely to be declarable on the Seller's Property Information Form. However, barking dogs, screaming children, a penchant for noisy, late-night parties and inconsiderate parking are examples of less clear-cut issues that can nonetheless cause real distress. Certain practical steps can reduce the risk of problems. For example, as a would-be buyer, it's sensible to visit the property at several different times of day (and night), and at weekends as well as during the week. If pubs and other nightlife are a particular concern, refer to beer in the evening's online search facility to see which venues are situated close to the property and whether locals have left negative reports about them. For a more general picture of any particular neighbourhood, UK Local Area allows you to use a postcode to generate a local profile, covering employment rates, education, age, public transport and local schools. Finally, if you're selling your property, it can help to have this sort of information ready to hand to prospective buyers. Not only does it save them from having to do the work themselves and so potentially make the transaction run smoothly and more quickly, it also suggests you have nothing to hide.
You can sign up to our newsletter and join Nethouseprice's community of over 190,000 members who get regular property tips, relevant offers and news, click here http://nethouseprices.com/auth/user-register
Source: Nethouseprices.com 25.02.19