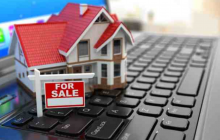 Your business may have a perfectly functional website, which does everything that is required of it, enabling would-be clients to make valuation requests, search for properties and register with you. But does it do more than this? And should it?

Perhaps you won't be surprised to hear that the answer to the second question is an unequivocal "yes". Like all businesses, estate agents need to move with the times and embrace technological change. This is not merely because the technology is there and available for use; it is because, increasingly, clients expect it. In an era when many potential buyers are deterred by tales of rising sold property prices even as would-be sellers worry about a stagnating market, you need to engage every possible tool to boost your business.

So, what are these tools that should you have at your disposal?

1. 360° virtual tours

Several research studies have concluded that the average would-be home buyer spends two-thirds of their research time online. Some of this is general research, checking local sold property prices, transport links, school catchment areas and so on, but most constitutes detailed examinations of online particulars. Viewings - both first and second - and any drive-by visits make up only the other third. These proportions may go some way to explaining why so many first viewings do not translate into second viewings.

A floor plan, property description and photographs, no matter how carefully done, are no real substitute for visiting the property. A 360° virtual tour can take the place of that first viewing, enabling potential buyers to qualify their interest. In other words, if a buyer books a viewing after taking a 360° virtual tour, they are more likely to be a serious contender.

Virtual tours save you, as the agent, time and money. These savings may also result in an uptick in productivity for your business.

Vendors, too, benefit from savings in both time and money when their online property particulars include a 360° virtual tour. Their property is always "viewing ready" and can be seen in broad daylight, regardless as to what time of day or night the virtual viewer logs on. Add the minimised disruption to their daily routine and these advantages make it more likely that you, as their selling agent, will retain the seller's goodwill and hence their business.

Meanwhile, buyers appreciate 360° virtual tours for many of the same reasons. Time and convenience are major draws, as is the opportunity to view the property in daylight even if it's midnight before the would-be buyer begins their virtual tour. The elderly and those with disabilities may enjoy further benefits. For example, a virtual tour can help them assess a property's suitability for their needs without actually having to travel there.

Overseas' clients can clearly benefit in similar ways; they may prefer to use 360° virtual tours to draw up a shortlist of properties to view in advance of a visit to the UK. Clients who are buying together but where only one of them is able to visit the property in person may also appreciate the facility of a 360° virtual tour and may then be more likely to proceed with a purchase.

There's a wide choice of software and technology providers to help you customise virtual tours. As a general rule, you should aim to ensure that your virtual viewers can take the tour without needing to download anything onto their own devices. This is partly for ease and speed of use and partly because not everyone will have the IT skills to undertake downloads or the confidence that what they are downloading is free of viruses or other malware.

A good virtual tour has uses that extend beyond a link in online property particulars. It is easy to integrate into other marketing materials, such as promotional emails. It can also be sent to interested clients via text message, WhatsApp or similar.

You may even want to investigate providing virtual tours that incorporate live video chat. Clearly, this negates some of the flexibility inherent in virtual tours but a significant proportion of clients may appreciate it as an option. You could also consider designing a narrated, pre-recorded virtual tour.

2. Web chats

If you've invested in 360° virtual tours, web chats are a logical next step. Some agents are deterred by the belief that web chats require someone from the business to "staff" them 24/7. This is not true: most web chats are conducted by well-informed online service representatives. Obviously, there is an inherent cost to using this service but estate agents who have already taken the leap report that it is an excellent way of generating leads from informed and genuinely interested potential buyers. Sellers also tend to appreciate a web chat facility on the basis that they are reassured that the agent can answer questions relating to the property as and when they arise.

Needless to say, a wealth of customisable web chat designs already exist and they operate across a range of platforms, including mobile devices.

3. Automation software

In many ways, marketing automation software is where the future lies. It is where technology adapts to - and engages with - client expectations and opportunities in order to convert them into genuine leads. If you're wondering how to go about installing automation software, website providers are usually well-placed to help. Once in place, you may well find that the software covers its set-up costs almost immediately because good automation software is something that many property vendors are willing to pay a little extra to benefit from.

A simple example with which most agents will be familiar uses Facebook. A visitor to your website subsequently sees your adverts when they next log onto Facebook. If, during their website visit, they expressed preferences as to the types of properties that interest them, the Facebook adverts are then targeted in line with these preferences. The logical result is increased exposure for the properties for sale through your agency that ultimately helps you stay ahead of the competition.
You can sign up to our newsletter and join Nethouseprice's community of over 190,000 members who get regular property tips, relevant offers and news, click here http://nethouseprices.com/auth/user-register
Source: Nethouseprices.com 26.02.19