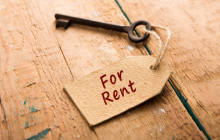 Rental property is primarily an investment. It needs protecting if its capital value is to be preserved and if it's ultimately not to fall out of line with average sold property prices. It's fair to say that no-one goes into the buy-to-let market expecting problems, but pragmatic landlords take appropriate steps to make sure that they, and their finances, can cope if the unexpected happens.

We take a look at four relatively common scenarios and examine how the right insurance policy can assist.

1. Water ingress from an upstairs flat damages fixtures and fittings in your flat's kitchen and a sofa in your living room

Your first assumption may be that the leaseholder of the upstairs flat has responsibility to remedy the damage to your property. However, their insurance policy will almost certainly exclude damage to neighbouring properties.

Your second assumption may be that the freeholder's insurance will cover you for the damage to your property. This is incorrect. First, are you certain that the freeholder has responsibility for insuring the building? Although in England and Wales, it is usual for the freeholder to retain this obligation, it is not unheard of for some leases to devolve responsibility to leaseholders. In that situation, individual leaseholders have a responsibility to insure their part of the building.

Even if you've established that your freeholder has an obligation to insure the building, and has done so, their insurance policy will not cover the damage to your kitchen fixtures or fittings, or to your sofa. At this point, you may turn to your contents insurance with a sigh of relief. However, stop there! Although the damage to your sofa - a portable chattel - is likely to be covered, the damage to your fitted kitchen probably will not. Hopefully, of course, when you were first taking out insurance, you'll have anticipated this by discussing the realities of your situation with a specialist landlord insurance company. Failing to have done so means that you risk discovering that you lack appropriate cover when you really need it.

2. A fire damages your property.

An appropriate insurance policy should pay out to ensure that you can carry out the appropriate rebuilding and renovation works. However, watch out for the risk of under-insuring yourself. It can be tempting to save a little money by taking out an insurance policy for less than the property's value, but this decision could come back to haunt you if you need to claim on it. For example, after a fire, renovation work quotes may come in at £25,000. At first, this seems fine on the basis that you are insured for £50,000. Unfortunately, the insurance company decides that you have underinsured by 50 per cent and that the real cost of rebuilding your property would be £100,000. Even though your current claim is for nowhere near this amount, the insurance company will reduced their payout by the same percentage. Consequently, you can expect to receive only £12,500 for the rebuild costs.

In a similar vein, you also need to take care with your contents insurance. Are you sure that the amount of cover you've taken out is sufficient to replace all the contents?

3. Your tenant trips on a broken floor tile and injures himself.

This sort of injury is not covered by normal household insurance, but a landlord insurance policy that includes an element for public liability will do so. Without this protection, you may face a prohibitively expensive personal damages claim brought by your tenant.

4. Your tenant defaults on the rent.

All the credit checks in the world are no guarantee that your seemingly perfect tenant will not default on the rent. This could leave you in serious financial difficulties, especially if you have a mortgage to pay. In the worst case scenario, you risk your property being repossessed by the bank, without any assurance that its subsequent forced sale will be in line with current sold property prices. Taking out a landlord insurance policy that includes tenant default insurance can take some of the stress out of the situation, leaving you free to concentrate on eviction proceedings.

Final words

If you need to make a claim on your insurance, remember the following five points:

1. Make sure you give the insurer full and correct information. Merely notifying them that you intend to make a claim obviously will not suffice. However, neither should you expect your insurer to give you any feedback on your potential claim until you have provided them with all the salient facts. For example, you may want to claim for a water-damaged ceiling and carpets. Your insurer may agree to cover the claim if the damage was a result of a storm-damaged roof, but your policy is less likely to pay out if your tenants left the bath taps running. Without full information, the insurer cannot assess the strength of the claim.

2. Know what your insurance policy covers and what it excludes. There's no point wasting time and effort making a claim for something your policy does not cover. For example, damage caused by vermin is a common exclusion.

3. Know how much you're insured for. There's no point making a claim for damage worth £40,000 when you're insured only up to £35,000.

4. Beware of wear and tear. You ought to expect a certain amount of fair wear and tear, but do note that your insurance policy will not cover this. Incidentally, in most circumstances, neither will you be able to recoup it from the deposit.

5. Unoccupied properties pose particular risks. Bear in mind that most standard landlord insurance policies only provide cover for a limited period of time while the property is unoccupied. 30 days is the standard period but, for some policies, it may be as little as 14 days. With a little research or help from a specialist broker, you may be able to uncover policies that permit 90 days of non-occupancy.

6. Your tenants are your responsibility. This means that you need to conduct all appropriate credit checks and references, and keep records of having done so. In addition, you should also try to ensure you carry out regular property inspections and, again, keep relevant proof. A surprisingly large number of landlords run into problems when, for example, their tenants decide to use the property for cannabis farming. Insurance companies have a tendency to try and exclude claims arising from such issues, especially if the landlord did not carry out all the necessary checks and inspections.
You can sign up to our newsletter and join Nethouseprice's community of over 190,000 members who get regular property tips, relevant offers and news, click here http://nethouseprices.com/auth/user-register
Source: Nethouseprices.com 05.03.19