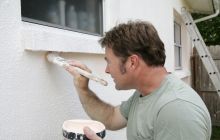 There are two obvious reasons to do work to your home: one is to make it better suited for the needs of you and your family, while the other is to boost its capital value. Whereas the first is entirely subjective, the second is measurable via sold property prices. The catch, of course, is that there are no guarantees that you'll see a financial return on your investment.

If you're still not certain whether to invest in home improvements, you might like to look at an online calculator provided by Towergate Insurance. Based on the familiar premise that sometimes you have to spend money to make more money, the calculator allows you to input the estimated value of your home and your maximum home improvement budget. The result is a table that lists potential home improvements ranked by the average cost of each, the estimated increase to your property's value and your estimated profit.

A typical list for the owners of a £700,000 property with a £10,000 home improvement budget might include the following home improvements:

1. Outside decor
The owners of our notional £700,000 property can expect to see outside decor head their list of suggested improvements with an estimated property value increase of 10%. Outside decor encompasses everything from re-rendering, repainting and repointing.

2. Garden
Many of us are green-fingered and enjoy tending our gardens. Getting in the professionals can be expensive, but landscaping can have a significant effect on property value. Garden work would also encompass the services of tree surgeons to prune, trim, fell and pollard trees. Although using the services of tree surgeons can be pricey, it's an essential expense for anyone who has large, dying, dead or dangerous trees.

3. Open-plan living
Although not popular with everyone, open-plan living is a trend that shows little sign of dying. Most typically, it involves removing load-bearing walls between a kitchen and dining room to create a large open-plan space. Some home owners go further and incorporate their living room into the open-plan arrangement, although many estate agents would caution against that if the home does not also have an additional separate living space. It's a generalisation, but open-plan living finds its biggest fans among young professionals who enjoy socialising at home, and with the parents of young children, who appreciate being able to supervise pre-schoolers and young primary-aged children while also getting on with household chores. Anecdotally, parents of older primary-aged children and young teens are less keen.

4. Install a central heating system
A surprising number of properties do not have central heating. There are various alternatives, such as storage heaters, solar thermal, solar PV, heat pumps and biomass but, for most people, a good central heating system is a modern-day must. It's almost certain that anyone viewing a property without a central heating system will factor the cost of installation into an offer they make.

5. A new kitchen
Many would-be sellers are deterred from installing a new kitchen on the basis that one person's perfect new cabinets are another person's reason to rip them all out. However, a tired, tatty and outdated kitchen can certainly deter buyers, especially if they lack the funds, time or inclination to do the work themselves. Consequently, although a new kitchen may not result in the biggest potential boost to your home's value (approximately 6% for our £700,000 property), it can make all the difference between clinching a sale and not. If you decide to fit a new kitchen, most professionals advise choosing something that fits your property's style, age and overall decor. However, whatever you choose, adding good quality, modern appliances will impress most potential buyers.

6. Painting and decorating
It's no wonder if a home that's perhaps been lived in for many years looks a little tired and shabby. However, although its paintwork and wallpaper may be scuffed, discolouring, peeling and not in the first flush of fashion, it can be difficult to know what to replace it with. As a rule, if you're decorating with an eye to an imminent sale, choosing neutral decor should ensure your property appeals to the biggest possible pool of would-be buyers.

7. Fireplaces
Although wood burners and multi-fuel stoves are still very popular, be aware that many areas of the UK are now subject to strict clean air rules. Consequently, you may prefer to consider installing an alternative, such as a self-lighting fireplace.

8. Bathrooms
As with kitchens, replacing an old bathroom suite with a new one does not always offer the best return on an investment, although it may prompt some buyers to consider your property where otherwise they would not have done so. As a general rule, it is adding a new bathroom, toilet or en-suite that offers the best scope for capital gains. However, be wary of squeezing en-suites into very small spaces, especially at the expense of storage. Homes marketed at young families may benefit from a downstairs toilet, whereas those that may appeal to retirees or people with mobility restrictions may benefit from a downstairs bathroom or wet room.

9. Conservatory
Before going ahead with a conservatory, consider how much garden or other outdoor space it will use - and how much it will leave. Additionally, consider the conservatory's orientation (south-facing, for example, may be unusable in the summer months), its construction methods, and shading for the walls and roof.

10. Flooring
Before any home goes on the market, its floors - including all carpets and hard surfaces - should be cleaned. Replacing carpets is a difficult decision and it may be worth noting that exposing existing wooden floors (provided they are in good condition) can have a greater effect on the property's capital value than installing new carpets.

11. Roof
Many sellers prefer to adjust their asking price to take into account necessary roof repairs, and buyers may expect this. However, replacing a worn-out roof has the potential to boost a property's capital value by a small percentage, as does replacing a flat roof with a pitched one.

12. Decking
Losing popularity among many homeowners thanks to its slipperiness and propensity to rot, for the rats and foxes that sometimes tunnel beneath it, and to a growing awareness that it is not always an ecologically-sound option, decking still has its fans. And, in the right property, it can be a real selling point. However, this will not necessarily translate into increased profit (a maximum of 2.5% for our notional £700,000 property), or higher sold property prices.
You can sign up to our newsletter and join Nethouseprice's community of over 190,000 members who get regular property tips, relevant offers and news, click here http://nethouseprices.com/auth/user-register
Source: Nethouseprices 08.03.18