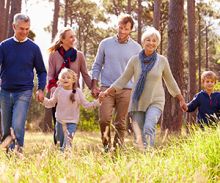 This week we are focussing on Equity Release, often seen as an attractive way to access the value in your home and release cash to use as you wish.
Available for those over 55 who have a good amount of equity tied up in their home, the cash released can be received as a tax-free lump sum or income, or both. You don't need to make monthly payments, and plans are regulated by the Financial Conduct Authority (FCA).
Equity release can be used for many things; for home or garden improvements, paying off existing debts, or maybe to help a loved one with a deposit for a home.
Importantly, equity release allows you to stay in your home for as long as you choose and you will never end up owing more than the value of the property. For those who have disclosed adverse credit it will usually not affect borrowing and no proof of income is necessary.
There are a few criteria to qualify. You must own your own property and it must be worth a minimum of £70,000. You must also be a UK resident of 55 years of age or older. If your property is not your main residence, there are buy to let equity release products available as well. The maximum amount you can borrow is based on your age and the value of your property. Additionally, you need not worry about taking medication, any medical conditions or even smoking as it may actually mean you can release more cash, get a better interest rate or both! Just ask us for details.
There are two main types of equity release: a lifetime mortgage, which allows you to borrow money against your house; and home reversion, where you sell a share in your house to a home reversion provider.
With a lifetime mortgage:
• You borrow a proportion of your home's value;
• Interest is charged on the amount throughout your lifetime;
• You continue to own and live in your home;
• You do not have to repay the loan until you die or go into long term care.
With a drawdown lifetime mortgage:
• You take smaller sums over a period of time;
• You only incur interest on the money you release.
If you take out a drawdown lifetime mortgage, it is important to consider a lasting power of attorney which we can help you with.
If you already have an equity release plan, you can switch your lifetime mortgage to take advantage of falling interest rates and a better deal.
Contact us - We will help you calculate your borrowing potential and we can advise you of the best option for your circumstances. Equity release plans are not suitable for everyone and we can help you to understand the features and risks.
Equity release is a complex legal arrangement and expert independent legal advice will always be involved within the process. To understand the features and risks, click here for more details.
If you need any other financial advice, please click here.
Your home may be repossessed if you do not keep up repayments on your mortgage.
Source: Bespoke Insurance 25/04/2019