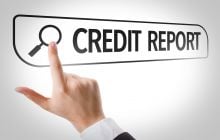 If you're house-hunting, it's easy to focus on choosing the right area, keeping an eye on asking and sold property prices, and arranging your mortgage. Indeed, many house-hunters go further, perhaps drawing up mood boards for decorating and window-shopping for furniture for a property they don't yet own. While some of these steps are necessary (and some simply enjoyable), they all omit an essential part of any property purchase: the credit report.

Let's take a closer look at credit reports and why they're so important.

Who compiles your credit report?

Credit reference agencies compile credit reports. The UK has three main agencies: Equifax, Experian and TransUnion (formerly known as Callcredit). Each one holds a credit file on you, although the information contained in each report may differ slightly.

Who uses credit reports?

Any credit provider considering offering you credit will check one of your credit reports. As well as financial institutions offering mortgages, credit cards and loans, credit providers also include mobile phone providers and mail order companies. Landlords and employers may also check credit reports, although the information that they can see is more limited.

What are lenders looking for in your credit report?

The answer to this question depends on why you are asking for credit. A mortgage-provider is likely to consider:

How much credit you use currently. Beware of maxing out your available credit, or skating close to your limit, especially if you are only making the minimum repayments. Lenders may decide that you are living beyond your means and consequently cannot afford a mortgage. As a rule of thumb, aim to use no more than 50 per cent of your available credit facilities.

Conversely, using no credit facilities at all is often regarded regarded as a negative point against your application. Managing credit facilities sensibly can be a useful demonstration of financial prudence.

Your debt-to-income ratio. This is a measure of how much of your monthly income is devoted towards repaying existing debt. It is expressed as a percentage. For example, if you earn £4,000 per month and spend £1,000 on paying off a credit card, a bank loan and your contract mobile phone, you have a 25 per cent debt-to-income ratio. Try to keep your debt-to-income ratio as low as possible. You may be able to do this by using savings to pay off some of your debts or by deferring new purchases until you've reduced or cleared existing debts. You could also consider increasing your existing repayments. This will obviously mean a short term rise in your debt-to-income ratio but should also mean that you clear the debt sooner.

Whether you make repayments on time and whether you miss making repayments. Making regular, timely repayments is good evidence of your financial reliability. Recent missed payments, especially those within the last six months or so, give a particularly poor impression as they suggest you may be struggling to meet existing financial commitments. Any missed payments remain on your credit file for six years.

Too many 'hard searches'. Every credit application you make leaves a visible 'footprint' on your credit file. Too many of these footprints may suggest that you are desperate for credit because you are in financial difficulties. As a result, it is best to try and space out credit applications, leaving several months between each one. Moreover, it is prudent to avoid making any credit applications at all in the six months or so prior to applying for a mortgage. Obviously, this requires a certain degree of forward planning.

What information is in your credit report?

Although this varies slightly between credit reference agencies, you can expect your report to include:

- your name

- your date of birth

- your current address and any previous addresses

- whether or not you are on the electoral roll

- details of individuals who have financial links to you

- details of your current account provider and any overdraft with them

- details of your credit accounts, including mortgages, credit cards, bank loans, mobile phone contracts and debts to utility companies. The information provided will include any late or missed payments

- information in the public record, including any bankruptcies, individual voluntary arrangements, property repossessions, County Court Judgments in England and Wales, or Decrees in Scotland

- details of any frauds committed by you or of any frauds committed by someone who stole your identity. The information will be held on the CIFAS section of the your credit file.

The information contained in your credit report is used to calculate your credit score. Lenders use this score to benchmark the risk involved in offering you credit. However, a "good" score is not a cast-iron guarantee that you'll be offered credit or the best interest rates.

How do you check your credit report?

Credit reference agencies are under a statutory obligation to provide you with a free copy of your credit report. Online access is usually straightforward through each credit reference agency's website, but the Information Commissioner's Office can provide more details if needed. If you're planning to apply for a large amount of credit, such as a mortgage, it may be sensible to obtain a copy of your credit report from all three of the main credit reference agencies. Whether or not you have imminent plans to apply for credit, it's good practice to check your credit report periodically to look for inaccuracies and evidence of identity theft or other frauds. Checking your credit report does not affect your credit rating.


How can you correct inaccuracies on your credit report?

Common factual errors on credit reports can include the wrong address. You can sometimes ask the credit reference agency to correct the error. With some errors, you may need to speak to the lender concerned and ask them to correct the inaccuracy - and this will then feed through to your credit report.

How can you improve your credit rating?

Credit reports can sometimes make disheartening reading. However, there are various ways to improve your rating. Correcting any inaccuracies is an obvious first step. So, too, is ensuring you are added to the electoral roll if you are not currently on it. Credit-building cards can be an excellent way of improving your credit rating but obviously take time to have an impact - and, in that time, if you were hoping to apply for a mortgage, you may see sold property prices rise further. This is why it's so important to monitor your credit rating at all times, regardless of your financial plans.
You can sign up to our newsletter and join Nethouseprice's community of over 190,000 members who get regular property tips, relevant offers and news, click here http://nethouseprices.com/auth/user-register
Source: Nethouseprices 26.04.19