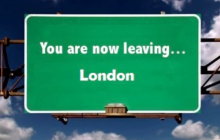 Between 2008 and 2017, the population of London grew to 10 million people, representing an increase of 1.1 million. The city is a magnet for incomers, especially young professionals. It draws in new residents from across the UK and beyond - and many of them put down firm roots, moving from shared rented homes into a home with a partner. The convenience of living (relatively) close to work, with the added bonus of easy access to all of the capital's many attractions and facilities often makes the idea of leaving unappealing. However, the combination of a young family, very high average sold property prices and the difficulty of negotiating London's school catchment system pushes many people to consider leaving London. And, in fact, in the past decade, over 500,000 more British people have left London than moved to it. While this obviously means that much of the population growth in the capital is down to a combination of international immigration and a birth rate that outweighs the death rate, it also begs the question as to why so many British people choose to leave the city.

We take a closer look at some of the factors involved in their decisions, and at the various pros and cons.

Wanting to raise children outside the capital
This appears to be a big driver for many people and the statistics bear it out: the majority of those who move to London are in their 20s, while most of those who leave are in their 30s and 40s, are children under 10 or are between 18 and 20. While the statistics suggest that the last group are students leaving home to study at universities across the country, the other two groups largely represent families leaving together to live elsewhere. Their reasons for taking this decision are varied - and discussed in more detail below. Also important is to consider to where they choose to move: currently, two-thirds of London leavers stay within what the BBC has termed "the greater south-east". This covers an area of the country from Southampton to Milton Keynes and as far to the east as Norfolk - essentially, anywhere that is commutable to the capital. As a result, many of the 800,000 workers who commute into the capital every day are one-time London residents, keen to balance the city's employment opportunities with the residential and lifestyle options of areas outside it.

Property prices
Property prices are the deciding factor for many people. The average cost of a home in the North-East a little over £133,000. In London, it is over £485,000. Rental costs are also considerably higher in London, and can make a serious dent in anyone's disposable income and ability to save for a deposit on their own property.

More home for your money elsewhere
With London sold property prices being what they are, many people who have managed to buy in the capital find that they can afford a much larger property, with more outdoor space, if they sell up and move outside the capital.

Traffic, pollution and congestion
London's crowded roads are notorious. Although its air usually seems clear, anyone who's blown their nose after a trip on the Tube gets some idea of the levels of pollution. In fact, air pollution in the city has exceeded legal levels since 2010. Much of this is due to nitrogen oxide emissions from diesel vehicles. The introduction of the Ultra Low Emission Zone (ULEZ) seeks to improve air quality by forcing drivers of the most polluting vehicles to pay a daily charge. At £12.50 for the majority of vehicles up to 3.5 tonnes, the charge may operate as a serious disincentive to drive in the capital.

School catchment areas
Catchment areas in London can be tiny, particularly in inner London where the smallest recorded admissions boundaries have been as low as 92 metres. For example, 2018 data from data from FindaSchool records a catchment area of 205 metres for Kensington & Chelsea's Bousfield Primary School. There are similar figures for popular schools across the city. As a consequence, it's often necessary to live within a very few streets in order to secure a place for your child at a particular school. In the same year, 5 per cent of applicants for a reception place in an inner London primary school failed to get into any of their top three choices. This is significantly higher than the national average for England of 2.8 per cent. Moreover, in five London boroughs, over 10 per cent of all applicants ended up being placed in a primary school in another borough.

General cost of living
Although food and utilities are not necessarily more expensive in London, travel costs are significantly higher. A monthly zones 1-2 travel card currently costs £134.80. This cost rises to £230.40 for a zones 1-5 travel card. Conversely, in Newcastle, for example, a monthly travel card costs around £50.

Burgeoning employment opportunities outside London
Although London has traditionally been the go-to city for the most varied employment opportunities in England and Wales, and almost a "must" for anyone looking to work in the top-tier of the legal or financial services industries, this is now changing. For example, part of the BBC migrated to Salford Quays in 2010. The Magic Circle law firm, Freshfields, also moved most of its UK support services to Manchester in 2015, and other businesses, such as Amazon, are now following. The result is a far wider choice of employment opportunities across the country.

"If you're tired of London, you're tired of life"....
This adaptation of Samuel Johnson's famous quote is no less true for many people today than it was in the eighteenth century when coined by the famous writer. London's endless diversity, its surprising number of green spaces (parks, squares, riverside works and even urban farms), its extensive free entertainment (museums, galleries and street shows etc.) and its career opportunities continue to encourage large numbers to remain living there. As with many decisions, it's an intensely personal choice and what it right for you may not be right for your neighbour.
You can sign up to our newsletter and join Nethouseprice's community of over 190,000 members who get regular property tips, relevant offers and news, click here http://nethouseprices.com/auth/user-register
Source: Nethouseprices.com 29.04.19