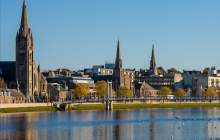 In Scotland, it is important to have an Agreement in Principle (AIP) for a mortgage before beginning your property search. Many financial institutions allow you to do this online, for no charge and with no consequent obligation actually to take out the mortgage. Once you've had an offer accepted on a property, you should book an appointment with the institution that's issued you with an AIP to complete the full application.

When applying for an AIP, you may need to consider several different questions.

100 per cent mortgages

100 per cent mortgages are a rare beast nowadays. However, after their withdrawal from the lending market following the 2008 financial crisis, some lenders are now offering them again. That said, they are very different from those on offer before the financial crisis. Today's 100 per cent mortgages almost always require you to provide a guarantor. This is usually a family member who is willing to put up either a mortgage-free property of their own or savings of a sufficient amount as security for a proportion of the mortgage. It's not an undertaking to be entered into lightly: putting up a property as security means having a charge registered against it. Meanwhile, savings, which also have a charge registered against them, must be placed in a savings account with the mortgage lender. And, as well as not being able to withdraw any of the money until the mortgage term expires, the guarantor must accept that it may earn little or no interest.

If you're interested in obtaining a 100 per cent mortgage, and have a willing guarantor, you must expect not to have the same level of choice of providers and products as on the mainstream mortgage market. The inevitable result of this lack of competition is that interest rates, fees and other charges tend to be higher than average. You may also be required to take out a mortgage indemnity guarantee.

Saving for a deposit

If a 100 per cent mortgage is out of the equation, you'll need to save for a deposit. As a general rule, a bigger deposit will mean access to a wider range of mortgage products and better interest rates. However, set against this is the risk that sold property prices may rise while you are saving to increase to your deposit.

Working out how much you can borrow

Although you might want your starting position to be the cost of the house or flat you want to buy, sold property prices matter far less than your own financial resources. Precisely how much you can borrow will depend on a number of factors, including whether you are employed or self-employed, and whether you plan to buy alone or with someone else.

A lender offering a mortgage to a sole buyer will usually offer no more than three times that individual's income. However, this figure may be reduced if that person has credit card debt or other regular outgoings, such as child maintenance, school or nursery fees.

A lender offering a joint mortgage to two people will often allow them to borrow three times the income of the higher earner plus one times the income of the lower earner. As with a sole buyer, this amount may be reduced in light of debts or other regular outgoings.

Repayment terms

Once you have an idea of how much you can borrow, you'll need to think about your repayment term. To some extent this will, of course, depend on the term length that the lending institution is prepared to grant, but you should also think about how your own situation might influence matters. For instance, if you are nearing retirement age, you might prefer to pay off the mortgage over a shorter period of time to avoid having to make repayments out of a pension. Repaying a mortgage over a shorter period means higher payments in the short term but costs less in the longer term. Most mortgages are repayable over 25 years, but just as it is possible to take out a mortgage for a shorter period of time, it is also possible to take one out over a longer period - although you will pay more in interest.

Interest-only or repayment?

Nowadays, most mortgages are repayment mortgages, which means you repay a portion of the capital borrowed alongside the interest. With an interest-only mortgage, you repay only the interest and consequently need an alternative investment vehicle to repay the capital at the end of the mortgage term. Endowment policies are the traditional vehicle for repaying an interest-only mortgage but, if you're considering this as an option, make sure you take specialist advice.

What if you're disabled?

You may be wondering whether being in receipt of disability benefits will preclude you from obtaining a mortgage. The short answer is "no" but, for more detailed information and support, Housing Options Scotland is an excellent source of disability housing advice. It may also be able to assist you to put together a budget that lists your income and expenditure, and demonstrates how you could accommodate paying off a mortgage. You should also remember to factor in the possibility that you will need to pay for adaptations to the property, such as widening doorways, installing a suitable bathroom or adding handrails. Some adaptations may require planning permission.

New build properties can be a good option for anyone looking for a "barrier free" home. This is because new homes in Scotland are now supposed to be built in accordance with "accessible, barrier-free design standards". However, compliance with these standards appears to be patchy, with recent press reports suggesting that some new homes are not wide enough to accommodate a wheelchair or mobility chair user. Accordingly, whether or not you want a new build property, bear in mind that it may take you longer to find a suitable property, particularly if you need to live in a particular area, require a ground floor home or need accessible parking - although time, persistence and the services of a good estate agent should help you zero in on a suitable home. It may also be worth checking the properties listed on the Accessible Property website. Once you've identified a potentially suitable property online, the Home Report (a legal requirement for almost all sellers of Scottish homes) can be a useful source of further information, particularly the accessibility audit, which will include details such as the number of steps in the property, the width of the doorways and the position of bathrooms (ground floor, first floor, wet room etc.).
You can sign up to our newsletter and join Nethouseprice's community of over 190,000 members who get regular property tips, relevant offers and news, click here http://nethouseprices.com/auth/user-register
Source: Nethouseprices.com 01.05.19