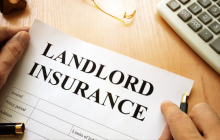 Two million people in the UK rent out at least one residential property to tenants. If you're one of them, you'll know that a whole raft of rules and regulations dictate how you look after your property and how much you must pay when you sell, buy or collect rental income. In fact, keeping up with the legislative landscape can be a challenge, especially for those who look after their properties without the support of a management agency or those who own Houses of Multiple Occupation. In these circumstances, it can be easy to overlook non-compulsory matters, such an landlord insurance.

Let's take a closer look at landlord insurance, what it offers, why it's important and how you would claim on it.

Landlord insurance - the basics
It may not be a legal requirement but renting out a property without taking out a landlord insurance policy is playing with fire - and, potentially, quite literally. Relying on a standard home insurance policy is not an option, as any landlord who's ever tried to claim on one could tell you. Why is this? It's all down to the perception of risk that the insurance industry attaches to tenanted properties. That's not to say that tenants are inherently less trustworthy than owner-occupiers; of course they are not. However, rightly or wrongly, insurance companies consider that tenanted properties are more likely to result in insurance claims, whether that's as a result of a burglary, the consequence of a fire or flood, or some other reason.

Essentially, landlord insurance is the landlord's version of home insurance with a few additions tacked on.

Building insurance
The buildings insurance element of landlord insurance covers you for the repair and rebuild costs of your property in the event that the physical structure suffers damage. As such, it bears no relation to sold property prices or any valuation that you might have had done for a mortgage. Just as for owner-occupiers, the buildings insurance element is not always necessary for owners of leasehold property, although you should never assume that this is the case and must always check exactly what the freeholder's policy would cover you for.

Contents insurance
This applies only to contents belonging to the landlord. The tenant must take out a separate policy for their own property.

Theft, or accidental or malicious damage by tenants
This covers the theft of, or damage to, the landlord's furnishings or other goods inside the property.

Damage as a consequence of illegal drug cultivation
Marijuana farms in residential properties make good newspaper headlines but are unwelcome news for landlords. With over 90 per cent of cannabis farms located in residential properties, the drug's domestic production represents a real risk for landlords. As well as possible criminal repercussions for the hapless landlord (prosecution leading to a prison sentence or seizure of the property is a risk), properties used for cannabis cultivation frequently suffer damage. Walls and ceilings may be knocked through, floorboards ripped out, furniture removed or destroyed and the building's structure and its contents may suffer from water damage as well as being at a higher risk of explosion or fire. The worst incidences of damage caused by drug cultivation can have negative effects on sold property prices. Although there is no substitute for regular checks to guard against a property being used in this way, the right insurance policy can alleviate the financial consequences should the worst happen.

Loss of rent
Void periods between tenancies are not the only concern of the prudent, forward-thinking landlord. Occasionally, existing tenants may withhold rental payments. This can cause very real financial difficulties for the landlord, who may rely on that income to pay a mortgage on the property or for their own living expenses. Including an element for loss of rent in a landlord insurance policy provides comfort in the event that a tenant fails to pay their rent or if a tenant has to be rehoused as a consequence of damage to the property which makes it temporarily uninhabitable.

Evicting squatters
Most people think of squatters as individuals who force entry to a building (or access a building in some other way) and set up home in it. However, a certain proportion are actually erstwhile tenants - and it can be very difficult to force them to move out. Exactly when a tenant becomes a squatter depends on the circumstances but the consequences are the same: you have someone living in your property who is not paying you rent. The process of forcing a squatter to leave can be lengthy and expensive, as well as time-consuming and immensely frustrating. While insurance cannot help with all of these consequences, it can reduce the financial headache.

Legal expenses
Disputes between tenants and their landlords are sadly relatively common. As the landlord, you may feel that your case is cast-iron but proving that will inevitably cost you in terms of both time and money. Once again, the right insurance policy can help alleviate financial concerns.

Public liability
If someone, whether a tenant or a visitor, suffers an injury when in your property, you risk them making a claim for damages against you. Potential awards of damages can be very significant indeed, which means including a public liability element to your landlord insurance is an absolute must.


Other points to note

1. Expect your insurers to ask about your tenants' occupations. Student tenants usually mean higher premiums for you, and the same may be true if you let to tenants in receipt of housing benefit or Universal Credit.

2. Void periods lasting for 30 days or more will almost certainly attract an additional premium.

3. You may invalidate your policy if you do not fit your property with working smoke and carbon monoxide detectors. Failure to comply with current gas and electrical safety standards and checks is likely to have the same effect.

Claiming on your landlord insurance policy
This part, at least, is very similar to making a claim on a residential insurance policy. If your claim relates to a potential crime (e.g. burglary, theft or criminal damage), you should notify the police before submitting your claim to your insurance company. Making a timely claim and ensuring you include all relevant documentation and information (e.g. a police crime number) can help ensure that your claim is dealt with in a timely fashion.
You can sign up to our newsletter and join Nethouseprice's community of over 190,000 members who get regular property tips, relevant offers and news, click here http://nethouseprices.com/auth/user-register
Source: Nethouseprices.com 13.05.19