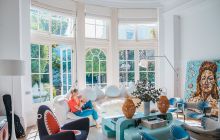 The uncertainty surrounding Brexit is casting a cloud of doubt over many but the flip side to this means great rates are up for grabs. For anyone near the end of their current fixed rate mortgage deal or without any early redemption penalty fees, it's worth a look to see what's available. Even if your current mortgage comes with early redemption fees, it may still be worth seeing if the long-term effect of swapping to a lower rate will save you money.
The lowest rates can be secured by those with the most equity in their property. Fees vary but for those with at least 35 per cent equity, there are a number of fixed-rate deals to be found at well below 2 per cent. Whereas two-year fixed-rate deals have been on trend for best value in the last few years, great rates are now being accessed for longer term deals with 5 and even 10-year fixed-rate deals looking quite attractive.
From a consumer perspective, there are many reasons why it makes sense to consider remortgaging aside from potential rate rises. Many will be at the end or close to the end of their fixed-rate deal and facing a sharp hike in costs isn't desirable. Moving from a fixed to standard variable rate could cost hundreds, if not thousands. During the term of their current deal, home owners' circumstances may have changed and what was suitable at the start of the original deal may no longer be beneficial. Equity may also have built up in the property and this in itself can lead to a better deal. Aside from this many will find their original deal may not be as good as some of the offers we're now seeing in today's market.
At present, lenders have adapted to the mood of uncertainty and maximised their resources and not just in terms of rates but in terms of offers such as cashback deals. Forward calculations show many fixed rates will be coming to an end during this period and so lenders are still working hard to secure some fantastic deals. It's still possible to lock into a low fixed rate deals.
Everybody's circumstances are different. Current advice is to start to look at what else is available at least three to six months before the end of your current deal and if you're thinking about fixing your rate, fix it sooner rather than later.
So, whether you're looking to remortgage to refinance that long-awaited extension or just to secure a great rate that will see you through the stormy waters that Brexit may stir up, it's worth having an informal chat with a company like Xpress Mortgages and assessing your options. As Directly Appointed Representatives they are able to view the whole of market for you, to make sure you secure the best rate available for your specific circumstances. They can advise on remortgages, new builds, buy-to-let properties and help first time buyers. If you have a HMO or need commercial property advice, just give them a call, they're there to help.
You can call Xpress Mortgages on 01932 350641 or just click this link.
'Your home may be repossessed if you do not keep up repayments on your mortgage'.