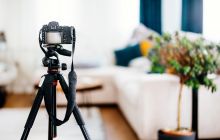 Photographs are one of the first things most property hunters check out. No matter how well-priced or well-located, or how generous a floorspace, if your property isn't photographed well you may struggle even to get viewers through the front door. And, with the property market being tougher than ever, this is not a mistake any seller or landlord can afford to make.

Estate agents and property photographs
Of course, if you are using an estate agent, property photography should be their responsibility. However, not all photographers are created equal. Make sure you take the time to look at the photographs in property listings before you choose an agent. It doesn't take an expert's eye to know if a photograph is good enough to tempt you to view the property or, at least, not to discount it. And, once you've chosen an agent, don't just automatically accept the photographs they take. Examine them critically and ask yourself if the pictures really are displaying the property to its best advantage.

The following ten tips may help you prepare your property for photographs.

1. Declutter
Estate agents often advise home sellers to declutter. It's not so much that a cluttered, crowded home devalues a property to the extent that it affects its position in the rankings of sold property prices. Rather, overly-full houses and flats can deter buyers (and potentially also renters), either because they conclude that the home lacks sufficient storage space or because they cannot "see past" the clutter to imagine their own possessions in situ.

Clutter also affects the quality of listing photographs. As well as the two potential problems outlined above, would-be viewers may struggle to visualise a room's proportions. Many property hunters also find it off-putting to see personal items, such as photographs, out on display. Evidence of pets, including beds, food bowls and cages, can also deter viewers. Similarly, make sure you move dustbins, rubbish bins and electrical cords out of sight. Remove any electric fans too as their presence may lead viewers to conclude that the property is too warm. When it comes to shelves and flat surfaces, work on the basis that less is more. Even if you are happy with your double-stacked bookshelf, remove half of them before photographing (and before viewings).

2. Clean
Clean, clear floors are a must, as are streak-free mirrors, windows and shower screens. Pay particular attention to bathrooms and kitchens and ensure that bottles of detergent, disinfectant and other cleaning fluids are not visible. Don't forget your outdoor space: a jet-washed patio or path can make a really positive impression.

3. Presentational touches
Check that you have:
- closed toilet lids
- made up beds with clean, crease-free linen
- put out clean, folded towels (preferably colour-coordinated)
- removed washing baskets and clothes airers
- put out fresh flowers and/or pot plants

4. Take relevant photographs
Have you ever puzzled over a property listing that includes a photograph of an elegant piece of artwork or furniture, or some other piece of moveable property that almost certainly does not come with the home? If yes, make very sure that your listing does not include this sort of shot. Every photograph should have direct relevance to the property that is for sale or rent. As a general rule, make sure you include photographs of the front and rear exteriors, the garden or other outside space, the kitchen, the bathroom(s), including any en-suites, the living areas, the master bedroom and any spare bedroom. If the property benefits from a particularly impressive or picturesque view, it's worth including a photograph of this too.

5. Take good quality photographs
No matter how good your smartphone, it is almost certainly not up to the job of helping to sell or let your property. Neither is a basic point and shoot camera. For high quality, crisp images, you need a proper DSLR camera. Whatever camera you use, you should also take care to avoid capturing the reflection of the photographer. This can be difficult in highly mirrored surroundings such as bathrooms and kitchens but a skilful and knowledgeable photographer will be adept at utilising different angles to avoid this problem. If it is impossible to take a particular shot without including an image of the photographer, make sure you edit the picture afterwards.

6. Think about the weather
It's become something of a cliche in that almost all property photographs show a brilliantly blue sky and vivid greenery. Often, this is an effect that's achieved via clever editing, but this is something that is easy to overdo. You can avoid heavy-handed editing if you can shoot your photographs on a bright, sunny day.

7. Open the windows and turn on the lights
This can really help when it comes to producing an image of an airy, light and bright room. This will help lessen the amount of shadow in the room and make it seem brighter.

8. Christmas, Halloween and other seasonal celebrations
Be wary of photographing your property if the images will show seasonal decorations such as Christmas trees. These instantly date a property's listing and there is some research to suggest that they can have a real effect on viewer interest and, indirectly, perhaps also on sold property prices.

9. Order the photographs logically
It's not uncommon to see online property listings that begin with a photograph of an aspect of the property that is not the front exterior. It's worth knowing, if you didn't already, that this almost always raises alarm bells, leading would-be buyers or tenants to conclude that the front is particularly unphotogenic. Some may even click away from the property at this point.

10. Finally....make use of editing software
When the photographs are back, it's common to spot an overlooked item that threatens to spoil the picture or to realise that, despite your best efforts, a particular room looks dark. Luckily, digital editing software can almost always take care of such problems. If you (or your agent) isn't confident to do this yourself, consider outsourcing the editing to a professional.
You can sign up to our newsletter and join Nethouseprice's community of over 190,000 members who get regular property tips, relevant offers and news, click here http://nethouseprices.com/auth/user-register
Source: Nethouseprices 24.05.19