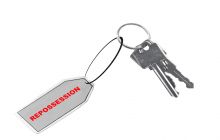 Homes seized by lenders following default on the mortgage or other loan secured on the property are called "repossessions". In most instances, lenders are keen to sell the property on as quickly as possible, both in order to recoup the outstanding finance and also to avoid incurring the additional costs inherent in maintaining an empty building.

Not everyone sets out to buy a repossession, but some investors make a beeline for them. Why is this? What are the advantages of buying repossessed residential property and what should you watch out for?

Are repossessed properties cheaper?
Quite often, yes, repossessed properties go on the market with an asking price that is some way below their true market value and that does not reflect recent sold property prices. Consequently, they can be seen as something of a bargain, frequently selling for around 30 per cent below the average selling price for a private sale.

Notwithstanding the fact that lenders have an obligation to obtain the best possible selling price in order to secure as much money as possible for the previous defaulting owner, lenders take no special preparations to ready the property for its sale. Anyone considering buying a repossession should take this into account and bear in mind that owners facing imminent repossession of their property often strip out anything moveable, including kitchen and bathroom fittings, fireplace surrounds, stoves, radiators and light fittings. The cost of replacing the removed goods and of remedying any associated damage can be considerable, and can turn a bargain into an expensive purchase. Even where a property has not suffered in this way, it is, of course, not uncommon for owners in financial difficulties to skimp on maintenance and repairs as they struggle to meet mortgage repayments. If the home is eventually repossessed, the new owner should expect a maintenance "backlog" and must factor this into their financial calculations.

How can I find a repossessed property to buy?
Some are listed through estate agents in the normal way and so pop up on all the usual online portals. However, finding them can be a bit hit and miss, particularly as not all estate agents advertise their repossessions but rely, instead, on buyers enquiring after them. As a result, many investors who regularly seek out and purchase repossessions choose to buy through auctions. This is a favoured way for lending institutions to divest themselves of repossessed properties due to the fact that the average time taken to conclude the transaction is considerably less than for buying through an estate agent.

Several online sites, such as Barnard Marcus Auctions, list forthcoming auctions. It's also worth checking local papers and maintaining good relationships with local estate agents who sell them.

Choosing the right repossession property
Choosing a repossession property is similar to choosing any other property. Think about what you want from your purchase, in terms of location, size, facilities and cost and try not to be distracted by an on-the-face-of-it attractive sale price. Bear in mind that you may face competition from other investors or private purchasers looking for a bargain or a "doer-upper". Any offer you make it more likely to result in a successful sale if you are ready to proceed. Among other factors, this means trying not to rely on an ongoing sale to fund your purchase.

Gazumping
An average of 3.6 per cent of UK property transactions succumb to gazumping every year. There is some limited evidence to suggest that anyone trying to buy a repossession has a slightly higher chance of being gazumped. This is because most repossessed properties are not taken off the market after an offer is accepted on them, and the lender selling them will happily accept new, higher offers even where the person who made the first offer has spent money on legal fees and surveys.

Surveys
Usually advisable on any property purchase, a survey is essential for repossessions. Not only is there the risk that the original owner may have damaged the fabric of the building or was unable to afford to pay for necessary maintenance and repairs, it is possible that a serious but hidden defect prevented that owner from selling the property themselves. This means you need more than a mere valuation survey, which confirms - or not - that the property is worth what you're paying for it and that sometimes may also peg it to local sold property prices. Instead, you need a structural survey, which examines the fabric of the building and highlights any necessary repairs.

Finance
If you need a mortgage, it is prudent to ensure you have a mortgage in principle agreed before beginning a search for a repossessed property. Not only will this provide a useful guide for what you can afford to buy, it will also highlight you as a serious buyer and reduce your risk of being gazumped. Obtaining a mortgage to buy a repossession is no different from obtaining a mortgage to buy any other property. An independent financial advisor is usually a good place to start your search. If you think you might buy through an auction, you may want to investigate bridging loans, and in-principle decisions can be obtained relatively quickly.

Utility reconnection
Most repossessions will have been disconnected from mains gas, electricity and water, as well as telephone and internet services. You will need to organise - and pay for - their reconnection.

Tenants
Not all repossessions were owner-occupied. Some may be landlords - and their tenants can sometimes still be living in the property when it's sold. If you're buying a previously tenanted repossession, make sure the tenants really have vacated the property and returned the keys.

Credit ratings and bailiffs
An unhappy although usually short-lived consequence for buyers of repossessed properties can be that their details are muddled with those of the last occupant. This can result in the new owner's credit rating taking a nosedive and even in bailiffs turning up on the doorstep. Although everyone should keep a regular eye on their credit rating, take particular care to check your credit record a month or so after you move in. Similarly, watch out for red debt collection bills addressed to the previous occupant. If you can identify the sender from the envelope, give them a call in order to forestall any bailiff visits.
You can sign up to our newsletter and join Nethouseprice's community of over 190,000 members who get regular property tips, relevant offers and news, click here http://nethouseprices.com/auth/user-register
Source: Nethouseprices 28.05.19