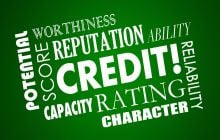 Buying a home - whether it's a first property or a step along the ladder - involves multiple preparatory steps. There's saving for a deposit, deciding where you want to live and researching sold property prices in your chosen area, applying for a mortgage in principle, making an offer, appointing a solicitor and going through the necessary paperwork before completing and receiving the keys. However, an essential part of this process is one that many people forget - or never even know about unless their lending institution flags it as an issue - and that is the buyer's credit check.

Any lending institution considering advancing credit of any form will want to know that the borrower's finances are in good general shape. Among other points, this means that they'll be interested in any existing outstanding credit, any previous credit arrangements (and how and when it was repaid), and any defaults or County Court Judgments. All of this information - and more - is disclosed in an individual's credit report.

The UK has three main credit reference agencies (TransUnion - formerly known as Callcredit, Equifax and Experian) and lending institutions may use any one of them to check up on potential borrowers. As a consequence, it's sensible to keep an eye on your credit record at all three agencies. Monitoring your credit record is also an excellent way of safeguarding yourself against fraudsters.

We look at five common credit rating problems and how best to approach them.

1. I am worried that checking my credit rating will lower my score.

This is not true. Only "hard checks" by lending institutions can sometimes do this. (A "hard check" leaves a visible "footprint" on your file, confirming that you have applied for credit. Most such "footprints" are visible for 12 months, although some may be visible for longer.)

2. How do I know what counts as a good credit score?

The answer is different for each credit reference agency and, even then, may vary depending on the applicant and their reason for applying for credit. As a general rule:

- a good TransUnion score is 4 out of 5;
- a good Equifax score is scoring over 420 out of 700; and
- a good Experian score is scoring over 880 out of 999.

However, do bear in mind that lenders do not make their decisions based solely on your credit score. This means that even a "high" score is no guarantee that you will be accepted for a particular product or that you'll receive a certain interest rate.

3. My credit rating score is too low. How can I raise it?

A good credit score is not built overnight and much depends on your financial history over the past six or so years. However, there are certain steps you can take that may have a positive effect sooner. In particular:

- ensuring you are registered on the electoral roll at your current address;
- reporting any incorrect information. For example, your credit file may wrongly list you as living at an old address;
- pay all your bills in a timely fashion, without any late payments. Even if you don't have any utility bills, perhaps because you are living with parents or a live-in landlord, paying monthly mobile phone bills on time is a positive indicator of your financial prudence and responsibility;
- ensure that your personal information is not incorrectly linked to anyone else such as an ex-partner or a previous occupant of your home;
- watch out for "red" bills or other letters indicating outstanding debts addressed to a previous occupant of your home. If you can identify the sender - without opening the envelope - it's very sensible to contact them and let them know that the addressee has moved on;
- try not to move home too frequently. This can be difficult, particularly if you are young or currently living in rented accommodation, but it's worth bearing in mind that frequent house moves can act as a red flag to lending institutions;
- pay off debt as quickly as possible - and try to avoid accruing any more;
- if you have no credit history, consider building some by taking out a contract mobile phone or a credit card. If the latter, make sure you clear your spending every month and try not to use more than around 30 per cent of your maximum spending allowance.

4. I've found a mistake on my credit file. How do I amend it?

Your first step is to report the error to the credit reference agency. You must then allow them 28 days either to amend the incorrect information or let you know why they will not do so. During this 28-day period, the alleged mistake will be flagged up as "disputed", which means that any lender accessing your file for the purpose of assessing your credit rating must discount it. You should also try to speak directly to whichever credit provider has responsibility for the error. They can also notify the credit reference agency of the error - and, rightly or wrongly, the credit reference agency is more likely to act quickly on their concerns than yours. Additionally, if following your review of your credit file, you feel that it includes information that is not an accurate representation of your current financial situation (for example, you fell into debt after suffering redundancy but now have a new job), you can add a 200-word notice of correction to your file. This will not change the substance of what is currently recorded but will allow anyone checking your file to see that the situation has now changed in your favour.

5. I want to apply for a mortgage next year. My credit rating is good. Is there anything else I should do?

Yes - do not rest on your laurels. A lack of caution now may result in your application being declined and you either having to take your chance with another provider or take the time to rebuild your score. In a rising market, either of these two alternatives can mean that sold property prices force you to readjust your buying expectations. Consequently, take care not to apply for any unnecessary credit in the run-up to your mortgage application - particularly in the six months immediately beforehand. Finally, watch your spending because, as well as requiring you to have a good credit score, most lending institutions will also want to check your use of your disposable income.
You can sign up to our newsletter and join Nethouseprice's community of over 190,000 members who get regular property tips, relevant offers and news, click here http://nethouseprices.com/auth/user-register
Source: Nethouseprices 30.05.19