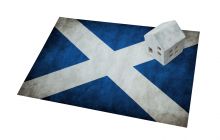 Recent figures and analysis strongly suggest that the Scottish property market is continuing to outperform the market across the rest of the United Kingdom. In the twelve months to January 2019, 26 of the 32 Scottish local authorities were showing price rises. Heading the league was Edinburgh, with Clackmannanshire only just behind - although it may be worth noting that Clackmannanshire's figures are based on just 40 residential property sales. At the bottom of the chart was the Scottish Borders, with a 15 per cent price fall. In particular, by the end of 2018, both Glasgow and Edinburgh were riding high on average property price growth that outstripped everywhere in the UK apart from London. A 9 per cent growth figure for both Scottish cities translated into average sold property prices rising to £137,507 from £126,016 in Glasgow and to £264,745 from £242,807 in Edinburgh. In contrast, the average figure for the whole of the UK stood at 3 per cent, representing a rise in sold property prices to £232,554 from £224,502.

What are the reasons behind these performances?

The SNP's more bullish approach to Brexit negotiations and a renewed push for Scottish independence has been touted as one potential explanation. However, other more general factors undoubtedly also play a part: the relatively strong economic situation, low unemployment, steady growth in wages, low mortgage rates and a demand for properties from would-be buyers that outstrips the supply from cautious sellers. Certainly, no-one has suggested a reason anywhere near that of the league of the 2015 introduction of the Land and Buildings Transaction Tax, which resulted in purchasers rushing to complete on high-value property purchases before the implementation deadline. Whatever the reasons for the recent strong performance, it is impossible to predict with certainty whether or not it is sustainable. Despite this, a number of factors may influence events.


Current factors that may influence the Scottish property investment market

1. Amendments to the Additional Dwelling Supplement (ADS) section of the Land and Buildings Transaction Tax came into force on 25 January 2019 and increase ADS from 3 to 4 per cent. Payable on the purchase of second (or buy-to-let) properties, ADS targets investors and its increase is part of the Scottish government's plan to create an easier buying landscape for first-time purchasers by bringing more homes onto the market. Meanwhile, the Land and Buildings Transaction Tax itself continues to push more of the total tax burden onto buyers of Scotland's more expensive properties. Lauded as a progressive tax by many, one potential downside to this increased tax take is that fewer homes sell at the top end of the market, which has an obvious knock-on effect elsewhere.

2. An expected cap to AirBnB rentals in Edinburgh is intended to reduce the appeal for investors currently targeting the short-term rental market. Many permanent Edinburgh residents, unhappy at the changing face of their neighbourhoods as well as the strain on public waste collections and noise issues, have long been campaigning for just such a move. In this, they received a measure of support from local government, as a result of its own concerns surrounding the safety of AirBnB rentals, which do not, for example, have to comply with legislation on Houses of Multiple Occupation. It's too early to predict with certainty but any cap could affect property prices in the city.

3. Brexit

In many ways, the "big one", Brexit's influence continues to make itself felt. A recent study by the Royal Institution of Chartered Surveyors records that 9 per cent of respondents reported a fall in buyer demand during March this year. Industry analysts veer between caution and outright pessimism, with most predicting buyer demand to slump further in the coming months. Alongside this, the majority of estate agents and solicitors are reporting little sign of any upsurge in the number of new properties coming to the market. In December 2018, the net balance was -18 per cent but, by March, this had fallen further to -24 per cent. With neither buyers nor sellers displaying the necessary confidence, it seems unlikely that transaction volume will increase in the near future. Moreover, it is not only private sellers who are cautious; the indications are that developers, too, are reluctant to commence new residential projects in the current economic and political climate.


The best Scottish cities for renting

Investors not deterred by the current uncertainty surrounding the status of the Scottish property market might be interested to drill down into the specifics of the nation's rental market. Appetite for rental properties continues (unsurprisingly) to grow. As a result of the falling number of homes coming onto the market, property prices that continue to outstrip wage growth and the increasing difficulties of obtaining a mortgage, the number of people who rent their home from a private landlord has almost doubled over the last decade or so. What's more, most of them are paying considerably more - in real terms - for the privilege. These rises affect houses, conversions and purpose-built flats alike but most particularly those situated in Scotland's cities. In Edinburgh, the average city rent stood at £747 in 2008. By 2018, it was £1,062. Over the same period, Glasgow experienced a rise from £567 to £749 - and although this may seem less marked must be put in context of lower average wages and salaries in the city. The only Scottish city not to experience rent rises over this decade was Aberdeen, although this may have been scant comfort to many of its residents whose jobs and employment opportunities suffered in the wake of the oil and gas sector slump. And, now, as the sector begins to show signs of recovery, it's to be expected that Aberdeen's rental market may soon display a similar resurgence. Across Scotland, the Royal Institution of Chartered Surveyors is predicting average rent rises of 15 per cent in the four years to 2023. This - for investors willing and able to take the plunge - surely represents an opportunity.
You can sign up to our newsletter and join Nethouseprice's community of over 190,000 members who get regular property tips, relevant offers and news, click here http://nethouseprices.com/auth/user-register
Source: Nethouseprices 30.05.19