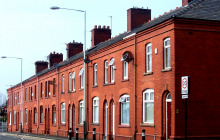 The internet is full of articles about how to increase your property's kerb appeal. This is understandable: kerb appeal can have a real effect on how easily a home finds a buyer and, in many cases, can even influence final sold property prices. This is because more visually appealing homes tend to attract more would-be buyers, which can then drive up the selling price. And, from the perspective of a property's occupier, kerb appeal can be a real mood influencer. Coming home to a place that makes your heart lift just at the sight of it is always going to be more pleasant than putting your key in the lock of somewhere that has the opposite effect.

Despite the obvious benefits of getting kerb appeal right, it can be difficult to disentangle specific tips for a particular property from more general articles aimed at a whole spectrum of homes. Consequently, in this article we concentrate on one type of property that makes up approximately 26 per cent of the UK's housing stock: the terraced house.

The drive or path
Not all terraced houses have them, but if yours is separated from the street by a drive or path, it's advisable to make the most of it. If the hard standing is in good condition, weeding (if necessary) and pressure washing may suffice to keep it looking good. However, if, for example, paving stones are chipped or in poor condition or tarmac is potholed, you may want to consider laying a new surface. Take time to consider what surface would be most in keeping with the surroundings and, as always with relatively major works, ensure you get more than one quote.

Drives and paths can appear relatively uninviting, especially if they are not softened with thoughtful planting and greenery. If you have room - even if this means taking up a paving stone or two - creating small flower beds can work wonders.

Fences and hedges
Although fences and hedges are not possible in front of every terraced home, where they are, they can make a real impact. For maximum effect, try to ensure you choose something that is in keeping with the age and appearance of the property. For example, a small "cottage-style" terrace - even in a city - might get away with a picket fence or even an elaborate metalwork trellis against which you can grow climbing roses and clematis. More modern properties can benefit from a different style: for example, by utilising ornamental grasses or acers.

Hanging baskets, window boxes, pots and planters
Some occupiers are wary of anything that might be stolen. Hanging baskets, unless they are positioned very high up, may be an obvious risk, as are lightweight pots and planters. Choosing heavy stone versions can minimise the temptation to light-fingered passers-by, but do make sure you choose frost-safe containers.

Houses opening directly onto the street
Houses that open straight onto the street are a common feature of many British towns and cities. While you obviously cannot conjure up a path, hedge or fence, you can ensure you delineate the divide between your home and the street outside. The simplest way to do this is to keep your front step - or stoop, if you have one - clean and well-maintained. For concrete or stone steps, this will usually be a case of keeping it swept. However, some steps may be painted or, if wooden, stained. If yours is painted or stained, keeping it in excellent decorative order is an easy way to make your home look well-cared for and inviting.

Windows and window-dressings
As with any home, keeping the window frames in good condition (for example, watching out for rot in wooden frames and keeping them painted or stained) is a must. The windows themselves should be clean and free from cracks, chips or misting. Choose replacement frames and windows carefully, making sure to explore all available alternatives.

A common bug-bear for many occupiers of terraced homes is that passers-by can see straight into the downstairs rooms, and sometimes also the upstairs ones if the house is on a bus route. Net curtains are the traditional way to preserve privacy, but they have fallen out of fashion in recent years. Venetian blinds or plantation shutters are more contemporary alternatives, but they are expensive to install, are time-consuming to keep clean and do not always allow in as much light as is desirable. Some people choose a compromise: blinds or shutters that are fixed only to the bottom half of the window. Others decide to use light voile blinds, which can look very elegant indeed. Another idea is to use a frosted privacy screen, which adheres to the window. These come in a huge variety of designs.

Wheelie bin stores
For the occupiers of some terraced homes, storing the wheelie bins directly outside the front of the property is unavoidable. As the bins must not be kept on the pavement - unless rubbish collection is imminent - this may mean they are very close indeed to the property's windows or front door. This can be unpleasant for anyone inside the property, especially in the summer, and may also be off-putting to viewers when the house is up for sale. Although the location of wheelie bins is unlikely to affect sold property prices, most estate agents are familiar with buyers who automatically discount homes where wheelies either have to be brought through the house on rubbish collection days or where they have to be stored directly outside the front. There's little you can do if you need to bring the bin through the house due to lack of storage at the front but, if there's room, a well-designed bin store can be an asset to the house. Climbing plants or even roof gardens can be used to further improve the appearance of the bin store.

Be wary of trying to do too much
As with many home improvement projects, it can sometimes be tempting to do too much. For example, with a terraced house, you should think carefully before deciding to add a porch or bay window, unless to do so would be to replace an original feature. Part of what can make terraced houses very attractive is their uniformity and doing anything to alter that risks making your house stand out for all the wrong reasons.
You can sign up to our newsletter and join Nethouseprice's community of over 190,000 members who get regular property tips, relevant offers and news, click here http://nethouseprices.com/auth/user-register
Source: Nethouseprices.com 11.06.2019