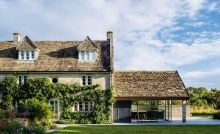 Is your home one of the 300,000 or so listed buildings in England? If it is, you're more than a home owner. You are a custodian of part of our national heritage and it is your privilege and responsibility to look after the special character of the property you call home.
The process of 'listing' a building materially affects what you can do as a householder. In order to be able to carry out many home improvements and alterations – including fitting a new kitchen – you first need to obtain Listed Building Consent to satisfy the authorities that the character and appearance of the building will be preserved.
What can you do in a listed building?
According to the National Heritage List for England (NHLE), there are 3 types of listing to protect historic buildings and sites in England.
About 2.5% of all listed buildings are awarded Grade I listed status, being of exceptional historic or architectural interest or of international significance. London's Tower Bridge and most of Oxford University's colleges are among them, though you will find very few Grade I listed buildings that are private residences.
Historic England will be vigilant to ensure that existing exterior and interior details remain unchanged, and this includes features such as plaster work, architectural joinery and original light switches. Installing a new kitchen into a Grade I listed home can be tricky, as bespoke country house experts Artichoke found out when they were asked to design a kitchen for the 300-year-old stately residence Burley on the Hill in Central England, without being allowed to touch the historic wooden panelling in any way.
Source: Artichoke
Kitchen projects for homes of this nature often throw up issues with extraction routes, or finding suitable fixing solutions into the existing building substance, soft lime mortar and rubble walls.
Grade II* Listed Buildings
Just over 5% of listed buildings are given Grade II* listed status. These buildings are considered to be more than 'of special interest' (Grade II) on account of certain features that are particularly significant and may therefore carry similar restrictions as a Grade I listed building with precious little opportunity to make alterations. Two famous examples of Grade II* listed buildings are the iconic Battersea Power Station and Ernő Goldfinger's Brutalist style Trellick Tower in North London.
Whether you will encounter any problems designing a bespoke kitchen for this type of property depends entirely on the nature and location of the special features in question. If, say, you're thinking of building a new kitchen extension while the Grade II* listing protects the original roof structure, some leeway may be possible.
Grade II Listed Buildings
The vast majority of listed buildings fall into the Grade II category, and this is the most likely grade that you will encounter as a home owner. These are buildings that are deemed to be of special historical and/or architectural interest and of national importance.
While this is the least onerous type of listing in terms of the improvements you are able to make, Listed Building Consent for any alterations must always be obtained – both for inside and outside refurbishments or modifications of the building. It is highly recommended that you build a good rapport with your local Building Conservation Office and run any questions you may have past the person who will be the ultimate decision maker of what you will and won't be able to do in your kitchen.
Source: Homebuilding & Renovating
How to approach your bespoke kitchen design and installation
Over recent centuries, the function and design of a domestic kitchen has changed drastically. Once a working room used for food preparation and cooking, the space would have featured a large open fireplace or stove, a fitted dresser and a stone floor. A scullery for washing up and a pantry for food storage would have completed the set-up.
Today's requirements for kitchen storage, workspace and appliances have come a very long way. Reassuringly, the listed status of a building is not meant to freeze it in time – it's not a preservation order but merely designed to protect its special interest. In fact, unless you are planning to make structural alterations that affect the character of your period home, it is perfectly possible that Listed Building Consent may not be required.
Your first task must be to establish whether your kitchen has any significant features that are protected by the listed status. Cast iron range cookers, original break ovens, fireplaces, old floor tiles, timber beams and plaster ceilings will in all likelihood be covered. Be prepared that consent may well be refused, especially if you are planning to remove any original features.
Creating a kitchen diner by knocking through two adjoining rooms, or moving the original kitchen into a room not previously used as a kitchen will come with additional problems. Removing walls, chimney breasts or doorways will change the layout of the property, may damage precious decorative plaster work and panelling and will most certainly be subject to consent – which may well not be given.
Have a clear understanding of the history of the house, its internal layout and the original decorations in individual rooms to inform your thinking about the type of kitchen project that might have the greatest chances of success.
While installing a new kitchen in a listed home is certainly not for the faint hearted, it is not an impossible task. Seek out a specialist kitchen company that has experience in historic homes, adhere to government planning guidelines and cooperate closely with the Listed Planning Officer for the best outcome for all concerned.