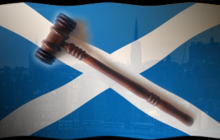 There are a number of reasons why selling property at auction can look attractive:

-when sold property prices are stagnating

-when you are in a hurry to sell a property, whether for financial reasons or due to an imminent need to relocate or downscale an existing property portfolio

-when you find yourself with a quirky or unusual property that does not "fit" the local property market, making it either hard to value or difficult to reach the right buyer

-when you are selling a renovation project, particularly if it's one that would be difficult or impossible to obtain a mortgage on

-when you are already a veteran auction seller (or buyer or both), and appreciate the ease and relative speed of doing business through them.

If you fit the last category, you're unlikely to need much advice when it comes to property auctions. However, if you recognise yourself in one of the preceding points, here's a handy guide for selling residential property at Scottish property auctions.

Finding an auction house

This is relatively straightforward to do via a search in the Yellow Pages (online or hard copy). Alternatively, you can contact the Royal Institution of Chartered Surveyors (RICS). Whether you're buying or selling, make sure you pick an auction house that is a member of one of the relevant professional organisations, such as the National Association of Valuers and Auctioneers or the National Association of Estate Agents. If you're looking to sell, examine recent catalogues to ensure that your property will not look out of place (type of home, area, price and quality etc.) among those that the auction house typically sells. Apart from anything else, you're less likely to find a buyer if your property stands out for the wrong reasons. Similarly, if you're looking to buy, there's little sense in wasting your time in attending an auction selling properties that are nothing like the sort you are hoping to buy.

Understanding the auctioneer's role

You should expect your auctioneer to do the following.

1. Promote your property in its listings catalogue and possibly also through other advertising media

2. Prepare the property's selling particulars, including taking photographs

3. Prepare the property's information pack, including specifics of its title deeds and any relevant sale conditions

4. Make arrangements for interested buyers and their surveyors to view the property prior to the auction

5. Arrange the property's sale on the auction day

6. Sign the sale contract on behalf of you as the current owner

7. Send the sale proceeds to your solicitor

You might also find that your auctioneer routinely prepares a seller's pack, including a survey of the property. Always ask to check if this is the case or not.

Understanding your solicitor's role in a sale by auction

You should expect your solicitor to undertake the following.

1. Arrange for the preparation of the home report. This has been a legal obligation since 1 December 2008 and must include a survey of the property and an energy efficiency report.

2. Obtain the property's title deeds and information pertaining to any sale conditions. The relevant documents should be passed to the auctioneer so as to enable them to put together the property's sale pack.

You can also request the solicitor to attend the auction in order to answer any queries from bidders or yourself. However, do bear in mind that this will incur an additional fee.

Selling a property at auction: what to discuss with the auctioneer

If you decide to sell your property at auction, there are several important points to discuss with the auctioneer.

1. Whether your property is suitable for that auction house's catalogue.

2. When you want to sell the property and in which auction, bearing in mind you'll need to vacate within 28 days of a successful bid.

3. What arrangements you can make for potential bidders and surveyors to view the property prior to auction.

4. The reserve price (in other words, the lowest price you are prepared to accept for the property). Obviously, a reserve price is affected by a variety of factors, including the property's value and condition, current average sold property prices and the figure you want to achieve on the sale, but it may ultimately boil down to little more than the price below which you cannot - or will not - allow the property to sell for. As well as discussing the reserve price with the auctioneer, you should also take advice from your solicitor.

5. The auctioneer's commission and other related charges. Commission is usually set at around 2.5 per cent of the property's selling price, with VAT added on that. You'll also need to factor in the additional costs of advertising the property - for example, the auction house may promote forthcoming lots in local newspapers or online. Finally, don't forget to check how much you'll need to pay if your property does not sell at the auction.

Receiving an offer before the auction

It sometimes happens that sellers receive an offer on their property prior to the auction taking place. If this happens to you, you may wonder if you can accept it - or if it would be advisable to do so. You may even be hoping to receive such an offer. You can maximise your chances of someone offering on the property prior to the auction by ensuring it is listed in the catalogue as up for sale by auction "unless previously sold". The appearance of this phrasing can sometimes incentivise interested bidders to put in an early offer for fear of losing out if they wait for the auction. Whether or not you choose to accept any such offer will depend on whether you prefer to avoid the time and expense of putting the property into the auction or whether you gauge that you might achieve a higher offer at auction.

What happens if your property fails to sell at auction

Even if your property fails to reach the reserve price, you may still (if you wish) be able to sell it to the highest bidder. The auctioneer and your solicitor will clarify the situation for you and help you with the process of doing so. However, if the property does not sell, you must still pay the auctioneer's costs.
You can sign up to our newsletter and join Nethouseprice's community of over 190,000 members who get regular property tips, relevant offers and news, click here http://nethouseprices.com/auth/user-register
Source: Nethouseprices.com 01.07.19