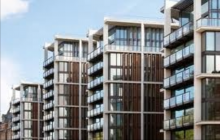 Long viewed as the ideal starter home, recent reports suggest that flats are falling out of fashion with first-time buyers. If true, why is this happening? Where are people choosing to live instead and what does this mean from a residential property investor's perspective?

Are changing sold property prices affecting flats?

In a word, yes. As sold property prices continue to stagnate or slip across many parts of the United Kingdom, it is flats and their close cousin, the maisonette, that are being particularly profoundly affected. The latest property price statistics suggest that the selling price of the average flat has dropped by 2.1 per cent in the twelve months between April 2018 and April 2019. By way of comparison, over the same period of time, the cost of the average detached house rose by 2.5 per cent, the cost of the average semi-detached property increased by 1.7 per cent, while the average terraced home enjoyed a 1.6 per cent rise.

You might think that falling sale prices for flats represents good news for the would-be first-time buyer. However, the evidence suggests that first-time property purchasers are no longer evangelising over apartment living or, at least, they are no longer as keen to buy a flat, even if they are prepared to rent them.

Interestingly, flats do not seem to have fallen out of favour as rental homes, particularly for young, mobile, professional tenants. It would appear that, when it comes to renting, this demographic continues to value the flexibility and convenience that flat living can provide. Moreover, developers have been relatively quick to pick up on this trend, and the majority of new apartments now being built in urban areas are aimed squarely at the rental market.

So, what's the reason for flats falling out of favour with first-time buyers?

Industry analysts suggest the change in preference is attributable largely to two main factors.

The first, driven by would-be owner-occupiers themselves, stems from a rising desire to leapfrog the traditional "starter" home and move straight onto buying something with more longevity. The reasons for this are compound, relating partly to the rising cost of financing the purchase of any home, partly to the rising average age of first time home ownership and partly perhaps to a generational change in expectations. Understandably, the rising cost of buying a home makes people at all stages on the housing ladder reluctant to make more moves than necessary, while first-time buyers who may be well into their 30s are more likely to be planning to start a family in the near future and are consequently less likely to regard the average one or two-bedroom flat, perhaps with a single open-plan kitchen-living room, as suitable for family life. As for expectations, this is harder to quantify, but some commentators have suggested that the influence of social media and particular television shows may be helping to remodel expectations as to what constitutes a suitable or acceptable first-time property.

The second reason concerns property investors. Falling demand for flat ownership among this demographic has inevitably affected the cost of the average property. The reasons for the tail-off in interest are well-documented, relating to a far less generous tax regime (the loss of mortgage interest tax relief, steeper stamp duty charges etc.) and over-production of rental units, particularly in many large urban areas. This slowdown is particularly evident in London and the South East where, although demand for rental properties remains high and shows no sign of diminishing, many developers have overbuilt in areas such as the London Docklands. The result are large, under-populated developments that struggle to attract new buyers, whether investors or owner-occupiers.

Despite these factors, certain developments continue to maintain a favourable profile and easily attract new residents. For example, London's old Battersea Power Station and forthcoming plans for Metalworks in Liverpool both fall into this category.

Current average UK prices for flats

Those that are tempted by the possibility of buying a cut-price flat might be interested to know which areas of the UK currently offer the best bargains. Recent Land Registry figures suggest that flats for under £80,000 are currently available in 17 urban areas across the UK. Burnley offers the best bargains, with a flat priced at only £54,161. At the other end of the scale, prices are highest in Kensington and Chelsea, where the average flat still costs more than £1m. In general, London is not the place to seek a bargain; even its cheapest boroughs - Havering, Bexley, and Barking and Dagenham - all still have average flat prices in excess of £230,000.

Buying and selling flats - tips for investors

If you're an investor looking to make investing in flats continue to work for you, you could consider the following ideas:

1. Focusing on a particular demographic with a proven track record of seeking flat rentals. Students in large university towns, young professionals or junior medics are all potentially good options. However, you would need to ensure that any investment property is, for example, in an established student area, close to good public transport and/or major centres of employment, or near a large hospital (especially if it's a teaching hospital).

2. Consider providing serviced accommodation. This is an option that aims to fill the gap between traditional rentals and hotel accommodation. The proliferation of Airbnb lets highlights the demand for this sort of accommodation. However, Airbnb and serviced apartments differ on a few important points: pricing and reviews, facilities and services (these tend to be more variable with Airbnb lets, which are far less likely to offer the sort of maid or concierge service that is integral to serviced apartments), and location (serviced apartments tend to be located close to major transport hubs or business destinations, whereas Airbnb lets are found more frequently in local neighbourhoods).

3. Buying off-plan has received significant negative publicity recently but, if you find the right development, don't rule out this method of purchase.

4. If you find yourself struggling to shift an investment flat, try to think laterally. As well as ensuring that the property features on all the major online portals, consider putting it into an auction or even advertising it on sites such as Gumtree or Ebay.
You can sign up to our newsletter and join Nethouseprice's community of over 190,000 members who get regular property tips, relevant offers and news, click here http://nethouseprices.com/auth/user-register
Source: Nethouseprices.com 01.07.19