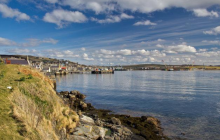 If the recent heatwave is too much for you, perhaps you've started daydreaming about moving somewhere with cooler weather conditions. It's possible that Scotland features in your thoughts. Edinburgh and Glasgow might be the obvious choices; both are popular destinations for both Scots and incomers to Scotland alike. The Highlands, too, attract a fair share of newcomers, although employment opportunities may give pause for thought.

In recent years, it is employment opportunities that have brought some newcomers to new lives on a variety of Scottish islands. Although perennially popular as holiday destinations, most of Scotland's islands have suffered greatly from depopulation over the past century. Some now lie deserted, left to wild goats and seabirds. Others, however, are seeing their populations boosted by new arrivals, some from the Scottish mainland, some from England or Wales, and a few from even further away. Some arrive under their own steam while others come in response to periodic advertisements for new residents to undertake specific occupations on particular islands, and these have often attracted applicants in their hundreds.

If you're really serious about wanting to move, consider the following factors:

1. Visit more than once.

More than this, visit in more than one season. What seems beautiful in the long light days of summer might seem tolerable in autumn but downright miserable in winter's short and often stormy days. Don't forget that bad weather usually means transport options to the mainland (or nearest "big" island) are off the menu. While this may usually be little more than an inconvenience, it might on occasion be more than that, especially when most of your loved ones do not live on the same island as you.

If you have school-age children, or plan to, remember to check out the local schools. On larger islands, such as in Orkney, schools tend to be larger albeit with classes substantially smaller than on the mainland. However, in less densely-populated areas, primary schools can be very small indeed, and mixed-year teaching the norm. If access to a larger peer group is important, you may wish to live closer to one of the bigger primary schools. Depending on the island, secondary schooling may involve a boat trip and weekly boarding.

2. Don't rush into buying a property.

Once you've made your decision to move, you may be understandably keen to settle down in your new "forever home". However, depending on the island, properties for sale may be few and far between. Even if they're not, it makes sense to rent at first, giving you a chance to confirm that this new adventure really is for you.

3. Factor in the additional expenses.

While some islands, especially the smaller ones, may provide less opportunities for you to spend money on the ground, the cost of online orders is often significantly higher than you may be used to. Most businesses add a surcharge to orders from the Highlands and Islands to counteract the higher cost of delivery, and some may refuse to accept orders at all. Added to this, deliveries are often weather-dependent, so you'll need to get used to planning well in advance for essential purchases. Food and fuel costs may also be higher, due to transport costs and, in the case of fuel, increased usage during colder weather.

4. Don't expect buying property to make you money (or at least, not quickly)

The Scottish islands are currently performing well in the property stakes. For example, sold property prices in Kirkwall, in Orkney, are 11 per cent up on the previous year and 17 per cent up on the year before that (and show a current average sale price of £156,221). Stromness, Orkney's priciest area for property purchases, performed very similarly (current average selling price of £159,863).

Over the same period of time, Shetland property prices were similar, with Lerwick the most expensive area to buy (with an average selling price of £179,989) and Scalloway the cheapest (an average sale price of £134,964).

Although 6 per cent higher than the previous year, and 12 per cent more than the year before that, prices in the Western Isles lag behind those in both Shetland and Orkney. Currently, the Isle of Lewis provides the Western Isles' most expensive property, averaging at £118,757, while the Isle of Benbecula offers the cheapest, with average sold property prices of just £89,818.

Despite these undeniable increases (which are positively stellar compared to statistics in much of the rest of the United Kingdom, especially south of the border in England and Wales), it is important not to read too much into them. First, the cost of relocation has a significant effect on many incomers (and out-goers). Secondly, the relatively higher expense of living on a Scottish island also has a tendency to eat into any potential profits. Finally, although Scottish properties often sell quicker than those in England and Wales (with Edinburgh and Glasgow leading the pack), island homes may not find buyers as quickly. This is especially true of the smaller islands with correspondingly smaller economies and fewer employment opportunities.

All of that said, many Scottish island property purchasers do expect their new home to make them money - and with good reason. The relative accessibility of many islands (for example, flights from London Heathrow to Inverness take around 90 minutes and onward flights to many of the larger islands are frequent) makes for a thriving tourist industry. And, of course, tourists need somewhere to stay, places to eat and, often, activities to undertake.

Like many established residents, some newcomers to Scotland's islands plan to make their new property work for them by offering bed and breakfast accommodation or self-catering holidays. Others might consider opening a tea shop or running activity holidays, such as yoga retreats or writing workshops. Inevitably, such ventures involve an initial cash injection, not to mention time, effort and - frequently - physical labour - but the results can pay off handsomely if the new accommodation is in the right location and if the appropriate tourist demographic is targeted. For example, the Islands Visitor Survey showed that over 170,000 visitors travelled to the Orkney Islands last year. This figure does not include the approximately 124,000 cruise ship passengers who, according to a report for the Orkney Islands Council and Highlands and Islands Enterprise by Orkney Volume Tourism Management, visited the island over the same period of time.
You can sign up to our newsletter and join Nethouseprice's community of over 190,000 members who get regular property tips, relevant offers and news, click here http://nethouseprices.com/auth/user-register
Source: Nethouseprices.com 02.07.19