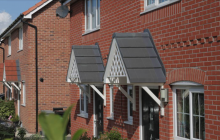 When it comes to property investment, the north-west is sometimes overlooked in favour of larger, higher-profile locations such as London. However, many north-west towns and cities have plenty to offer the residential property investor. We take a closer look at three of these locations: Bolton, Liverpool and Manchester.

1. Bolton

Population and local economy
Currently home to around 280,000 people, Bolton's population is growing and is projected to pass the 300,000 mark by 2025. It's already an important player in the ever-expanding economy of Greater Manchester, which, in turn, is a linchpin of the government-masterminded "Northern Powerhouse". By itself, Bolton has an economy worth in excess of £4.6 billion, thanks to investment such as that provided by Logistics North, which operates a pivotal distribution hub for major online retailers including Amazon. As well as home to Bolton Wanderers FC, the town is a renowned shopping and leisure destination. The restored Victorian Market Place is widely lauded, but there are also plenty of high street and independent retailers, as well as Middlebrook, an 80 hectare retail and leisure complex.

Cultural capital
Bolton is justifiably proud of its cultural heritage. Its Grade II* listed Albert Halls, its Octagon Theatre and the Bolton Museum have all either recently undergone extensive refurbishment or redevelopment or are set to do so shortly. The annual Bolton Food and Drink Festival attracts a quarter of a million visitors every year, while the Ironman UK race - one of Europe's largest - also draws thousands every year.

Regeneration plan
A £1 billion regeneration plan is set to boost Bolton's economy further. This is due to take the form of investment into the town centre over the next 15 years. Partly on the strength of the successful Market Place revamp, as well as a recently opened £50 million local transport hub, the council has managed to raise a £100 million development fund to start the process. The University of Bolton, itself a crucial player in the town's economy, is taking a leading role in the regeneration project.

Property investment
Given the projected population increase and the millions of pounds being poured into the town, it's no surprise that Bolton has plenty to offer property investors. Several recent new developments have already attracted buy-to-let investors, while also boosting local sold property prices. A key forthcoming development to keep an eye on is Church Wharf. Set to occupy a riverside location in the town centre, Church Wharf is a £150 million development scheme that will include river walkways, hotels. offices, and leisure and retail facilities, as well as hundreds of residential property units.

2. Liverpool

Music and football have long been Liverpool's passport to international success. However, its position as European Capital of Culture for 2008 helped spark renewed interest in the city's older maritime heritage. Acres of long-disused and derelict warehouses and dockland properties have been transformed into desirable residential units. And with the magic combination of sold property prices in the city that are forecast to rise by more than 20 per cent by 2021, current average prices of around £125,000 and a good score in Hometrack UK's rental market report, investment opportunities in Liverpool look ripe for the picking.

Rental yields and students
Statistics from Totally Money confirm that rental yields for buy-to-let properties are hard to beat in Liverpool. The L7 postcode, encompassing Liverpool City Centre, Edge Hill, Fairfield and Kensington, tops the city's list with an average yield of 9.79 per cent and average monthly rents of £943. The L1 postcode is not far behind, with average rental yields of 9.33 per cent. These statistics tally with wider findings from Totally Money, which indicate that university cities outside of London are the strongest performers when it comes to buy-to-let yields. Liverpool, of course, is home to three universities and, in term-time, more than 70,000 students.

New developments
After years of "managed decline" in the 1970s and 80s, construction and redevelopment in Liverpool is now proceeding apace. Opportunities for investors, in particular, include Festival Park (an anticipated 2,000 residential units) and Infinity Waters (currently offering a 15 per cent investor discount on its waterfront apartments).

Local Land Charges online register
In a move that's widely forecast to ease the house buying process for sellers, buyers, estate agents, conveyancers and local authorities, Liverpool has already migrated to the Local Land Charges online register. This is HM Land Registry's digitised service, which is intended to make buying property easier, speedier and less prone to hiccoughs.

3. Manchester

Whatever the wider national picture, Manchester's economy is thriving. It has benefited directly from increasing numbers of businesses choosing either to relocate entirely or to migrate selected operations out of London. Many of these are household names: Amazon, Bupa and, most recently, TalkTalk, Moon Pig and GCHQ are just five of the city's newest inhabitants. Perhaps unsurprisingly, last year, EY forecast employment growth of 1.2 per cent for the city between 2018 and 2021.

As well as vastly increased employment opportunities, Manchester is also home to a large number of students. Many of these students choose to stay on in the city after graduation. This healthy population of undergraduates and graduates helps explain Manchester's strong performance in Totally Money's most recent buy-to-let rental yields survey. The M14 postcode, for example, sits comfortably in the survey's top 20.

House price forecast
When it comes to predicted house price rises, Manchester currently outperforms all other UK cities. According to data from Cushman & Wakefield, the city is expected to see rises of 57 per cent by the final quarter of 2028. Current opportunities for property investors include Johnson's Square, a "sympathetic refurbishment" of a well-loved Victorian landmark building, located close to the city centre and adjacent to the Northern Gateway Regeneration Scheme.

Rental costs
Research by the Manchester Evening News found that rental costs in Manchester have risen by 30 per cent over the past four years. The priciest borough to rent in is Manchester itself (an average of £775 per month based on figures from October 2017-September 2018), closely followed by Bury and Salford.
You can sign up to our newsletter and join Nethouseprice's community of over 190,000 members who get regular property tips, relevant offers and news, click here http://nethouseprices.com/auth/user-register
Source: Nethouseprices.com 08.07.19