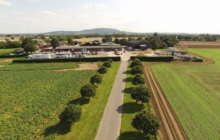 Is the Good Life calling? Are you imagining yourself self-sufficient in eggs and vegetables, living on a smallholding miles from the nearest supermarket? Or are you hankering after a cottage with roses round the door and the distant sound of church bells on Sunday mornings? Whatever your ideal rural idyll, it's sensible to give yourself a bit of a reality check before turning dreams into real life bricks and mortar.

Can you afford to buy a country property?
It's a common dilemma for many house hunters: do you choose a small but expensive town property or do you take the plunge and get more space for your money in the countryside? Of course, this question is an over-simplification: rural properties are absolutely not automatically cheaper than those in towns and cities. Many are considerably more expensive as a result of having larger buildings, bigger gardens and perhaps also associated land or outbuildings. Indeed, some rural areas, such as the Cotswolds, boast some of the UK's most desirable homes and, consequently, some of its highest sold property prices. This so-called "privacy premium" is particularly marked in southern counties such as West Sussex, where the average rural property costs more than 30 per cent more than one in a town.

However, house prices in other rural areas, for example in the Hampshire South Downs, although well above the national average, have a tendency to look almost reasonable when set against prices in affluent Winchester or Petersfield.

Many city-dwellers are tempted to head for cheaper countryside areas: parts of Norfolk, Lancashire, Herefordshire and Lincolnshire, for example, offer outstandingly beautiful scenery coupled with sold property prices that are consistently below the national average.

Can you afford to run a country home?
The ability to afford the purchase price of a dream home in the country is only part of the equation. Country houses, no matter how small, often cost more to run than a similarly-sized urban property. This is due to a number of factors.

1. Heating
According to National Grid, 83 per cent of UK homes rely on gas central heating. Although this figure is set to change over the next few decades in line with the UK's new commitment to becoming a carbon-neutral country, not being connected to the national gas grid currently poses a conundrum to many rural property-owners. Alternatives - LPG, oil and wood-fired heating systems - are invariably more expensive to buy, more inconvenient when it comes to servicing appliances (not all gas engineers are qualified to work with LPG boilers, for example) and, in the case of above-ground oil storage containers, a constant target for thieves. And, for those who are not sufficiently organised or proactive, there's also the risk of running out of fuel.

2. Drainage
Around 95 per cent of UK properties are connected to mains drainage. However, if you're one of the 5 per cent that isn't, there can be a lot to learn. Yes, water bills are lower (because there's no drainage charge) but no mains drainage means you're in the world of septic tanks and cesspits. Whereas a cesspit (or a cesspool) is nothing more than a holding tank for sewage, a septic tank has its own rudimentary drainage system in the form of a "soakaway" or "drainfield". This allows a certain volume of liquid to escape. As a result, septic tanks need emptying less often - typically, once a year - while cesspits need much more frequent emptying. This can be more than six times per year. Needless to say, the cost of maintaining and emptying a cesspit can rack up quickly.

Septic tanks and cesspits are often shared between a pair of houses, and this can create problems when it comes to their maintenance and to paying the bills for emptying them. If you're looking at buying a property that isn't on mains drainage, it's always wise to clarify:
-whether it is a cesspit or a septic tank
-where it's located (on your own land or a neighbour's) and whether the pipes leading to it cross anyone else's land
-whether it is shared with a neighbour
-when it was installed
-how frequently it needs emptying, and how much this costs.

3. Transport costs
Almost by definition, most rural homes are not within easy reach of a range of shops, doctors' surgeries and other amenities. Some may be within walking distance of a village shop, school or pub but, inevitably, rural life means having to drive (or rely on what may be infrequent and expensive public transport) to access facilities that town dwellers take for granted. The cost of all of this extra petrol, diesel or electricity, plus the wear and tear on a car, should not be underestimated.

4. Deliveries
In certain areas, particularly the more remote parts of Scotland and certain islands, you can expect delivery companies to charge extra for delivering to your address (or to refuse to deliver at all). Added to this is the inevitable inconvenience when drivers struggle to find remote addresses.

Other considerations
Anyone considering moving to a rural home should also bear in mind certain other factors.

a. Roads, pavements and speed limits
Rural roads are often far from being peaceful havens of tranquillity. They are often fast, with the National Speed Limit applying on even winding single-lane carriageways, and they usually lack pavements. Others are single-track with passing places, making good reversing skills and patience a must.

b. Schools
Rural schools are struggling with central government funding cuts, and many are closing. Rural families may have to send their children to a school many miles away, with the potential consequential loss of a ready-made local social network of friends at the same school. Existing village schools are more likely than those in towns to have lower rolls and smaller classes. While small classes are often seen as a plus by many parents, some are less keen on the mixed-age teaching that often results and even less keen on the smaller pool of potential friends for their children.

c. Public transport
Rural bus routes have suffered swingeing funding cuts. Expect to do a lot of driving or pay expensive taxi fares to supplement scanty or non-existent public transport networks.

d. Broadband and mobile phone coverage
Despite new government-supported initiatives, rural areas often experience less than stellar broadband and mobile phone coverage. This is a particular concern for anyone hoping to work from home.
You can sign up to our newsletter and join Nethouseprice's community of over 190,000 members who get regular property tips, relevant offers and news, click here http://nethouseprices.com/auth/user-register
Source: Nethouseprices.com 08.07.19