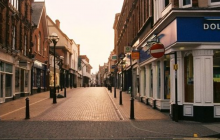 Considerable press coverage is devoted to the problems faced by first time buyers in some of the UK's largest or most expensive cities. Of course, attempting to get onto the property ladder in London, Manchester, Birmingham, Oxford and the like undoubtedly has its challenges. However, recent research has revealed that young families living in parts of the country with lower than average sold property prices are also profoundly affected by the cost of buying their first home.

Across the whole of the UK, the average age of first time buyers is rising. This is due to a number of factors. Sold property prices are one reason, but rising participation in tertiary education and its inevitable corollary, student debt, is another. So, too, is insecure employment, the rise in zero hour contracts and far tighter lending criteria. Nowhere are these elements having more of an effect than in East Anglia, where the average first time buyer waits - and saves - for 19 years before purchasing their first home. Needless to say, by this stage, some of those first time buyers have families.

So, where are these would-be first time buyers living in the interim - and how are their living circumstances affecting their prospects of buying their own home?

Social housing vs the private rental sector
With social housing supplies dwindling, thanks - at least in part - to enthusiastic embracing in the 1980s of the right to buy policy, more people than ever are pushed into the private rental sector. Some may still hold out hope of a council or housing association property. However, waiting lists are long and getting longer (recent figures from the East of England recorded 12,419 households waiting for council accommodation). Consequently, nationwide, while 17 per cent of people live in social housing, 21 per cent live in private rental accommodation. Of that 21 per cent, 2018 research from Nationwide records show that private renters are less likely to be university students in a shared house or flat (7 per cent) or even living alone (30 per cent) and more likely to be in a couple of (47 per cent). Families make up 11 per cent of private renters, a relatively small but far from insignificant percentage.

Paying rent while saving for a deposit: the eternal conundrum
The implications of paying rent while saving for a mortgage deposit are clear, even when rents, as currently, remain relatively static. According to Halifax, the average house price in East Anglia in 2018 was £210,874, while the average cash deposit stood at £36,611. While hefty and certainly higher than comparable figures further north, they represent a considerable saving on the cost of buying when compared to the South West (£210,200 average house price and £37,128 cash deposit) or the South East (£279,349 average house price and £52,136 cash deposit), let alone Greater London (average house price of £426,857 and cash deposit of £110,656). However, look behind the figures and it is clear that average lower wages and salaries taken home by workers in East Anglia must inevitably be affecting people's ability to save up a deposit. More than that, looking at the deposit as a percentage of the asking price, it becomes apparent that lenders are expecting would-be East Anglian buyers to stump up a percentage (17 per cent) that is not far behind that demanded of those looking to buy in the South West (18 per cent) or the South East (19 per cent). Greater London aside, the percentages demanded of buyers in the rest of the UK vary between 11 per cent (Wales) and 15 per cent (the West Midlands and the East Midlands).

Lenders may categorise the differences as to do with varying house prices but this explanation fails to take account of lower than average salaries in much of East Anglia. In Norfolk, for example, HMRC figures released in 2018 show that the average taxpayer made £28,500 in the tax year 2015-16. Although this represents an apparently impressive rise of 21 per cent from figures from the tax year 2010-11, it is still less than the average for the whole of the East of England, where the mean earning stood at £35,000. It also fails to account for increases to the tax-free personal allowance, always something of a moveable feast for any government. Even in Suffolk, where average earnings were higher (£31,000) over the same period, the figure was still 5 per cent below the national average.

Help-to-buy and equity share deals
Currently due to run until 2020, the government's help-to-buy scheme remains a valuable source of financial support for those looking to finance a first property purchase, as well as often assisting buyers with accessing better mortgage deals. Equity share deals are another popular source of assistance. Buyers choosing this latter option take out a mortgage that covers 75 per cent of their home's value. After five years, the buyer has the option to purchase the remaining 25 per cent at the current market value. However, in the interim, no rent is payable on that 25 per cent. There is also no repayment deadline. Several developers in East Anglia are offering equity share deals. For example, Bennett Homes, has equity share deals on two bedroom apartments in Ashill and two and three bedroom houses at Watton.

Buying in Cambridge
One of the UK's most desirable areas in which to live, Cambridge presents particular problems for the first time buyer in East Anglia. The average cost of a first time home (£374,082 for a two or three bedroom house) is far in access of local figures for East Anglia, and deposits are correspondingly higher too (an average of £59,479). However, even a city as pricey as Cambridge conceals more affordable options for those willing and able to look a little further afield. In Haverhill, a market town 20 miles from Cambridge, the average first time buyer pays £222,101. Closer in to the city, the villages of Comberton, Hardwick and Madingley cost first time buyers an average of £290,360, with the added bonus of excellent nearby major road links.

Value-for-money areas in East Anglia
Peterborough, Lowestoft and Great Yarmouth are locations well worth investigating for those seeking more affordable options in East Anglia. Peterborough, well-located for Cambridge, has average house prices of £152,000, while the figures for Lowestoft and Great Yarmouth stand at £150,962 and £132,199 respectively.
You can sign up to our newsletter and join Nethouseprice's community of over 190,000 members who get regular property tips, relevant offers and news, click here http://nethouseprices.com/auth/user-register
Source: Nethouseprices.com 15.07.19