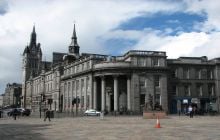 As one Brexit deadline after another has fallen by the wayside, observers on both sides of the political divide have found cause for optimism that their views will ultimately prevail. However, the continuing uncertainty is affecting many aspects of day-to-day life - and the property market is no exception. We take a closer look at the prevailing view in Scotland and on how residential investors - whether they are hoping to buy, sell or simply maintain the status quo - are currently approaching the situation.

Sold property prices after the referendum
Contrary to many predictions, house prices in Scotland showed little change in the immediate aftermath of June 2016's referendum result. This is confirmed by subsequent data from the Land Registry, showing only a 1.4 per cent slip in growth between June and July of that year. However, more than three years on, the Royal Institute of Chartered Surveyors is making even less cheerful predictions and forecasting a stagnating Scottish property market. Figures from Registers Scotland appear to confirm this: overall, sold property prices across Scotland show a 0.2 per cent drop between February 2018 and February 2019. While doubtless unwelcome to anyone selling in that period, the drop was not nearly as pronounced as had been predicted and, of course, is likely to have been welcomed by those looking to secure a bargain purchase. That said, bargain purchases may be few and far between if sellers react to the changing market by deciding not to put their property on the market for the time being.

A stagnating market - the likely effects
It requires no particular genius to conclude that a stagnating property market is likely to result in many of those who might otherwise have been looking to divest themselves of a property deciding to hang on to it instead. Indeed, anecdotal reports from Scottish solicitors and estate agents bear out that this is exactly what is happening. Moreover, now buyers, too, are getting in on the act. In April this year, estate agents across Scotland reported a 6 per cent fall in enquiries from would-be new buyers. The reasons for this are opaque, but can be guessed at. Some people may be motivated by the hope of further property price drops, but others will be concerned about their own abilities to service new debt in a time of growing economic and political uncertainty. Of course, some potential sellers and buyers are more likely to stick with the status quo than others. Those already operating towards the limits of their financial means, those with specific concerns about their own job prospects and those who decide they are able to reconfigure an existing property to suit their changing needs are the most likely groups to postpone a move. Again anecdotally, it seems that residential occupants are most likely to display caution when it comes to buying or selling in the current climate.


Investors - operating in a challenging market
Investors often have rather different needs and aims, and portfolios often need much more careful management in times of actual or anticipated financial crises. Some investors may have been heartened by more detailed data from Registers Scotland, showing that approximately two thirds of Scottish local authorities actually posted price increases during February 2018 and February 2019. Needless to say, however, the market is highly variable, depending not only on location but also on property type. Take Aberdeen, for example. While the city does indeed fall into line with the overall national price stagnation, total sales have increased by 22 per cent, a figure that is three times larger than the current national average. Why is this?

Aberdeen - a city apart?
Aberdeen is an excellent example of a location that has some ability to set its own trends, and while it may not totally override the gloomier national picture, it provides some evidence of the importance of looking at the local picture as much as the national one. For investors with a certain flexibility as to where, and in what, they choose to invest, this is crucial information. As far as Aberdeen is concerned, tentative signs are that the five-year slump in the city's oil industry is at an end. This has led to renewed confidence in the local market as well as a concrete demand for more housing. An increase in the number of higher-end homes in the area further substantiates this.

Edinburgh and Glasgow - bucking wider UK trends?
Aberdeen is not alone in displaying a more positive picture than the raw statistics might suggest. Both Edinburgh and Glasgow have confounded immediate post-referendum predictions and, in 2018, posted 9 per cent property price increases that far outstripped the 3.6 per cent UK average. That said, neither Edinburgh nor Glasgow have been able to maintain this growth into 2019 and they now more accurately mirror the picture elsewhere in the UK. However, the Scottish government is not sitting back and letting Westminster control all the shots, at least as far as Brexit's impact on the property market is concerned.

Scottish governmental funding
Earlier this year, Scotland's First Minister, Nicola Sturgeon, announced a pilot scheme that will deliver £150m of assistance in the form of loans to first time buyers. However, industry experts have cautioned that in mirroring the Help to Buy Scheme in England and Wales, the new Scottish funding may be less successful than its designers hope. It is notable that the existence of Help to Buy south of the border has had no noticeable effect on falling property prices, particularly in traditionally pricey areas like London.

Rental trends and challenges
Tenant associations were among the first to point out that Scottish rental trends may prove a stumbling block to maintaining a healthy property market. Currently, average rents are rising faster than average incomes, risking a situation in which new transactions decline due to the difficulty of obtaining tenants for particular properties. Rental rises are particularly marked in Scotland's two largest cities. In Edinburgh, the average rent in 2018 stood at £1,062 (up from £747 in 2008), while in Glasgow, it was £749 (up from £567). Of course, these figures may illustrate that it is the lingering after-effects of the last financial crisis that are affecting the Scottish property market more than the looming Brexit. However, any "Brexit bounce" is little more than semantics at the moment and investors should be highly wary of relying on it.
You can sign up to our newsletter and join Nethouseprice's community of over 190,000 members who get regular property tips, relevant offers and news, click here http://nethouseprices.com/auth/user-register
Source: Nethouseprices 17.07.2019