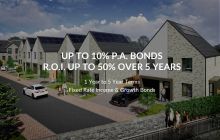 FIXED RETURNS UP TO 10% P.A. WITH AWARD WINNING DEVELOPER.
Returns not guaranteed. Capital at risk.
PANACEA are an award winning residential property development company operating in Scotland with expansion plans across the wider UK.
Like you we are property people, and as landlords we know how difficult and time consuming it is to run property portfolios and as such we have launched these bond offers to allow similar like minded people to invest in property in a totally hands free way.
Prior to launching our new bond offer we have been providing fixed return opportunities for our much valued longstanding clients over the last 16 years. Many have invested repeatedly. You can see video and written testimonials of our previous clients experiences on our website including Graham's vlog from his Seoul trip, which was paid for from his interest returns.
Our clients can choose from a wide range of opportunities with investment terms from as little as 12 months through to 5 years.
Interest payment options include quarterly, annual and on maturity to best suit clients needs.
Investments can be made from as little as £1,000 to £1M and above.
PANACEA also offer a bespoke bond for high net worth investors with tailored terms with a minimum investment of £100,000 upwards.
As part of the process of setting up our bond offer we went through months of preparation and compliance in order to receive our FRN number (FRN 835601) and become an appointed representative of our platform provider, Share In Ltd (FRN 603332), which is authorised and regulated by the Financial Conduct Authority
We do appreciate there is a lot of information on the site and hope you find it helpful and reassuring.
If you would like a quick informal chat with one of our directors then simply click here Contact Us
or email info@panaceainvestments.co.uk or call our freephone number 0800 033 7679.
Alternatively please click here for a prospectus to be posted or emailed.
As always you are welcome to join us in our Glasgow offices for a freshly brewed cup of coffee and a chat.
INSERT PANACEA OPEN DAY
Finally, you are more than welcome to meet the PANACEA team on the 9th August and enjoy a tour of our current and forthcoming projects where you can get up close and personal to see developments coming to life. Spaces are limited. Please contact us now on info@panaceainvestments.co.uk to book.
Capital at risk, returns not guaranteed.
Please note that past performance is not a reliable indicator of future results, returns are not guaranteed.
Nethouseprices Ltd are publishing this information as we thought it may be of interest. We do not endorse the company or its products and recommend that you seek independent professional advice before making any financial commitments.
Source: Panacea Property 18/7/2019