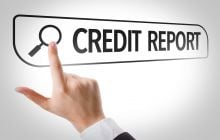 When it comes to buying property, there's more to worry about than sold property prices, school catchment areas and local amenities. Have you ever been turned down for a mortgage because of your credit score? Or are you worried that this might happen to you in the future? If you aren't, you ought to be - no matter how squeaky-clean you regard your financial history.

Why is this?

As an example, let's look at Nadine (not her real name). When she applied for a remortgage on her existing property, being turned down was the last thing on her mind. In secure and stable employment, she was seeking a remortgage that would have amounted to only 12 per cent of her net take home pay. With no debt and no significant expenditure such as childcare or maintenance payments, there was, she thought, no reason for her application not to be approved. Unfortunately, she was turned down as a result of her credit score.

This decision had two effects for Nadine. First, she had to untangle why this had happened and work out what she should do to fix the problem. Secondly, while she was doing this, her current fixed rate mortgage period was approaching its end, which would automatically have put her onto her lender's standard variable rate and potentially cost her more in monthly repayments.

Resolving a credit report problem

Nadine downloaded her credit reports from the UK's three main credit reference agencies: Experian, Equifax and TransUnion. She didn't know which agency the lender that had declined her application used, but she could be confident it was one of these three. Two of the reports gave her excellent scores but the third - presumably the one used by her lender - recorded her score as "poor".

Closer examination revealed that Nadine's address, as recorded on the credit reference report, - 28a - was wrongly linked to her neighbour's home at number 28.

Responsibility for the error was not immediately apparent. The credit reference agency claimed that the fault stemmed from incorrect information provided by Nadine's bank and/or her mortgage provider. However, having checked with them, Nadine was able to confirm that both institutions had the correct details.

The credit reference agency agreed to investigate but said that the process would take seven days. In the meantime, Nadine's mortgage offer hung in the balance and she worried about ending up on her existing lender's standard variable rate.

Fortunately for Nadine, the credit reference agency completed its investigation quickly, admitted the error and corrected the information. Nadine's credit score with the agency improved drastically and the lender that had originally turned her down on the strength of the previous poor credit score agreed to reassess Nadine. In the nick of time, Nadine was approved for the mortgage she wanted.

Although she might not think it, Nadine was relatively lucky. Not only did the credit reference agency complete its investigations in a timely fashion but the lending institution granted her the mortgage she wanted. Had Nadine been trying to buy a property, she might have lost it while the error was being investigated and, in the worst case scenario, by the time she was in a position to proceed with a new purchase, she could have found that sold property prices had risen, affecting what she could afford to buy.

Even where a remortgage is concerned, the end result for Nadine could have been very different. For example, had the credit reference agency taken up to the legal 10-day maximum to inform the lender that it had amended Nadine's credit record, the extra time might have resulted in Nadine losing the mortgage product (e.g. if interest rates on it rose). Similarly, she was fortunate in that the error arose from the credit reference agency itself. Had it been a company, such as a mobile phone provider, that had recorded the incorrect information, only that company could have made the amendment. Unfortunately, for a variety of reasons, companies do not always do this. There is nothing the credit reference agency can do to force them to make the amendment and someone in Nadine's position can then do nothing more than ensure that a short statement summarising the disputed information is attached to the relevant entry on their credit file.

Five tips for keeping on top of your credit score

1. Remember that you can't know which of the three credit reference agencies any particular lending institution uses. Make sure you monitor your credit file at all three of the major UK agencies.

2. Think about how you use your existing credit. For instance, utilising 90 per cent or more of a credit card every month can have a negative effect on your credit rating, even if you pay the balance in full. Conversely, be wary of reducing your credit limit too low: a credit limit that is below about £250 is also likely to reduce your credit score. As a rule of thumb, try to use no more than 30 per cent of your credit facility and if you can keep any rolling balance below £50 you can also expect your score to rise.

3. Perhaps surprisingly, paying insurance bills, such as for a car, on a monthly rather than an annual basis can also boost your score.

4. Don't forget that it isn't just factors such as County Court Judgments or defaulting on an account that can send your credit score into freefall. Events such as borrowing more than £15,000 on a credit card, missing a single repayment and even opening a new bank account with an overdraft facility can all negatively affect your score.

5. If you find inaccurate information on your credit report, ask the relevant organisation to amend it. If they won't, don't be afraid to email or write to the credit reference agency to ask it to attach a notice of correction. This statement of up to 200 words, written by you, is your chance to explain problematic information that future would-be lenders may question. However, bear in mind that credit reports that contain a notice of correction are usually manually assessed. This takes longer than the normal process of automated credit scoring, and this can slow down credit applications and even rule out certain providers that only use automated systems.
You can sign up to our newsletter and join Nethouseprice's community of over 190,000 members who get regular property tips, relevant offers and news, click here http://nethouseprices.com/auth/user-register
Source: Nethouseprices 30/07/2019