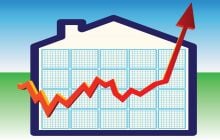 Whether we own our own home or invest in buy-to-let properties, there are always plenty of expenses to factor in. Of course, we hope that the investment and running costs will pay off in the long-term when we sell the asset for a profit - but in the meantime, how can we maximise the amount of revenue that we can leverage from our homes or rentals?

These property money-making ideas can all net you an instant return, whilst those house prices grow in the longer-term.

1. Consider adding a rental suite
If approval can be gained from the relevant planning authorities, then why not consider building a rental suite for your property. This could be a basement suite, a garage conversion or even a free-standing annexe or building that could be rented as a standalone rental. Of course, there are legal implications here, and careful planning must be carried out and submitted, particularly where bathrooms and kitchens are concerned.

Carry out your rental evaluation in advance, and find out what the rules are. For example, the rental suite is likely to need its own entrance, as well as private facilities. You can see property prices in the local area to give you guidance on what a rental suite addition would add. As well as carrying out a house valuation for sale, remember to accurately estimate what kind of rental yield you could expect if you went ahead with this project.

2. Rent out a room
Under the government's Rent a Room scheme, you can rent out a room in your own property and gain up to £7,500 a year tax-free. Find out more at: https://www.gov.uk/rent-room-in-your-home/the-rent-a-room-scheme. If your home is near a hospital, college, city, train station or a large employer, it is likely to be popular to tenants. First, decide what space you will rent out and remember that a room with an ensuite bathroom will rent for a higher rate. If you are really keen to maximise revenue from your house, you might even want to rent out an en-suite master room and downgrade your own space to the guest room. Take great photos, redecorate where necessary and spend time creating a strong listing on all relevant sites.

If you live in a popular area that tourists are likely to be interested in, you could even take your plans one step further and rent out the entire property during the holiday season. Of course, you would need to be in a position to move to a lower-cost property yourself so that you could benefit from a net cash inflow from the arrangement.

3. Rent out your driveway
If you don't have space to rent a room - or perhaps you already have a tenant - then you could also consider renting out your driveway. This is popular in big cities or in locations close to primary rail stations and travel hubs, and commuters will pay up to £1,000 a year to save money against the cost of parking within the city centre itself. This is particularly the case if you live in the outskirts of London. List your parking space on one of the online driveway rental sites to generate enquiries.

4. Run a B&B
If you are lucky enough to own a larger property with several available rooms, then why not consider running a B&B? This can be more lucrative than renting out monthly rooms, as you can charge a relatively higher cost for the day or the week. Of course, it takes work and commitment to run a Bed and Breakfast, and you'll need to prepare to make it into your job. As a first step, carry out plenty of research and see what demand is like in your area, and what qualifications, skills, insurance and costs you are likely to take on in the process.

If you are considering buying a Bed and Breakfast to run, look at house prices in key tourist areas, to offer guidance before carrying out a house valuation. You will often find B&B properties for sale in popular tourist hotspots which can be a good option if sold with a ready and loyal client base and all necessary facilities. Just factor in the costs of redecoration, renovation and general sprucing up when looking at the house valuation itself to ascertain your offer price.

Rent out storage space
Many people need storage space to house their overflow items or larger ticket goods - such as boats, bikes and musical instruments - that they don't have room for at home. They might be looking for space to store extra furniture or items from a house clearance. They might also be emptying their own home before travelling. Whatever the circumstances, if you can offer rental space for an attractive monthly cost, your customer will have the security of knowing that their possessions are in good hands - and you will enjoy the rent. Remember too that you will need to let your insurer know about the arrangement, and look for online space advertising websites which you can register your availability with in return for a cut of the rental proceeds.

Start a home-based business
There are plenty of home-based businesses to consider if you are looking to earn from your property. Those which are basically clerical or administrative should cause no problem with your mortgage lender or insurer, and there are various options to look at, from market gardening through to online customer service, copywriting, dropshipping, e-commerce and even virtual PA services. Do your homework to see what's available and set aside a room in your property to act as an office.

As you can see, there are plenty of ways to potentially earn money from your home or rental property. As ever, the trick lies in doing your research first and checking all figures before committing to a new course of action. The better informed you can be before making a new step forward, the more likely you are to be successful in generating a return from your plan. Remember too that some of these options will offer an instant cash flow for a minimal investment, and others will require greater levels of risk and financial investment in order to lay the foundations for your future cash flow. Make your decision based on your longer-term objectives and plans, so that they make sense for your end game.
You can sign up to our newsletter and join Nethouseprice's community of over 190,000 members who get regular property tips, relevant offers and news, click here http://nethouseprices.com/auth/user-register
Source: Nethouseprices 15/08/2019