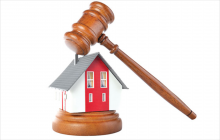 There is no doubt that bargains can be had when you purchase a property at an auction. But it is also a risky business if you don't know what you are doing. Our tips from the experts will help to set you up for success and ensure you are confident in what you are doing when you place a bid on your dream investment property at a physical or online auction.

The good news is that if you do your research and preparation in advance, then you can have fun at a property auction and really enjoy the process.

1. Plan ahead
It's essential to be armed and ready with the particulars of your auction, your desired property and your personal arrangements for financing the property purchase at auction. Tick everything off your list systematically, and spend time:

- checking house sold prices on a road of interest or house values by postcode on a site such as nethouseprices
- verifying your sources of funding and setting your own maximum bid level
- doing your homework into the way that auctions work
- familiarising yourself with the terms and conditions of the auction
- understanding the insurance implications if you are successful with your bid.

2. Choose your auction house
Once you have satisfied yourself on your desired location and likely property prices, it's time to find an auction in that area. For example, if you look for an auction in London, it will mostly be selling properties in the capital and its outlying areas, as well as the Home Counties. Sometimes, it may sell properties further afield. Auctions across the UK but outside of London will typically sell regional properties.

Once you have identified the right auction house, sign up to its mailing list and register for its catalogues. When an auction is due to happen, the latest catalogue edition will be available with viewing slots, guide prices and terms and conditions of the sale.

3. Establish fair values

You'll need to carry out thorough research on a property of interest to see if it is really a great deal. Really get to know the local property market. Take time to find out house prices using a website such as nethouseprices and monitor house sold prices to identify recent trends. Look at particulars such as sales in neighbouring streets and plans for the area, such as new infrastructure builds, local developments, metro line extensions, new shops and signs of areas on the up and in demand. You can use this to set your own fair value and to establish your maximum bid.

4. Decide whether to bid in person or by proxy
It can be very tempting to get carried away in the heat of the moment and submit a price that is above your limit. If you are worried about this temptation, then consider using a proxy bid. By doing this, you allow the auction house to bid for you, up to your defined limit.

5. Be clear on your obligations
If you are successful at bidding and winning your chosen property, you need to be aware that you are legally obliged to pay for the property. Once that hammer falls on your bid, the law will not allow you to back out of the purchase - as you can do sometimes on websites such as eBay. Some people think that they can back out and then find themselves taken to court, with huge penalties to pay.

6. Know the consumer contract regulation law
It's important to know that the Consumer Contracts Regulations do not apply with property auctions. What are these? When you buy something online, this law usually applies and it allows you to return your purchase under the Distance Selling Regulations for a full refund. With a property auction, you have the pre-auction viewing time to see the property in advance and decide whether or not you will bid on it. You are not protected under Distance Selling Regulations with a property auction, even if it is an online auction via a webcast.

7. Check the small print
Always be familiar with the terms and conditions of your chosen auction house, as you will be bound by them as soon as you bid. You will need to pay the property winning bid deposit immediately if you are successful, as well as the administration charges. You then usually have 20 business days to pay the balance of the property auction purchase price. Be clear on all costs that are due, so that you aren't hit with any charges.

8. Use your solicitor
If legal documents are available from the auction house before the auction, read them and send them for a thorough check by your solicitor. The fine print may contain information that would affect your willingness to bid. These documents may include searches, but if they don't, you may want to carry out your own searches before the auction. This can mean lost money if you aren't successful in winning, but this is often viewed as an inevitable cost of using the auction route. The same applies to property surveys, and many experienced auction buyers will have a good builder on hand to accompany them on a pre-bid viewing. Remember that there is a world of difference between a property that just requires modernisation and one which requires structural work and refurbishment and the costs can significantly eat into your anticipated onward sale profits.

9. Bring the right things on the day
You will need to bring a range of ID on the day, as well as agreed payment methods. Be prepared to pay the 10% deposit by cash if necessary - most auction users prefer to, in order to avoid processing and transaction costs. Check with the auction house what ID types you will need.

10. Have a plan
If you are buying at an auction, be clear on your end game and strategy. Are you buying for yourself or looking to grow a property portfolio for rental or flipping purchases. By knowing your objectives, you will be able to secure the best possible result and remain focused.

Follow these tips and look forward to snapping up some genuine bargains when you next approach a property auction.
You can sign up to our newsletter and join Nethouseprice's community of over 190,000 members who get regular property tips, relevant offers and news, click here http://nethouseprices.com/auth/user-register
Source: Nethouseprices.com 20.08.19