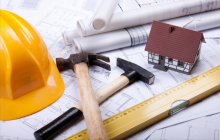 At a time when sold property prices are stalling or falling in many areas of the United Kingdom, homeowners looking to sell may be more concerned than ever about how to maximise their home's value. Those with little disposable income face particular challenges. So, if refitting the kitchen and bathroom or paying four figures for professional decorators is out of the question, how can you boost your home's value while spending as little as possible?

First impressions

Most property shows and plenty of estate agents talk about first impressions. And it's true: first impressions really do count when it comes to selling houses. However, before you panic and tot up the cost of having your pebbledash exterior rendered and painted or your 1960s brickwork disguised by New England-lookalike clapboard, think on a smaller scale.

1. Window frames
What are your window frames made from? Wooden frames need regular attention and occasional repainting to keep them weather-proof and looking their best. Repainting can be a tricky and finicky job but isn't impossible if you have patience and a steady hand. If you decide you need to get the professionals in, make sure you get several quotes and, ideally, some references from satisfied customers. As ever, word of mouth can be an effective way of finding a good tradesperson but, failing that, Checkatrade may come up trumps.

While PVC or aluminium frames will not need repainting, they will need cleaning, particularly in the autumn months when insects and spiders take to hanging out in the corners. You can do this yourself with the help of a brush or, alternatively, your window-cleaner should be able to oblige.

2. Windows
Clean windows are a must. A combination of sticky pollen, spider webs, dirt and stormy weather can leave windows smeary and grubby. Make sure yours are cleaned before estate agents come to value the property or take photographs. You'll then need to keep them looking their best for viewings. Booking regular cleans with a window cleaner is the easiest way to achieve this but you'll save money if you can do it yourself. You'll need:

-window cleaning spray (a commercial cleaner or one you've made yourself using vinegar) or some hot, soapy water made with washing up liquid;
-a soft, clean cloth (microfibre ones work well but you can also use an old t-shirt or similar);
-a large sponge;
-a squeegee (optional); and
-scrunched-up newspaper.

Apply the cleaning spray or soapy water with the sponge and then use the cloth to rub the windows as clean as possible. The squeegee is to remove the spray or water, while the newspaper (plus a little elbow grease) helps bring your windows to a streak-free shine.

Ground floor windows should be relatively easy to reach but you may need an extendable squeegee to reach upper floors. These can be a little pricey to buy but, after two or three uses you'll have recouped the money you would have otherwise spent on a window cleaner.

3. Front garden
If your property has a front garden, make sure it's tidy and weed-free. A little seasonal colour and foliage can also really help. If you don't have a front garden, hanging baskets, planters or even window boxes can do the job just as well. As we approach autumn, the bedding plants to seek out are pansies, violas, primroses, polyanthus, forget-me-not, sweet william and wallflowers. Well-planted and judiciously dead-headed, a selection of any of these should give you colour throughout autumn and into the coldest months of the year.

4. The roof line
Even assuming your property has no structural issues with its roof or missing tiles, it's important not to ignore this crucial area of the building. Gutters need regular clearing to help safeguard against water ingression and damp patches on interior walls and ceilings, and fascias and soffits, particularly if pale-coloured, may benefit from cleaning.

5. Window dressings
Curtains, blinds and shutters are important to your property's overall look and feel. Keep yours in the best possible condition with appropriate cleaning. If you have windows that lack suitable curtains or blinds, consider adding some. Although window dressings can be very expensive, they do not necessarily have to be so. Stores such as Ikea and Dunelm are a good source of attractive but relatively inexpensive curtains and blinds.

Finally, if you have windows that are overlooked, particularly if they are bathroom or bedroom ones, consider investing in privacy screening. By and large, net curtains have fallen out of favour but voile drapes and window stickers (which come in a wide variety of sizes and patterns) are popular. Pinterest can be a great source of ideas if you are struggling to decide on a suitable option.

6. Decorating
Not all of us like decorating and there is usually a question mark over how much a freshly-decorated home really affects sold property prices. That said, a house or flat with tired decor can be harder to sell, as can one with very distinctive decoration. Many estate agents advise vendors to make their properties as neutral and as much of a blank canvas as possible. Consequently, if you have a saffron yellow feature wall or a bright turquoise hallway, you might want to think about repainting in a neutral alternative. While grey is very much the colour of the moment, you do not, of course, need to redecorate your entire home in this colour. Whites, creams and even the dreaded magnolia also fall under the heading of "neutral" shades.

7. Flooring
New carpets and flooring are obviously out of the equation for anyone looking for a budget value boost but cleaning and, where appropriate, re-sanding and polishing, existing flooring can work wonders. You should pay particular attention to flooring if you have pets. If an existing carpet or hard floor is in a truly awful state, you might want to consider a bargain basement replacement. It's possible to get good value vinyl flooring for kitchens and bathrooms, and carpet sellers often offer excellent discounts on roll-ends.

8. Go green
A good EPC rating can attract viewers and, just possibly, improve your home's value. Adding more loft insulation is the obvious quick fix and you can often install it yourself.
Nethouseprice newsletter
You can sign up to our newsletter and join Nethouseprice's community of over 190,000 members who get regular property tips, relevant offers and news, click here http://nethouseprices.com/auth/user-register
Source: Nethouseprices.com 02.09.2019