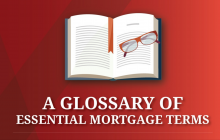 The terminology surrounding mortgages can be confusing, particularly for those negotiating the housing market for the first time. Here's a handy glossary to some of the most commonly used terms.

1. Agreement in Principle
This is confirmation from a lender that you can borrow a certain amount of money.

2. Annual Percentage Rate (APR)
The APR is the cost to you of borrowing money in the form of a mortgage or other credit. It reflects the interest rate and any other charges, such as arrangement fees.

3. Arrangement fee
Also known as a booking or administration fee, a booking fee is a sum of money charged by your lending institution in return for booking and setting up your loan.

4. Bank of England base rate
This is the interest rate set by the Bank of England. It is currently 0.75 per cent. The Bank of England explains it as the percentage rate that "you pay for borrowing money, and [that] banks pay you for saving money with them". This means that it is also the rate at which your mortgage lending institution itself borrows money. All consumer mortgage rates reflect the current Bank of England base rate to a greater or lesser extent.

5. Buy-to-let mortgage
This is a mortgage tailored for landlords to use to buy property for rental purposes. Most buy-to-let mortgages are interest only, which means that the mortgagee must ensure they have another means of repaying the capital when the mortgage term ends. This may be via selling the property but, of course, this route relies on sold property prices having remained sufficiently buoyant to ensure that the sale releases sufficient capital to repay the loan.

6. Credit rating
Your credit rating is an essential element for a successful mortgage application. Lending institutions use applicants' credit ratings to gauge the risk of providing them with a mortgage. The UK has three main credit reference agencies (Equifax, Experian and TransUnion) and lending institutions may use any one of them. Every adult in the UK has a credit record with each of the agencies. As each of them uses slightly different methods to record and score individuals, the same person's credit rating will differ between the three agencies. As a general rule, the better your credit rating, the better the mortgage deal you are likely to be offered.

7. Deposit
Although once common, 100 per cent mortgages are now very rare. Almost every would-be home-buyer must have a deposit in order to be approved for a mortgage. Most lending institutions demand a deposit of at least 25 per cent of a property's value but this can be higher, especially for buy-to-let mortgages.

8. Equity
This is the amount of the property that you own, rather than the portion that is mortgaged. Your equity may increase as you repay your mortgage and/or as the value of your home rises, whether as a result of improvements you make to it or in line with wider sold property prices. Conversely, your equity can fall if your home falls in value.

9. Independent financial advisor
With the number of providers and deals available, navigating the mortgage market takes some doing. While it can be tempting to stick with products from your own bank, you may find a better deal if you look elsewhere. Of course, it's possible to conduct this search yourself but independent financial advisors (who, as their title suggests, are not linked to any one financial institution) are well-placed to advise you on the best current deals. Even more than this, they can also suggest which deals you may most likely be approved for. This can be invaluable for anyone with a less than stellar credit rating or someone who is self-employed or otherwise struggling to prove their income.

10. Interest-only mortgage
If you have an interest-only mortgage, you only repay the interest element of the mortgage. You must find another way of repaying the capital. Traditionally, this was via a product known as an endowment policy in which you pay a set monthly sum for a number of years. At the end of a pre-set term, the policy "matures" and pays out a sum of money that is intended to be sufficient to repay the outstanding capital on your mortgage. Endowment policies are now far less common, as are interest-only mortgages.

11. Fixed rate mortgage
With a fixed rate mortgage you make repayments at a particular interest rate, which is "booked" at the time at which the mortgage is granted. This fixed rate lasts for a specific period of time, usually two, three or five years, although ten year fixed rate mortgages are becoming more common. Fixed rate mortgages are popular with risk-averse buyers or those who worry about their ability to make repayments should interest rates rise steeply. Set against this is that if interest rates fall, someone with a fixed rate mortgage will not benefit from the reduction.

12. Loan-to-value (LTV)
The LTV measures the amount of your loan in relation to the value of your property. You can calculate your LTV by dividing the amount you need to borrow by the property's value and then multiplying the answer by 100. The result is expressed as a percentage. The lower your percentage, the better your chance of accessing the most preferential mortgage rates and terms.

13. Mortgage term
This is the length of time over which you have taken out your mortgage. 25 years is a common length.

14. Mortgagee
Someone who takes out a mortgage is known as the mortgagee.

15. Mortgagor
The mortgagor is the lending institution that grants a mortgage to a property buyer.

16. Negative equity
This is where you owe more on your mortgage than its current market value. While entering the realm of negative equity is often very concerning, it is not necessarily a problem for anyone who does not need to move and who is able to sit tight and wait for house prices to rise.

17. Offset mortgage
This is a mortgage that allows you to offset the value of your savings against your mortgage debt. You pay interest on the difference, as well as repaying the capital.

18. Repayment mortgage
Under a repayment mortgage, you repay the capital you have borrowed as well as making interest payments. Towards the start of your mortgage term, more of your monthly payment goes towards the interest-element of your mortgage but, over time, this balance alters and more goes towards repaying the capital. At the end of your mortgage term, you will have repaid the entire capital borrowed.
Nethouseprice newsletter
You can sign up to our newsletter and join Nethouseprice's community of over 190,000 members who get regular property tips, relevant offers and news, click here http://nethouseprices.com/auth/user-register
Source: Nethouseprices.com 02.09.2019