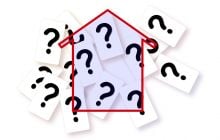 1. Setting an asking price

Assuming you're not in Scotland where rather different rules apply, setting an asking price is a somewhat inexact science. If you're using an estate agent, you can expect to be guided by their professional expertise but almost every seller forms their own view of their property's worth. So, what should you be taking into account?

First of all, it is imperative that you dispense with sentimentality. No matter what memories your home holds for you, these do not influence its monetary value. Secondly, it is helpful if you can dispel the notion that your property has a precise value. It does not and, while it may be close to a truism, the bottom line is that a property is worth only what someone is willing to pay for it.

You can get a basic idea of your home's value by looking at recent sold property prices in your area. However, do bear in mind that even quite small neighbourhoods may contain more than one "micro property market". This tends to be most pronounced in large cities such as London, where it is common to have very expensive property cheek by jowl with much cheaper homes. Even strikingly similar properties can vary in value within the same road once factors such as school catchment areas or proximity to a railway line are taken into account.

If your home is one-of-a-kind (for the area), it will be harder to value than if it was one of a row of near-identical properties, even if those near-identical properties had been variously modified by loft conversions, side return extensions and off-street parking. This is where a good estate agent that knows the local area inside out really comes into their own. While there is no obvious penalty for pitching your home's asking price wrongly, setting it too high may deter viewers even once the price is lowered. Conversely, of course, setting it too low risks you not achieving as much for the property as could have been the case. This said, some estate agents will counsel setting a very competitive (or low) price in the hope of generating interest and competition among buyers. Equally, some vendors and their estate agents may be minded to set an initial optimistically high asking price to test the waters. Clearly, there is no right way of approaching setting your home's sale price; the important point is to ensure you know why the price is set as it is and what you hope (or need) to make from the eventual sale.

As a final point, try not to get too distracted by the varying terminology used to describe asking prices. "Offers Over", "Offers In Excess Of", "Offers In The Region Of" and "Guide Price" all have a tendency to mean different things to different people, while some estate agents can be characterised by their preference for one particular term. You may feel most comfortable just setting an "asking price" but whatever term you and your estate agent pick, make sure you are clear in your own mind whether you plan only to accept offers above that figure or whether you would be happy with something less. You may find that your estate agent suggests marketing the property at Price Z in the expectation that buyers will offer Price X but will be negotiated up to Price Y.


2. Making an offer: how much is too little and other questions

Deciding what to bid on a property can be one of the most nerve-wracking parts of house buying. While recent sold property prices may guide you, you might not know whether to go in strongly, perhaps offering the maximum you can afford to pay, in the hope of beating off any competition or whether to go in low and risk your offer being rejected.

Much depends on the strength of the property market in your area and on the level of interest in that particular property. The vendors of a house that generated 20 viewings at an open house two days after it went on the market may be far less likely to consider a low offer than the vendors of a property that's been on the market for several months with only minimal interest. However, even this can be too simplistic an analysis. Multiple viewings at an open house will not necessarily translate into second viewings or offers, and a property that's apparently languishing on the market may be a temporary victim of an economic slowdown or be a "one of a kind" that retains the potential to attract two interested buyers over the course of a single week.

Practical ways of increasing the chances of having a low bid accepted include:

-Being "proceedable". In other words, ensuring you are in a practical situation to move forwards with the transaction because either you do not have a property to sell or you have already accepted an offer on your current home

-Having your finances in order. Being a cash buyer (i.e. someone who does not need a mortgage) is often preferable to many vendors, especially those looking for a quick sale. However, be aware that the definition "cash buyer" is open to some interpretation. For instance, it may also be used to describe someone who does not need a mortgage but who does need to sell a property in order to finance the purchase. The due diligence process conducted by the vendor's estate agent will reveal the source of your funds so it is sensible to be open and precise at the time of making your offer. Of course, many buyers, especially first time buyers, require a mortgage. If you're one of them, having a mortgage in principle in place before making an offer puts you in a stronger position.


3. Accepting an offer and taking a property off the market

Whether or not to accept an offer is a matter for the vendor. Having had an offer accepted, many buyers are concerned about the risk of gazumping and may try to prevent it by asking the vendor to take the property off the market. However, estate agents have a duty to pass on all offers made to the vendor, even if the property is no longer being marketed. While the majority of vendors do not gazump their buyers, some do - and there is no legal protection against this. All you can feasibly do to reduce the risk of this happening to you is to be as speedy and proactive as possible throughout the transaction.
Nethouseprice newsletter
You can sign up to our newsletter and join Nethouseprice's community of over 190,000 members who get regular property tips, relevant offers and news, click here http://nethouseprices.com/auth/user-register
Source: Nethouseprices 27.09.19