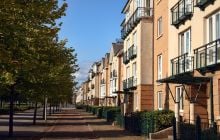 Repossessed properties that have been seized by a lender after the owner defaulted on their mortgage or other loan secured on the home are an attractive purchase for many would-be buyers. Even when sold property prices are high, repossessions are usually cheaper than comparable properties being sold by owner-occupiers. However, this is not to say that buying a repossession is a no-brainer. There is plenty to think about before deciding to go for it.

1. Emotions
A common stumbling block, particularly for would-be owner-occupiers, are the emotional connotations of buying a home that someone else lost. There is no easy answer to this; it comes down to what each prospective purchaser is comfortable with. Unsurprisingly, an investor looking to buy a repossessed property is likely to be far less fazed by this aspect of the transaction.
2. Finding a repossession
Finding repossessions up for sale is not nearly as easy as finding conventional sales. Although many estate agents handle repossessions, they do not always advertise them. Maintaining friendly contact with local agents can turn up the goods but an interested buyer may need to ask the specific question as to whether a particular agent is currently handling any repossession sales. Rather than using estate agents, many lenders prefer to hand over responsibility for sales to local auction houses. This is partly because the process from first marketing to completion of sale is almost always quicker with an auction house and partly because of the type of buyers who frequent property auctions. They are often those specifically looking for a "project", they may be anticipating the need for significant repairs or redecoration, and are less likely to baulk at the idea of buying a property that someone may have been evicted from. Local papers often advertise property auctions. Alternatively, a quick Google search should uncover local auction houses.
3. Price
Sold property prices for repossessed homes typically stand at around 30 per cent less than those for private sales. This does not always just reflect the condition of the property being sold. It is also a consequence of the seller's desire to divest itself of a liability as quickly as possible and recoup the money advanced to the original owner.
4. Gazumping
Buying a repossessed property through an estate agent carries a higher than average risk of being gazumped. This is because the vendor (the lender) will not usually agree to remove the property from the market once it has accepted an offer. Operating with a motive that is purely financial, the lender will not hesitate to accept a higher offer (or even one from someone in a position to proceed more quickly with the transaction). The fact that the person making the original offer may have incurred the expense of commissioning a survey and / or legal work will carry no weight at all. Consequently, it is sensible not to offer on a repossession unless you are in the position to proceed quickly. It may also be sensible to look for an owner-occupier or investor sale if you have particular concerns about losing money on a survey etc. It's worth reiterating that there are no guarantees with any sale in England and Wales.
5. Surveys
Despite the urgency of proceeding quickly through the purchase process, it is essential not to skip or skimp on a survey. As already indicated, repossessions may be in a poor cosmetic state. However, they may also be more likely than the average property to be hiding structural faults. If a survey highlights such issues, the lender selling the property may not be willing to renegotiate the sale price, particularly if the property has attracted other interest or multiple offers.
6. Competition
Even during economic downturns when more people than average may be facing negative equity problems, the number of repossessions for sale will be exceeded by the number of private sales. This means that competition to buy a repossessed property may be proportionately higher, particularly as repossessions tend to attract those in search of a bargain as well as investors who may have deeper pockets than the average buyer.
7. Renovations
Many repossessions require significant renovation and repair, particularly if their previous owners were struggling financially for some time. Some may not even be in a state suitable to move into immediately. Unfortunately, some owners who are facing eviction strip whatever they can from the property before they leave or are evicted. This can include fitted kitchens and bathrooms, carpets, fireplaces, stoves, planted garden plants, radiators and even tiles and roofing materials.
8. Finance
A property without a functioning kitchen and bathroom may not be mortgageable. However, this does not mean that you automatically have to give up on the idea of buying the property. With a kitchen, for example, providing there is running water, a functioning sink - no matter how basic or ancient - and at least one sealable enclosed space, you should be able to find a lender. If necessary, seek the advice of an independent mortgage advisor. If the kitchen and / or bathroom really is either non-existent or non-functioning, you can still buy the property for cash (always assuming you can afford it). Alternatively, you might consider applying for bridging finance with the view to taking out a mortgage as soon as you have installed the necessary sanitary ware. Essentially, bridging finance is a short-term mortgage, designed for a duration of between 3 and 6 months. You will need a larger deposit than if you were taking out a conventional mortgage, as most lenders will advance no more than 75 per cent of a property's value on a bridging loan. A lender may also want details of your renovation plans, quotes and time estimates from contractors and perhaps also evidence of your previous experience in managing a similar project. If you can meet these criteria, a lender may approve you for a bridging loan if you can demonstrate a means of repaying the loan at the term's end. This would usually be via a conventional mortgage or by selling on the property. If you plan to sell on the property, you need to be confident of doing so in a timely fashion. Taking advice from a knowledgeable local estate agent on the feasibility of this is prudent.
9. Other options
Don't focus on repossessions to the exclusion of other options. While a repossession may offer a good chance of snaffling a bargain, that's not to say that there isn't a better deal available through a conventional sale.
Nethouseprice newsletter
You can sign up to our newsletter and join Nethouseprice's community of over 190,000 members who get regular property tips, relevant offers and news, click here http://nethouseprices.com/auth/user-register
Source: Nethouseprices 1/10/19