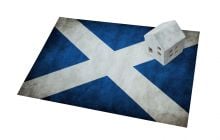 The Home Report

This is a feature of the Scottish property system that many buyers south of the border would like to see introduced there too. When you examine the features of a Home Report, it's easy to see why. Every report must contain:

(1) a survey, including a valuation (this must be conducted by an independent qualified surveyor)

(2) an energy report (this must also be conducted by an independent qualified surveyor)

(3) a property questionnaire

These three documents bring together information that takes much longer to acquire in transactions elsewhere in the UK. The result is greater certainty for the buyer in terms of what they are purchasing and increased confidence for both parties that the sale will proceed as planned.

For those who are new to the concept of Home Reports, the Scottish Government's Home Report website contains helpful links to sample documents.

If you view a property that you are interested in, you can request a copy of the Home Report from the seller's selling agent. The seller is obliged to send you the requested copy within 9 days. If the report is withheld it may be because the seller or their agent does not think you can afford to purchase the property, does not think you are serious about purchasing it or does not want to sell to you. These three reasons are lawful provided there is no element of discrimination in the decision-making. If you believe a Home Report has been withheld from you for discriminatory reasons, you can complain to the Trading Standards office. Trading Standards will then investigate your complaint and may fine the seller if it decides they acted unfairly.

You may be charged a small sum for receiving the Home Report but this should not be for more than the cost of copying and distributing it. You may also suspect that the seller is trying to recoup the cost of commissioning the report (an average of £500 - £700 plus VAT) through the eventual sale of the property - and this is perfectly lawful and acceptable.

When you receive the Home Report, check that it is not dated more than 12 weeks before the property came onto the market. If it is, it is invalid. However, once the property is on the market, the Home Report does not have an expiration date provided the property has not been taken off the market for more than 4 weeks.

You can, of course, choose to carry out your own survey in addition to the Home Report. However, bear in mind that the seller is not bound to accept any discrepancy between the two surveys and may decide that their own survey is more reliable as it was conducted by an independent surveyor.

Deciding on your offer

If you want to make an offer on a property, you should calculate it carefully. Although you can make your offer subject to the results of your own survey, this is likely to be less attractive to the seller, especially if they have other interested buyers who are happy to rely on the Home Report.

Scottish properties are marketed via either a fixed price system or as "Offers Over". "Offers Over" requires you to submit a sealed bid by a specified date.

Deciding how much to offer is tricky, even for those who have a good idea of recent local sold property prices. Fortunately, you can expect your solicitor to advise you on where to pitch your offer, taking into account factors such as:

-the valuation in the Home Report. Many properties will be marketed slightly below the figure in the Home Report in the hope of driving interest and competition among buyers

-location and sold property prices. It goes without saying that some geographical areas attract more interest from buyers than others. Where demand is outstripping supply, prices tend to be higher. Where demand and supply are in closer equilibrium, you may still expect to pay more than the marketed price but by a lower percentage. Your solicitor should guide you on the current level of demand among buyers

-length of time on the market. Properties that attract considerable interest within the first two or three weeks of marketing tend to have an early closing date. This means that most buyers will be aware that they may need to make their best offer in order to have the best chance of having their offer accepted. Properties with a later closing date have usually attracted less interest, meaning that they are less likely to sell for more than the asking price

-competition from other buyers. As discussed above, a property with a relatively quick closing date is likely to be one that has attracted significant interest from a high number of potential buyers. Thanks to the system requiring buyers to note their interest in a property, your solicitor can accurately assess the potential level of competition by finding out the number of notes of interest that have been submitted. However, do bear in mind that not all notes of interest translate into offers. If the sellers have received no notes of interest other than your own, you are in a much better position to make a lower offer, although, of course, the seller is not obliged to accept and, at the very least, may try to negotiate you upwards.

Finally, don't forget to take into account your own circumstances. Buying an investment property generally puts you in a more flexible position that someone who is looking for a property to live in. You are less likely to be under particular pressure to buy within a certain timeframe, although you should still factor in points that may affect the ease of renting out the property.

Once you have decided on your offer, your solicitor makes the offer to the vendor's solicitor. Estate agents are not involved in the process (although many Scottish property solicitors also function as estate agents).
Nethouseprice newsletter
You can sign up to our newsletter and join Nethouseprice's community of over 190,000 members who get regular property tips, relevant offers and news, click here http://nethouseprices.com/auth/user-register
Source: Nethouseprices 01/10/2019