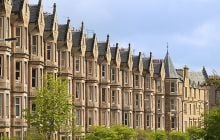 As with anywhere, choosing the right investment property in Scotland has much to do with careful analysis of geographic areas and rental or homeownership demands within those areas. We take a look at five of the most popular areas for buy-to-let in Scotland, and identify particular opportunities for investors.


1. Edinburgh

Ever-popular, but supply outstrips demand, making prices high and competition among would-be buyers exceptionally keen. High demand for rental properties by young professionals and students, in particular, makes Edinburgh a stable if pricey location for investment purchasers. Since 2015, the city has twice featured as the UK's best investment location for buy-to-let property .

Many Edinburgh landlords look to the student market to rent out their properties. The University of Edinburgh has its own dedicated property letting and management service, Domus, which has 20 years of experience in the student lettings' business. Currently managing buy-to-let properties for around 300 landlords, Domus promises guaranteed rental income, monthly payments made in advance, flexible leases of either 9 or 12 months, a transparent fee structure, and no hidden charges. Landlords who choose to rent out their property through Domus have the University of Edinburgh as their tenant. Prospective landlords must register with the City of Edinburgh Council, and registration continues for three years from the application date. Domus normally takes on new properties between May and September, and will secure tenants for a property before signing a lease with the landlord.

Domus periodically indicates those areas of the city where it is particularly interested in acquiring rental properties. Currently, these are Bruntsfield, Marchmont, Newington, the Old Town, Sciennes, and Tollcross. However landlords with properties elsewhere in the city should not rule themselves out provided there are good public transport links and sufficient demand from students or staff for homes in the area.

Landlords looking to rent through Domus must provide:
-an Energy Performance Certificate
-a Gas Safety Certificate
-an Electrical Installation Condition Report
-Portable Appliance Test
-a Legionella Risk Assessment
-a Fire Risk Assessment
-Smoke and Carbon Monoxide Detectors
-a fire extinguisher and a fire blanket (the latter to be mounted on a kitchen wall close to the cooker)
-soft furnishings that meet current fire safety standards, and labels attached confirming this
-emergency lighting
-an HMO licence for houses in multiple occupation


2. Glasgow

As well as being a highly attractive location in its own right, Glasgow benefits from overspill of demand from frustrated buyers in Edinburgh. This keeps sold property prices high and competition vigorous. However, its large economy (an estimated £27 billion a year, which makes it the fourth largest economy in the UK) and its sizeable population (1.8 million in the Greater Glasgow area and over 625,000 in the city itself) makes it an excellent choice for investors.

As with Edinburgh, Glasgow's high student population and booming student property development makes it attractive to investors looking to rent in this sector of the property market. Those looking to rent to professionals or families might want to look at properties near the underground Subway system. Local estate agents report property hotspots (in terms of selling price, rental income and tenant demand) in areas such as Hillhead and Kelvinbridge with good access to the Subway. In a similar vein, investors looking to spot future opportunities in the city might do well to monitor the progress of the proposed city-wide tram system, as local agents anticipate the creation of new property hotspots.


3. Stirling

Lauded six years in a row as the most affordable city in the whole of the United Kingdom by the annual Lloyds Bank Affordable Cities Review (an accolade it currently shares with Londonderry in Northern Ireland), Stirling enjoys an average house price to earnings ratio of just 4.4. Once again, Stirling attracts investors who want to rent to the student market. Average rents and yields are lower than in either Edinburgh and Glasgow, although so too are average sold property prices.

Similarly, as with Edinburgh and Glasgow, Stirling is a popular stop on the tourist trail. Consequently, it's attracting those interested in investing in holiday lets or on AirBnB, although newcomers to this market should note plans to implement a regulatory framework to manage short-term lets across Scotland.


4. Aberdeen

With a property market long buoyed up by the oil and gas industries, Aberdeen has actually suffered a slump in recent years, thanks to the vagaries of international oil and gas prices. However, with the oil industry in the city now experiencing an upturn, investors are returning. The city is an excellent choice for those who are prepared to ride out the highs and lows of an industry beyond their control. It also holds a spot in the current top ten most affordable cities, produced annually by Lloyds Bank, with an average house price to earnings ratio of 5.0.

Already Scotland's third most populous city, Aberdeen's population is expected to increase by up to 14 per cent over the next 25 years. And, even if the long-term future of the oil and gas industry might be uncertain, currently the sector is booming and the city is also enjoying significant growth in the tech sphere.

As with the three cities above, Aberdeen is home to many university students. Together, its two universities educate 30,000 students, many of whom look to the private rental sector for housing.
Nethouseprice newsletter
You can sign up to our newsletter and join Nethouseprice's community of over 190,000 members who get regular property tips, relevant offers and news, click here http://nethouseprices.com/auth/user-register
Source: Nethouseprices 30.09.19