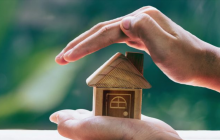 According to MoneySavingExpert, around 2 million people rent out property in the United Kingdom. Not all of those landlords have specialist landlord insurance. Some may believe that a standard buildings and contents insurance covers them. Others may have chosen not to take it out in order to save money. A third group may have concluded that because it is not a legal requirement, a landlord's insurance policy amounts to an optional extra. All three groups may be mistaken to a greater or lesser degree - and all three may be risking their ability to continue renting out their properties and their long-term financial security. Let's look at some case studies to illustrate when, where and why a landlord's insurance policy might be useful.

1. The leasehold flat owner

Jason owns a ground floor flat in a small purpose-built 3-storey block. He bought his flat as a leasehold purchase and rents it out to Milly. One evening, Milly phones Jason to say that she has just returned from work to find that water is leaking through the ceiling of her kitchen from the flat above. She's knocked on the door of the upstairs flat but there's no reply, although she suspects that it's their washing machine that is causing the problem. Meanwhile, the water is staining the ceiling, dripping down the painted wall cabinets, over the laminate work surface and onto the wooden floor. When the water finally stops, it is clear that Milly's kitchen has suffered considerable damage. Milly asks Jason to make good the damage.

Jason does not have buildings insurance because he believes that the freeholder, Claire, has taken out insurance to cover damage to the building. When Jason checks, Claire tells him that, yes, she has a policy. It is usual for a buildings insurance policy to cover fixtures and fittings, such as a fitted kitchen and a wooden floor - and, in due course, Claire's insurers agree to cover the loss. Jason is relieved. He does not have the money to fund like-for-like repairs himself and knows that substandard renovations might adversely affect sold property prices.

A year later, Jason has a new tenant in the same flat. This tenant, Greg, trips on a loose section of carpet in the bedroom. He breaks an ankle and consequently cannot work at his job as a fitness trainer while the injury heals. He blames Jason for not maintaining the carpet properly, and wants compensation for his loss of earnings. Again, Jason contacts Claire. This time, however, the insurers decline to cover the claim because Greg's injury was Jason's fault. If Jason had taken out his own landlord's insurance policy, he would have had protection against being held personally liable for Greg's injury.

2. The member of the National Landlords Association

Sally owns a small terraced property that she rents out furnished. She pays an annual fee to the National Landlords Association. In return, she has access to a helpline providing help with common landlord queries and also to some basic legal advice. However, when her tenants stop paying rent, Sally discovers that the National Landlords Association's advice does not extend to helping her formulate a legal case to evict her defaulting tenants. Sally has a landlord's insurance policy but it covers only the building itself and the contents that Sally includes as part of the rental agreement. It does not include other types of loss, including legal fees. Sally must fund the legal expenses herself.

3. The accidental landlord

Stu and Emma become accidental landlords when work forces them to relocate 200 miles away. As they hope to return to their original area in due course, they decide to rent out their four-bedroom detached home. After some thought, they decide to let it unfurnished. Before handing over the property to a lettings agent, they use Emma's bonus to pay down the last of the mortgage in order not to have to ask their lender's permission for the rental and deal with the potential hassle of converting the mortgage to a buy-to-let product. The lettings agent asks Stu and Emma if the property is insured but does not check whether this is a residential or a landlord's policy. Perhaps because they regard the property as their family home, it does not occur to Stu and Emma to think about whether their existing insurance policy will continue to be valid. Unfortunately, six months into the rental period, the house is badly damaged by a fire. Stu and Emma are understandably devastated to discover that their insurer will not cover them for the rebuild costs. Although rebuilding costs are almost always considerably lower than a property's sale price, the quotes that Stu and Emma receive are far more than they have saved. They are forced to explore other options, such as selling the plot and its damaged building or taking out a bridging loan with a view to an eventual remortgage.

4. The landlord renting to family

John's daughter and his niece are both heading off to university in the same city. Concerned at the prices of student rental accommodation, John decides to buy a two-bedroom flat in a popular student area that his daughter and niece can live in. His daughter hopes that her undergraduate studies will lead to a Masters at the same institution. As he is renting to family, John takes out a fairly basic landlord's insurance policy. It contains buildings and contents elements, and also protects John against public liability claims. He decides against paying a premium to protect him against loss of rental income as the property is not mortgaged and he is only charging his daughter and niece very nominal rent. At the end of their degree, John's niece moves to another city for work. Contrary to her initial plans, his daughter decides to pursue her further studies elsewhere. John wonders whether to sell the flat but sold property prices are struggling locally and he decides it would be best to wait for a year to see if the market picks up. He decides to rent out the property on a six month assured shorthand tenancy at market rate via a property lettings' agency, which will also manage it for him. Three months into the contract, a flood renders the property uninhabitable. John's tenant moves out. While John's insurance policy covers the damage to the property, it does not compensate him for his lost rent and he still has to pay monthly fees to the lettings' management company while the refurbishment is ongoing.
Nethouseprice newsletter
You can sign up to our newsletter and join Nethouseprice's community of over 190,000 members who get regular property tips, relevant offers and news, click here http://nethouseprices.com/auth/user-register
Source: Nethouseprices.com