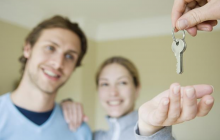 Despite (or perhaps because of) the Brexit uncertainty and an imminent general election, sold property prices remain high across much of the UK. This factor, coupled with the disconnection between sale prices and average salaries, robust mortgage affordability tests and the length of time it takes to save a deposit, means that getting onto the housing ladder is not getting any easier. As a result, it's not surprising if many of those who are within sight of finally clambering onto the first rung of the ladder worry that their budget is too tight to enable them to decorate and customise a property in accordance with their own tastes. However, with a little creativity and lateral thinking, all may not be lost.

Here are four points to help you decide on the right approach for you.

1. Renovation projects

These are often the first port of call for those working with limited budgets. The appeal is obvious: buy a property at a knock-down price and use the spare cash to renovate and decorate. Unfortunately, the reality is often much harsher than the dream. If you're considering this option, bear in mind the following points.

- Renovation projects often attract more competition than "turnkey" homes. Some of this competition will be other hopeful first time buyers or potential owner-occupiers, but some may be from experienced developers. As well as experience, this second group often has deeper pockets and a more pragmatic approach to potential renovations that is geared towards achieving the best sold property prices rather than creating an ideal home to live in.

- Properties deemed uninhabitable due to non-functioning (or non-existent) kitchens or bathrooms may not be mortgageable. This puts them out of reach of most first-time buyers who are relying on a mortgage to help finance their purchase.

- The cost and time taken to complete a renovation project almost always exceeds the initial estimates. Building a contingency fund into your plans is essential. Alternatively, you need to be sure you are able and happy to live in the property while you save up to complete the works. If it would be very difficult or inconvenient to live in the building while works are carried out, perhaps because you have young children, you'll need to ensure you have alternative accommodation. If you're lucky, this might be rent-free with relative, but it could just as easily mean keeping on your existing rental home or even moving into a caravan or mobile home on the site of your renovation. (Note that if you choose the caravan / mobile home option, you should ensure you check whether you need planning permission for this).

- Do you have a list of trusted trades to use? Even if you're very handy and have considerable free time to devote to your renovation project, you'll almost certainly need to make use of some or all of the following: quantity surveyors, architects, builders, quantity surveyors, electricians, plumbers, carpenters, tilers and gardeners. Knowing who to choose and how to coordinate their work is not necessarily simple. Some people choose to hire a project manager, which obviously adds to the cost, but can make the works proceed with less stress for you.

2. New-build developments with incentives

Many would-be buyers are put off the idea of a new-build by sad tales of post-build snags, small rooms, overlooked gardens, lack of storage and the like. However, careful searching can uncover some gems. And, as a first-time buyer, you may qualify for a range of government-backed assistance schemes. For example:

- Help to Buy.

- An equity loan to cover a portion of the purchase price, with the remainder being funded by a mortgage.

3. Decorating

Whether you buy a new-build or an older property, it's common for the home not to feel like your home until you've decorated it. This is fine if you have a decor scheme in mind and can afford to put it into action. However, if you don't know what colour you want your living room, your bedroom or any other room, you might consider repainting in white. There's more than one reason for this. First, if you shop in the right places, white paint is cheap to buy. Secondly, white reflects light very well, helping to brighten small spaces and make them seem larger, Thirdly, white is an effective neutral. You may find you like it and are satisfied with using soft furnishings and other accessories to add colour. If not, living with white walls for a while may help you fix on what colour you do want to paint the space.

All of that said, do bear in mind that if you have a new-build property, it's generally best to avoid decorating within the first few months. This is to avoid problems with so-called shrinkage. However, if you don't mind the possibility of having to do a little touching-up, you may well decide to go ahead. You can help reduce the risk of cracking walls by ensuring rooms are well-ventilated and that you choose an all-in-one primer and paint. This latter choice should mean that you only need one coat on the walls, which should mean they are better able to "breathe".

4. Upcycling and vintage

High-end (or even mid or low-end) furniture stores may be beyond your budget at the moment. Tempting as it may be to splash out and put "must-have" new purchases onto a credit card or dip into your already depleted savings, it's worth looking around for other options. Relatives or friends may have unwanted pieces of furniture languishing in garages or attics. Charity shops and especially specialist second-hand furniture charity retailers, such as the British Heart Foundation, can be a positive goldmine, although you may need to be persistent and pop into a shop regularly on the off-chance of finding something suitable. There are also increasing numbers of vintage shops, both online and in bricks-and-mortar form. Prices can be steep, although there's always the chance of stumbling across a bargain. Even if you don't, the products on sale can be an excellent source of inspiration. If you're at all crafty, you may be tempted to have a go at upcycling yourself. If you don't have a clue about upcycling or you lack confidence, keep an eye out for local "how to" courses, which are increasing in popularity. Finally, for putting it all together, Pinterest and Instagram can be excellent sources of inspiration.
Nethouseprice newsletter
You can sign up to our newsletter and join Nethouseprice's community of over 190,000 members who get regular property tips, relevant offers and news, click here http://nethouseprices.com/auth/user-register
Source: Nethouseprices.com