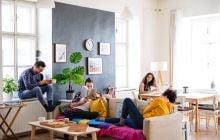 As a property investor, you might well be familiar with the concepts of both purpose-built student accommodation and build-to-rent, and you might even have direct investment experience of one or both. However, a newer - and, as yet, more niche - investment opportunity is slowly beginning to make ground in the UK: co-living.

The name may leave you scratching your head. If so, you're not alone. Ask the average person on the street what is meant by "co-living" and you'll receive a variety of different answers. The uncertainty reflects not only the relative novelty of the concept in the UK but also a certain level of disagreement as to who should be the primary orchestrator and beneficiary of a co-living community. Is it the developer, the investor or the resident? Could it even be some combination of the three?


Co-living: an emerging urban market trend

Born from the success of the co-working trend, where (usually urban) unconnected professionals share workspaces in order to cut costs while also benefiting from company, co-living represents a new style of housing that is very much still finding its feet in the UK. The trend is far more embedded in both continental Europe and the United States. More than 60 co-living schemes have been established in Europe, with the bulk of these in France and Spain and many situated in attractive locations often associated with holiday destinations. Most co-living schemes target professional workers who appreciate the greater flexibility offered by co-living schemes as opposed to traditional rental properties. As well as long-term lets, many schemes offer short-term leases and some even operate on a membership structure, giving members access to a number of similar properties across a range of countries.

In the UK, the evidence suggests that increasing numbers of so-called millennials have looked at the disparity between sold property prices and their earning power and have concluded that they are locked into renting for life. While only time can prove or disprove the accuracy of their assessment, in the meantime co-living offers an accommodation solution that, although it does not equate to home ownership, provides advantages not commonly available in the rental market.

Part communal-style student accommodation and part hotel, co-living schemes provide their residents with a mixture of private and public facilities. A private en-suite bedroom forms the nucleus of the arrangement with the addition of other shared communal areas. What these constitute varies between co-living schemes but shared kitchens and laundry rooms tend to be the minimum residents can expect. However, many schemes offer much more. Lounges, gyms, swimming pools, work spaces, spas and gardens are just some of the facilities enjoyed by the residents of


Current co-living opportunities

1. West London: The Collective
Providing 546 homes complete with wifi and regular cleaners, this co-living venture provides its residents with their own cinema, library, gym, spa and themed dining rooms for as little as £250 per week.

2. London: Fizzy Living
With flats in seven locations across London and the south-east, Fizzy Living is particularly notable for being pet-friendly. Residents benefit from self-contained flats, shared communal areas that include gardens, and dedicated "pet stations".

3. East London: Norn
A cross between a house share and an exclusive members' club, Norn offers six-monthly membership that allows residents to move between properties in London, Berlin, Barcelona and San Francisco. In its own words, it is an "in-person social network". Part of the attraction of Norn is the philosophical discourse between residents when housemates mix in "salons" and at "conversation dinners".

In addition to the three co-living options above, a number of UK-based start-ups have begun acting as agents on behalf of buy-to-let investors, finding and managing properties suitable for letting on a co-living basis.


Co-living: future trends for investors to watch

Co-living is a fast-evolving trend. SoCity Group Ltd, the company behind 250 co-living flats currently in development in Leeds, also has plans for Southampton, Sheffield and Bristol. Other forthcoming co-living opportunities in the UK include Echo Street in Manchester.

Worldwide, the sector is receiving considerable interest and investment. Since 2015, global funding has risen by over 210 per cent each year, bringing it to an approximate total of $3.2 billion. During that time, the concept of co-living has evolved to widen its target demographic. Although initially pitched at young professionals, who might otherwise be unable to afford a flat close to their work, co-living developers are now targeting older individuals with above-average incomes who are nonetheless priced out of conventional rentals and who are willing to pay a premium in return for flexible leases, housekeeping services, shared facilities such as gyms and co-working spaces. For residents, the results may be private rooms with a smaller footprint but developers and investors are already benefiting from economies of scale. With the model no longer an untested investment opportunity, investors are proving increasingly willing to partner developers at an early stage of planning. In time, this currently niche market may grow to rival purpose-built student accommodation. And, although many of the investment opportunities will be geared to institutional or the largest portfolio investors, smaller investors would do well to watch developments. As sold property prices stick or slip in more traditional markets and regulations around rental properties tighten, prudent investors keep an eye out for potentially more lucrative alternatives. That said, this area is such a new one that it is difficult to assess and compare prices. Interested investors should also monitor possible future planning constraints and, if investing, take care to ensure the right balance between private and public spaces and tenant expectation and affordability.

Similar investment opportunities are available in the burgeoning multi-family sector. Analysis released earlier this year by Savills highlighted the potential: in 2018, multi-family investment hit 40 billion Euros across eight European markets. This marked a rise of over 25 per cent on the figure from 2017. And, in four of these mainland European markets, multi-family living investment was worth more than investment in office space. Of course, co-living (with relative or absolute strangers) has a way to go before it catches up with the multi-family sector, but the signs are positive that it will do so.
Nethouseprice newsletter
You can sign up to our newsletter and join Nethouseprice's community of over 190,000 members who get regular property tips, relevant offers and news, click here http://nethouseprices.com/auth/user-register
Source: Nethouseprices 21.11.19