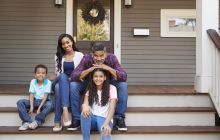 The best home security systems will help to keep you safe – no doubt about that. But if money is tight after buying your new place, there are plenty of cost-free, effective ways to protect you and your loved ones.
After all, buying a new property costs a lot, and you don't want to immediately break the bank afterwards, even for home security. But you also don't want to be burgled – it's terrifying, traumatising, and costly.
There have been more than 290,000 home burglaries in the past year, according to the Office for National Statistics, and they cost victims more than £3,000 on average. Here's how to make sure you don't become a statistic.
1. Lock all your doors and windows
By securing all your entry points, you're blocking off one of the most common routes for thieves.
32% of burglars enter homes through unlocked doors or windows. It's a simple oversight on the owner's part – but an expensive one.
2. Leave your keys out of reach
You don't want to lose your keys, but that doesn't mean you need to keep them just inches from the front door.
If a burglar can reach through your letterbox – either with their arm or a rudimentary tool – they shouldn't be able to stretch enough to grab your keys. So place your key bowl or set of key hooks at least a few feet away from the door.
3. Keep your lights, TV and/or radio on when you're out
Burglars are opportunistic. If they think you might be home, they'll probably move on.
So when you're out, use sight and sound to create the illusion that someone's there. Keep your TV or radio playing and some lights on, and place doubt in the minds of criminals.
4. Make sure your important papers are hidden – or destroyed
Rather than picking up some quick cash from selling a laptop or mobile, burglars are increasingly stealing victims' identities and selling them on.
So be sure to find a safe upstairs location for your passport, driving license, bills, and credit card statements – anything a stranger can use to pretend to be you.
And don't just throw away important documents – tear them to shreds and leave them in a closed bin bag.
5. Install the latest patches and updates for your smart devices
Burglars don't always use physical means to pierce your defences.
Your smartphone or laptop almost certainly contain enough private data to allow for identity theft, and may well give criminals the chance to access your bank account.
So don't click links in emails from suspicious senders, don't connect to a dodgy wifi network, and absolutely download all the updates your device offers.
It's no exaggeration to say that every app is a potential route to stealing your identity, so keep them up to date.
6. Close your curtains to hide your valuables
Don't advertise your possessions like they're on sale at Harrods. Draw your curtains or blinds and prevent criminals from getting an eyeful of your valuables.
Burglars love to know in advance that a home is worth breaking into, so if you don't give anything away, they're much more likely to move on.
7. Pretend to have a dog
You may not want to get a canine friend right now, but that's no reason not to reap the benefits of owning a fearsome guard dog.
You can download the sound of a dog barking off the internet (YouTube has a vast collection of free clips) and play it between 6pm and midnight – the most common hours for home burglaries.
Multiple studies have found that the sound of a dog is enough to ward off most burglars, giving you one of the best home security systems around for zero expense.
8. Use your garden to your advantage
Don't give burglars anywhere to hide.
The Metropolitan Police says you should keep your front hedges, fences, and walls under a metre high, so thieves are never allowed to feel like they're out of sight.
The sides of your home can serve as a different kind of deterrent, as they're usually further from the street and therefore less visible to passers by. Make them at least 1.8 metres tall and they'll stop burglars easily getting in.
Also ensure that your garden is well-kept, otherwise burglars might think you've gone on holiday, and left your home as an easy target.
9. Join a Neighbourhood Watch Scheme
No-one wants to be burgled – so why not harness the power of your local community to fight crime?
Make your home one of the 2.3 million in the Neighbourhood Watch Scheme, and you and your neighbours can help each other to stay safe.
Summary
Each year, every adult in the UK has a one in 42 chance of becoming a burglary victim – but protecting yourself against this risk doesn't have to cost the earth.
In fact, it doesn't have to cost anything. Just take the steps we've described, and you'll stand a much better chance of avoiding disaster, without needing to spend anything.
Written by EcoExperts' home security editor Josh Jackman