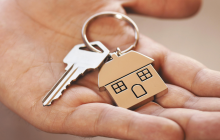 If you've never sold a house before - or haven't done so for many years - the idea can be daunting. Yes, you may well have read multiple articles covering decluttering, the need for that all-important "kerb appeal", and the importance of putting your home on the market at precisely the right time of year, but you may still be left wondering what you haven't been told and whether your path ahead is strewn with obstacles waiting to trip you up.

While we can't promise to cover all eventualities, here is a collection of tips from the pros - otherwise known as those who've recently sold their property.

1. Line up a solicitor before you think you need to
You may be expecting your home to take a while to find a buyer - and you may well be right. However, the housing market is nothing if not surprising and, if your property snags an interested buyer earlier than expected, the last thing you want is to lose that buyer because you're not ready to move forwards. This means having chosen and engaged a solicitor, and having notified your selling agent of their details. This is particularly important if your property faces lots of competition from other similar ones in the same location.

2. Ask your solicitor what their services encompass
While you might expect your solicitor's quote to include every aspect of the selling process, this will not necessarily be the case. Photocopying etc. may be charged as extras.

3. Is it important that you have a named contact at your solicitor's firm?
Large online licensed conveyancing firms are popular choices - and for a number of good reasons. However, if having a named contact is important to you, you may do better with a traditional high street firm. Even so, you'll still need to find out what its arrangements are for covering for your named contact's absence due to sickness or holiday, for example.

4. Do you know anyone else who's used the same firm of solicitors recently?
You may not, but if you do, and if their review is favourable, that's a big plus. It also means you can get a realistic assessment of how long, on average, it takes them to return phone calls or respond to emails.

5. Put smaller beds in smaller bedrooms
Your superking size bed might be a non-negotiable for you, but cramming large beds into small bedrooms can be very off-putting for buyers. Think about downsizing your large beds (temporarily!) in order to make a bedroom seem more spacious.

6. Don't get hung up on sold property prices
It's too easy to compare your home to others that have sold recently. However, contrary to popular perception, very few properties are directly comparable to another. Your neighbour's house that sold six months ago may be identical in design and built at the same time as yours but the two may not sell for the same amount. There can be many reasons for price discrepancies. An obvious example might be that one house has benefitted from a top-spec extension or, conversely, still has the same wiring system and single-glazed windows that were installed when it was built 100 years ago. Equally, your neighbour might have accepted less than market value because they were in a hurry to sell. Also, don't forget that external factors such as Brexit, a new government or changes in the financial markets have a real impact on sold property prices. A good agent should highlight these issues before your home goes on the market and help ensure its asking price is pitched appropriately.

7. Try to resolve any problems with the neighbours before putting the house on the market
Any hint of a problem neighbour can be enough to send a prospective buyer running for the hills - or at least running to make an offer on someone else's property. You probably know that you have a legal duty to declare any complaints or disputes involving the neighbours to your buyer. Worse - from your point of view - this duty extends back to historic events and forwards to potential future ones. However, don't despair: declaring a problem with one of your neighbours will not necessarily ruin your chances of clinching a sale. Even if it's not sufficient for them to overlook the issue, many buyers will appreciate a candid seller. They may conclude that if you've been up-front about your confrontation with next door over their lively parties or late-night DIY sessions, you are more likely to have been honest about other issues affecting the property. It's even better if you can explain that the issue has been resolved. Granted, if you can't, you may need to accept that the property's selling price could take a hit, but even this is preferable to a buyer taking subsequent legal action to chase you for compensation.

8. If your property is a "Marmite" property, embrace it
Trying to turn your home into something it isn't can be a real turn-off to buyers. Yes, it can be frustrating to have to accept that your home will not have hordes of viewers at an open house. However, you need to remember that you loved the place enough to buy it - and so will someone else. Often, it's just a question of being patient or holding your nerve until that someone else spots your home's particulars, but you may be able to speed up the process of that perfect buyer finding you. Ensure that those property particulars showcase what makes your property unique. This means making sure that the photography is spot on (and don't be afraid to use less common techniques such as drone photography or sunset imagery). It also means carefully targeted marketing. Contrary to received wisdom, not all would-be buyers trawl the major online selling portals. Some expect carefully curated property selections to come direct to their inbox or even through their letter box - and this is where a good estate agent is worth their weight in gold.
Nethouseprice newsletter
You can sign up to our newsletter and join Nethouseprice's community of over 190,000 members who get regular property tips, relevant offers and news, click here http://nethouseprices.com/auth/user-register
Source: Nethouseprices.com 27.01.20