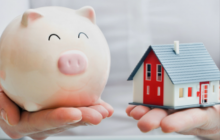 Best known as a holiday destination, North Wales also offers significant opportunities for property investors. Sold property prices tend to be low and there is a strong private rental sector. Additionally, of course, with properties in the right location, there is always the possibility for holiday lets.

As with any potential property investment, the North Wales market is not one to venture into without acquiring significant knowledge of its particular vagaries. Knowledgeable local estate agents and, if you can find them at networking events or through your own contacts, other investors, can offer valuable pointers and advice. However, there is no shortcut to undertaking your own research. We'll give you a head start by identifying five areas with potential.

1. Conwy
Having enjoyed a 7.9 per cent uplift in prices over the last year, it now costs an average of £172,000 to buy a home here. Within the county borough of Conwy, Dolwyddelan is one of the strongest performing towns. Situated roughly equidistant between the popular tourist town of Betws-y-Coed and the one-time mining town of Blaenau Ffestiniog in Snowdonia National Park, Dolwyddelan is popular with those relocating and tourists alike. The village is a tranquil place inside the boundaries of the national park, with some excellent walks. Most properties are traditional stone-built homes, often enjoying spectacular views. The opportunity to buy land with development potential is also occasionally available, although you should be mindful that planning restrictions within the national park are usually more onerous than those outside.

2. Anglesey
Showing an increase of 5.1 per cent, prices in Anglesey rose at a lower rate than those in nearby Conwy. However, average asking prices on Anglesey now stand at £177,083. This puts Anglesey at the top of the property price scale across the whole of North Wales. As well as catering to locals and holidaymakers, property investors interested in Anglesey also have the opportunity to help meet the housing needs of students from the University of Bangor attending the School of Ocean Science, which is located in Menai Bridge. The town of Menai Bridge contains varied housing stock, including smaller terraces and flats likely to appeal to groups of students.

3. Aberdyfi (Aberdovey)
This little town enjoys a picturesque location on the estuary of the River Dyfi. Long popular with tourists, it is an excellent location for anyone looking to invest in holiday accommodation. Prices here have remained particularly strong, with local agents reporting an average 7.2 per cent rise over the past three years. Property stock is varied and includes traditional farmhouses, older terraces, modern detached properties, and static and mobile caravan sites. Currently, there is also a flat for sale within a converted chapel. Properties with views out across Cardigan Bay attract a premium.

4. Llangollen
This Denbighshire town on the River Dee is well-known for its outstanding scenery and its extensive range of things to do and see. As well as the famous Victorian pier and the railway, visitors (and indeed visiting property investors) can enjoy a canal ride on a horse-drawn barge and browse through one of the best ranges of independent shops in North Wales. Property prices in the town are understandably buoyant, and competition for the best places can be brisk. The majority of private rentals are flats, but there is also a market for family houses. Housing stock is varied and encompasses everything from impressive modern detached homes to period listed properties.

5. Llŷn Peninsula
This beautiful peninsula is as popular with tourists as it is with the local population. The seaside resort of Pwllheli acts as its unofficial capital, but other significant centres of population include Abersoch and Porthmadog. There is excellent mileage in owning holiday accommodation in the area, with as much demand for really rural properties as there is for those in villages or towns. If you're tempted to invest in holiday property in the area, it's a good idea to have a chat with one of the specialist lettings agencies operating here. They can give you a feel for demand, and how it changes throughout the year, as well as what you might expect in terms of rent. Opportunities for residential lettings also exist, although these are sparser. As well as limited demand from individuals and families already living in the area, there is some demand from those considering moving to the area and who want to "try before they buy".

Tips for investment buyers considering the property market in North Wales

-Sold property prices in North Wales are often at their lowest during the summer months of August and September. Although there may also be fewer homes on the market, those months represent a decent opportunity for the canny property investor who has done their research and lined up their finances well in advance.

-Local estate agents report that many properties in the most desirable areas are selling within days of coming to the market. A few may never even make it to the online portals. Consequently, it pays to keep yourself ahead of the game. Once you know what sort of property you're after, and how much you're prepared to pay, give your details to all the agents who deal in that sort of property. Of course, it's a fine line between remaining visible and not making a nuisance of yourself, but don't be afraid to pop in every now and again, or phone them up to enquire whether they might have anything of interest in the pipeline.

-If you already live in the local area, keep your ear to the ground in the local shop, pub or church. Potential property sales, particularly in the more rural areas, are often common local knowledge well before they reach the attention of an estate agent. Who knows - the potential seller might be glad to avoid paying estate agent's fees and sell the property to you!

-If you don't live within the area and have no intention of moving, think carefully about how you will look after any property investments. The larger residential property management agencies tend to be concentrated in towns such as Conwy, which may present logistical difficulties when it comes to looking after a home on the other side of the Snowdonia National Park.
Nethouseprice newsletter
You can sign up to our newsletter and join Nethouseprice's community of over 190,000 members who get regular property tips, relevant offers and news, click here http://nethouseprices.com/auth/user-register
Source: Nethouseprices.com 29.01.20