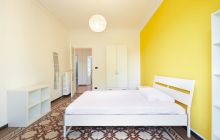 It's easy to over-focus on sold property prices and rental yields when buying a rental property. However, you also need to consider other factors, such as furnishing and equipping the property. To some extent, this depends on who you want to rent it out to.

A. Student market

1. Furniture considerations
Whatever furniture you put into your student let, it should be clean and hard-wearing.
Students renting a property will expect every bedroom to have its own study space. This means a desk or table large enough to accommodate books, papers and a laptop. Shelving is usually also a plus.

Most students would prefer a double bed if the room accommodates it. A student may also expect to pay a slightly lower rent if their room only has a single bed. Divan beds are usually more hard-wearing than frame ones.

Including a dining table and chairs can make your property easier to let as well as reducing the risk of sofas and beds suffering through food spillages.

2. Sockets
Make sure your property includes sufficient sockets positioned close to desks and tables.

3. Storage
Ensuring that each of your tenants has sufficient storage space is important. This includes wardrobes and dressers, and cupboard space in kitchens and bathrooms. It might also include secure facilities for bicycles.


B. Young professionals

Most properties targeted at young professionals are let on a furnished basis. Generally, this would not include rugs, pictures or decorative knick-knacks. However, if you're aiming for a corporate let, you may want to include some of these items as your tenants are less likely to come with any of their own and might appreciate some homely touches. Just make sure you don't include anything that cannot be replaced or that is particularly valuable.


C. Families

1. Gardens
Although not all family renters want a garden, as a demographic they are more likely to appreciate one than other renters. Try and keep planting low maintenance and consider including the services of a gardener as part of the rental contract.

2. Baths
It's not uncommon for properties only to include a shower in the bathroom. However, families with young children almost always want a bath (often as well as a shower). Trying to let a bath-less property to this demographic could be a very difficult sell.


D. For all demographics

1. Internet access
This is a "biggie". Whether you're renting to students, young professionals or families, it's practically a given that your tenants will expect fast, efficient internet access. You might assume that this means high speed wireless access. However, don't rule out a wired connection, particularly where you are renting to individuals who may do a certain amount of home working. This is due to the fact that a wired connection can still be more reliable, particularly in poor weather, and these are easier to secure, thus reducing the risk of data theft or hacking. As a result, it's not uncommon for employers to restrict home working to employees with a wired connection.

2. Good quality hard flooring
Carpets may look good when new, but they can be high maintenance. This is especially true of pale colours and for carpets in high-traffic areas. For tenants with young children or a propensity to hold the occasional party, they can be a lost deposit waiting to happen. If you must choose carpet, pick something with multiple colours or flecks. And, if you're tempted by wool carpets, bear in mind the risk of carpet moths or beetles.

Hard floors are a more practical choice. However, even here, you need to choose wisely. Wooden floors can be expensive. Engineered wooden floors have a tendency to scratch and can only be sanded and repolished a limited number of times. Stone or tiled floors can also be expensive, prone to scratches and, if they have a textured surface, tricky to keep clean. Vinyl floors may be your best option, particularly for kitchens, utility rooms and bathrooms. Available at all price points and in a huge range of designs, colours and patterns, the best are hard to distinguish (visually) from a wooden or stone floor. They also have the advantage of being easy to clean and usually straightforward to fit.

Remember that your tenant can always choose to soften the look and feel of any hard floor by judicious use of rugs. Most landlords would not choose to provide rugs, even in furnished properties, but if you do, make sure they have an appropriate non-slip backing.

3. Good bathroom taps and shower head
They may cost more to buy, but good quality taps and shower heads instantly "lift" a bathroom, making it seem more luxurious and attractive to use. Where you face competition for tenants, they can make the difference between letting a property or not.

4. Functional, well-equipped kitchen
You might expect to devote time, attention and money to a kitchen in a property that you hope to let out to the family market. You may not consider it so important if you are targeting young professionals or students. However, the perception that these groups do not cook is lazy thinking. Demand for student or one-pot cookbooks is higher than ever (just check out the non-fiction book-buying charts if you disbelieve this). And, when more people than ever are struggling to make ends meet, the ability to cook a decent meal at home is crucial.

This does not mean that you should put a high-end kitchen in a student let. However, any kitchen should be functional, with sufficient storage space for the proposed number of tenants and an adequate food preparation area. Offcuts of work surfaces are often cheap to obtain and, if you know a decent fitter, not necessarily expensive to install. A butcher's trolley topped with a work surface can also act as a good additional food preparation area. Double ovens are preferable to single ovens, and if you're supplying a fridge and/or freezer, it should be large enough to hold a week's shop for the household.

You may get away without installing a dishwasher or washing machine in an unfurnished family let. However, dishwashers are often viewed as a big plus, particularly by families and also young professionals. Washing machines are usually seen as an essential, especially in areas where launderettes are scarce or non-existent.

Finally, don't forget that a decent kitchen can also make the property easier to sell when the time comes, even if it will not necessarily be reflected in sold property prices.
Nethouseprice newsletter
You can sign up to our newsletter and join Nethouseprice's community of over 190,000 members who get regular property tips, relevant offers and news, click here http://nethouseprices.com/auth/user-register
Source: Nethouseprices 29.01.20