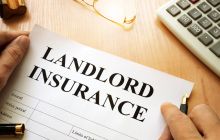 The cost and practicalities of taking out an appropriate landlord insurance policy are not usually considerations that preoccupy an investor searching for a new rental property. However, as thoughts turn from monitoring local sold property prices and getting finances in order, and towards completion and installing the right tenant as soon as possible, the right insurance policy should be a priority.

Data collected by Simply Business during the first 9 months of 2019 indicated that 43 per cent of landlords ask their insurance providers to include accidental damage as part of their landlord insurance policy.

You might answer, 'Well, of course.' However, the interesting question is why the other 57 per cent chose to omit this element of their insurance policy? Only those landlords could provide a definitive answer, but ignorance of the potential consequences is one possible conclusion. Another possible reason is unwillingness to assume the additional cost.

Further data from Simply Business indicated that - unsurprisingly - the cost of taking out a landlord's insurance policy increased (from an average of £181 to £194) if there was history of making a previous claim. This isn't a huge jump - but what other factors might also increase the cost of taking out a policy? And what can a landlord do to try and reduce the cost of their premium?

1. Keep the property in excellent condition
No, the insurance company won't come around to inspect the property and check that you've fixed the leaking roof and the fraying carpet edges, or replaced the faltering washing machine. However, if your leaking roof damages the paintwork on the interior walls and ceilings, your tenant stumbles over the fraying carpet and injures themselves, or that dodgy washing machine floods the flat on the floor below, you might need to call on your insurance company. And, yes, your policy may pay out, but the consequence of this is likely to be a rise in premiums. In short, keeping on top of maintenance and repairs not only helps keep your tenants happy, it can help keep your insurance costs in check. It also helps preserve the property's market value and ensures it keeps pace with local sold property prices.

2. Install appropriate security mechanisms
Most household insurance companies want to know what locks secure the property and whether there's a burglar alarm or CCTV. They're not asking for the sake of doing so; the answers may be reflected in the cost of the policy. After all, better security measures usually result in a lower risk of break-ins and, hence, a reduced chance of needing to make an insurance claim.

3. Check your level of cover
A surprising number of people go one of two ways. Either they take out absolutely minimal cover (perhaps no more than is required by their mortgage lender, if they have one) or they adopt a belt and braces approach. Just as the former approach is risky and not to be recommended, it makes sense to check that you are only insuring against realistic risks. For instance:

- Accidental damage (where your tenants or their visitors damage the property by accident) might be covered under the buildings and/or contents' section of your policy. Check before you add an additional element to the policy. However, be wary of deciding that you will rely on your tenants' deposits in the event of any accidental damage. First, the deposit may not be large enough to remedy the damage. Secondly, if the damage occurs during the life of the tenancy, you will need to pay to remedy it before you can access the deposit. Finally, make sure you don't rely on any accidental damage element to your insurance policy to cover wear and tear to the property or its contents. Just as you cannot withhold a portion of a tenant's deposit to recompense you for reasonable wear and tear, you also cannot claim against your insurance policy.

- Malicious damage (where your tenants or their visitors deliberately damage your property or any of its contents that belong to you) is a claim that no landlord wants to make. As with accidental damage, malicious damage is sometimes included within the buildings' and contents' element of an insurance policy. Where it is not, careful and judicious vetting of tenants and, in particular, taking references from previous landlords, can reduce the risk significantly. However, you cannot reduce the risk to zero. Consequently, including some level of malicious damage cover is sensible. If you need to claim on it, make sure you have reported the damage to the police, as the insurance company will almost certainly request a crime reference number.

- Property owner's third party liability (where you are deemed liable for injuries suffered by third parties as a result of your ownership of the building) is akin to public liability insurance for businesses. This is the insurance element you would claim against if your tenant tripped over that loose carpet and broke an ankle. It usually covers you for any damages awarded to your tenant and legal costs incurred by both you and your tenant. Given the potential for the awarding of significant damages, this is not an element to skimp on.

- Loss of rent (which covers you if your tenants cannot pay their rent because, for example, they have had to move out as a result of flood damage or a fire) is a significant element to many landlords, particularly those who rely on the rental income to pay a mortgage or supplement their own living expenses. However, make sure you check that the payout would be sufficient to cover the cost of your mortgage or living expenses. You could also choose a policy that covers the cost of providing alternative accommodation for your tenants, but be aware that this may be capped at below the market price of providing such temporary housing.

- Unoccupied property cover (which pays out when your property is empty and you are therefore without rental income) can provide peace of mind when potential void periods are a real concern. It's particularly useful for student landlords who may need to deal with long untenanted summer holidays, although any landlord can benefit if they pay the additional element to their premium. Note, however, that most claims are capped at 90 days, which means that this is not a suitable safety net for anyone facing lengthy void periods.
Nethouseprice newsletter
You can sign up to our newsletter and join Nethouseprice's community of over 190,000 members who get regular property tips, relevant offers and news, click here http://nethouseprices.com/auth/user-register
Source: Nethouseprices 05.02.20