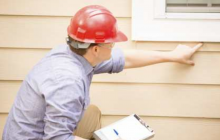 Few parts of buying and selling property are more nervously awaited than the survey. For buyers, a good survey provides comfort that they are not about to purchase a money pit. For sellers, a decent survey is reassurance that their buyers are now less likely to try and reduce the agreed selling price or even pull out of the purchase altogether. Finally, of course, from the point of view of a lender, a survey indicates whether or not a property is worth the agreed sale price.

Not all surveys are created equal. Some types provide more information than others - and consequently cost more to arrange. In England and Wales, it is usual for the buyer to arrange and pay for their own survey. However, there is nothing to stop a seller from commissioning their own survey. Sellers with particularly tricky properties - for example, one that needs considerable refurbishment or that they know or suspect has issues - may be more likely to do so.

Types of survey

1. Valuation report
It's something of a misnomer to include a valuation report in this list, although we've done so because so many buyers think of them in this way. Crucially, however, a valuation report is a report usually commissioned by the buyer's financial lending institution. Its aim is purely to ascertain that the buyer and their lender are not imminently about to pay more than the property is worth. In conducting a valuation report, the lender's representative will not necessarily even visit the property. It's common for valuation reports to be "desk jobs" or, at best, a "drive-by". In arriving at the property's value, the valuer will look at similar properties in the same area and, in particular, at recent sold property prices in the context of current market conditions. In doing so, it will take into account factors such as the age, condition and specific location of the property in question. It may also take into account obvious problems but it will not go into any detail on these and also will not unearth any hidden structural issues.

2. Condition report
Introduced in 2011, condition reports are aimed at conventional properties and, in particular, at newer homes. They are cheap to commission - often costing under £250. In return for their outlay, the buyer can expect a summary of salient points regarding the property's condition. This should include details of any obvious and urgent problems, as well as pertinent advice for the buyer's legal representative. Condition reports do not usually incorporate a property valuation. This is not a problem for buyers needing a mortgage, as their lender will commission a valuation report as described above, but a cash buyer may want to commission their own valuation.

3. Homebuyer report
Usually regarded as adequate for most traditionally-built properties that are less than a century old, a homebuyer's report provides both a market valuation and a report on the property's condition that is more detailed than that offered by a condition report. Unsurprisingly, homebuyer reports are more expensive than condition reports but, in return, you can expect to receive detailed information on flaws and potential problems, and an estimate of the building's rebuild costs. Any buyer with concerns - whether specific or general - about their potential purchase would be prudent to commission a homebuyer report as a minimum.

4. Structural survey
Full structural surveys are a must-have for most purchasers of older period properties and, particularly, for listed buildings. Their cost usually runs into four figures, but it's important mentally to offset this against the potential costs of putting right issues and defects that might arise after purchase. The information included in a structural survey report should be sufficient to ensure the would-be buyer is fully aware of existing defects, likely repair costs and ongoing maintenance issues. In other words, it's information that's pertinent to any decision about whether or not to proceed with the purchase.

Common survey issues

1. Down valuations
It's not uncommon for lenders to "down value" a property. This means that, in their view, that property is worth less than the agreed sale price. In 2018, one online estate agent went on record stating that one in five of its agreed sales resulted in a down valuation. This was a significant jump from just two years earlier, when only one in 20 was down valued. Other estate agents have reported similar trends and suggested that they may have been in response to fears of a perceived financial downturn and an associated anticipated slump in demand among buyers and a drop to sold property prices. Whatever the cause, neither buyer nor seller can argue against a down valuation. The buyer has three choices: walk away from the purchase, persuade the seller to accept the new lower valuation as the sale price, or come up with the difference between the valuation and the already agreed sale price.

2. Buyer considers pulling out after a "bad" survey
Many surveys, especially structural surveys, read a little like war reports. As such, they can be very off-putting, particularly to first-time buyers. Common issues identified include damp problems, rotting window frames, old wiring and subsidence. Before panicking, it's sensible for the commissioning buyer to read the full survey carefully and ask the surveyor to explain or elaborate on any points that aren't clear. Next, the would-be buyer should consult at least two specialist tradespeople. These tradespeople should always be independent of both the seller and their estate agent. They should be asked for their assessment of the work needed to remedy the problem, an estimate of how much it will take to do, and an indication of the likely duration of the work. This may be enough to provide sufficient comfort to proceed with the purchase. It may also be enough to make the buyer decide that the only way they can proceed is if the seller reduces the agreed purchase price.

3. Buyer tries to renegotiate sale price
Essential repairs may make the property unaffordable at the agreed price. It's important to be clear if this is the case. One option is to ask the seller to complete the necessary work to an agreed standard before exchanging contracts. Anyone choosing this option should ensure they get copies of any relevant receipts and warranties. Alternatively, sometimes buyer and seller agree to "meet halfway" and split the estimated costs. In this case, the seller's share is usually deducted from the sale price and the buyer arranges the work after completion.
Nethouseprice newsletter
You can sign up to our newsletter and join Nethouseprice's community of over 190,000 members who get regular property tips, relevant offers and news, click here http://nethouseprices.com/auth/user-register
Source: Nethouseprices.com 10.02.2020