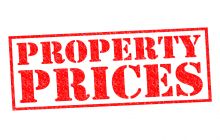 The recent news that UK property price growth has jumped to 4.1 per cent in January this year will have been music to the ears of property investors and estate agents alike. The rise is the highest enjoyed by the sector since 2018 - and while interested observers will be hoping that there is more of the same to follow, as ever, it pays to be cautious and investigate the substance behind the statistics.

Nationwide and Halifax
At the end of January 2020, Nationwide published data extrapolated from its own index figures that showed that price growth was currently higher than at any time over the preceding 14 months. Shortly afterwards, Halifax released its own index figures. They accord with the upward trend indicated by Nationwide and pinpoint an average rise of 0.4 per cent to sold property prices since December 2019.

Halifax's Managing Director, Russell Galley, has gone on record to indicate his confidence that this upward trend is set to continue. Activity among both buyers and sellers has "picked-up" while "uncertainty in the UK economy" as a whole has reduced. The forecast from Nationwide is rather more cautious, with a prediction of a "flat outcome" across 2020 as a whole.

Brexit
The passing of the Brexit deadline on 31 January 2020 and the UK's subsequent exit from the European Union has inevitably removed a degree of the economic uncertainty referred to above by Galley. This may, in turn, have prompted some of those buyers and sellers who have been "holding fire" to plunge back into the property market. However, this then begs the question whether this increased interest amounts to nothing more than a bulge that will correct itself over the next few months. Knight Frank is one interested party that clearly recognises the possibility of what one of its partners, James McKillop, has referred to as a "champagne cork reaction" to Brexit. Other commentators beg to differ - at least to some extent. Galley, for example, states that he expects property price growth to continue throughout the forthcoming year. To substantiate this view, he points to an imbalance between property supply and demand and, in particular, to the relatively low number of new builds both coming onto the market and in the planning and building stages of development.

In the short term, at least, Galley's forecast makes a lot of sense. However, it is crucial to temper that view with the point that - catchy political slogans notwithstanding - the terms of the UK's exit from the European Union are still wholly to be decided. The government might be trying to sidestep the use of the word "Brexit", but attempts to play tricks with semantics cannot hide the inevitable uncertainties. Currently, while the UK is riding out its transition period, it is reasonable to expect little or nothing to change for the general population. Indeed, some may be feeling more confident following talk of a "Boris bounce" after the Conservative party's landslide majority in the December general election. However, once again, it is important not to be carried away by newspaper headlines or social media posts.

With an unexpected mid-February Cabinet reshuffle, it is clear that the Conservatives are still finding their way forwards. And, while the soon-to-be-opened negotiations with the European Union are not quite "sabres at dawn", it is equally clear that there is little common ground between the two sides. Already, some observers are cautioning that a so-called "Australia deal" (in reality an exit on World Trade Terms, which is how the European Union and Australia current trade) could have serious repercussions across the economy. Inevitably, the property market would not be sheltered from this.

Act now?
Some investors may choose to strike while the iron is hot. Snapshot figures for January from Rics appear to bear this out: 17 per cent of estate agents and surveyors are reporting higher house prices. Agreed sales are also showing an upward trend, with the West Midlands leading the pack. Wales and Northern Ireland are not far behind, although Rics has predicted a rise in both sales and sold property prices across the whole of the UK.

Part of this confidence may be attributable to a rise in the number of enquiries from prospective buyers. 23 per cent of those who responded to Rics' most recent survey reported increased buyer interest during the first month of this year. This compares to 19 per cent in the previous month.

Fortunately for those new would-be buyers, a corresponding rise in sellers is equally apparent. Again according to Rics, new instructions rose from 11 per cent to 19 per cent between December 2019 and January 2020. Balanced against this, however, is the fact that most estate agents are still struggling with an historically low number of properties already on their books (an average of 43). From a would-be seller's perspective, this may be promising news: a rise in the number of interested buyers set against as yet limited competition from other sellers.

However, not all sellers have cause to celebrate. The top end of the property market (typically properties with asking prices in excess of £1,000,000, although precise figures vary around the country) continues to struggle. Asking prices are not translating into sales prices for around 56 per cent of estate agents and surveyors. How the sellers concerned feel about this is not as easy to quantify, but it is reasonable to suppose that a certain group of buyers are scenting an opportunity.

Coronavirus: a curve-ball?
Few commentators will have seen this one coming, but the new virus currently devastating parts of China and threatening to gain a hold elsewhere in the world is already having a calamitous effect on the sizeable Chinese property market. Worth an estimated $43 trillion (approximately ¼ of the entire country's GDP), the virus-related downturn, as homebuyers delay property searches and developers close sales' centres, is threatening to push economic growth down to 4 per cent for the first quarter of this year. According to the Financial Times, this is a low that's close to a figure not seen since 1990 following the massacre in Tiananmen Square.

Could something similar happen here? Only time will tell. Once again, property professionals and investors may have to consult their crystal balls.
Nethouseprice newsletter
You can sign up to our newsletter and join Nethouseprice's community of over 190,000 members who get regular property tips, relevant offers and news, click here http://nethouseprices.com/auth/user-register
Source: Nethouseprices 14.02.20