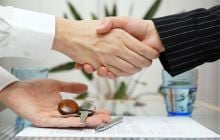 Buying a home is one of the biggest financial transactions most of us will ever undertake. It can also be one of the most stressful experiences in life. Many buyers and sellers feel let down by the process and frustrated by delays, particularly because it is difficult for them to find out what stage their sale or purchase has reached.
What do conveyancing solicitors do?
The professional knowledge of a conveyancer is vital because buying and selling a home is full of potential legal pitfalls. The legal aspects of conveyancing are complex and it takes many years of training to gain the knowledge necessary to advise homeowners.
If you are selling, your conveyancer will pull together all of the documents required to prove your legal ownership of the property and any rights or burdens relating to it. They also deal with questions relating to the property from the buyer and prepare the sale contract.
If you are buying, your conveyancer examines the legal documents for your new home and provides you with a full report setting out exactly what you are buying. The conveyancer also deals with the mortgage company for you and checks that your property complies with the lender's requirements. At the same time, the conveyancer needs to make sure that they keep you up to date with what is happening as well as liaising with estate agents and other conveyancers.
What are the difficulties with the current system?
Traditional conveyancing is full of delays and it leaves home movers and estate agents in the dark throughout the process. Many conveyancers will have their own in-house system so that they can see at a glance the stage each sale or purchase has reached. Some even have an online system for their own clients to log into. This helps them to update their own home movers but the difficulty is that these systems are not open to the other professionals in the same chain of sales and purchases.
This means that estate agents and conveyancers still have to spend many hours behind the scenes chasing each other by phone and email so that they can update their own buyers and sellers and unblock any causes of delay.
Many documents are still sent out by post for signature, causing a delay while the conveyancer waits for them to be returned. Delay is frustrating for the home mover but it can also cause extra expense if your mortgage offer expires. Delay is one of the major causes behind buyers and sellers deciding not to go ahead with a home move and the associated failure of a chain.
How can modern technology help conveyancing solicitors, home movers and estate agents?
Online platforms can provide a safe, secure and easy to use resource by which to track progress on each sale or purchase. Encryption technology keeps your personal and financial information safe and reduces the risk of fraud. Home movers, conveyancers and estate agents can all see the current situation at a glance.
This reduces frustration for home movers and frees up conveyancers and solicitors to concentrate on the legal work rather than dealing with progress queries. Conveyancers are able to deal with home moves more quickly and cost-effectively. Paperwork can be reduced, cutting costs and the environmental impact
OneDome's conveyancing platform moves everything in the conveyancing process online. It gathers all of the essential information in one place. Everyone has full visibility and the conveyancing process is faster because home movers, estate agents, and conveyancing solicitors can track the progress of conveyancing in real-time. Documents can be signed online.
Estate agents, buyers, sellers, conveyancers and solicitors all benefit from faster completion, reduced administration and improved visibility.
Source: NHP 14th February 2020