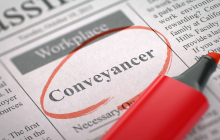 There's no doubt about it: any property sale or purchase has the potential to go wrong. Banks refuse to issue mortgages, buyers pull out, sellers change their minds and chains collapse for all kinds of reasons. However, for some reason, the prospect of running into conveyancing problems often does not occur to those who have engaged the legal professionals concerned. This is a pity because with a little forethought, it's possible to avoid some of the most common pitfalls and help keep a transaction moving forwards smoothly.

1. Picking the wrong conveyancer

'But what's the right conveyancer?' I hear you cry! 'How do I know which firm to pick?'
Unfortunately, all too often, the first indication that a conveyancer was not the right choice occurs sometime after (and occasionally many years after) a prospective seller or buyer has engaged their services. Indications that all is not well might include:

-Being unable to get hold of your lawyer

-The appearance of unexpected additional charges on your bill

-Access problems once you move into your new home because your lawyer did not unearth the fact that you cannot reach the property without crossing someone else's land, and there is no consent or subsisting easement for this

-Discovering after you move in that you are not allowed to park the van you use for commercial purposes on your drive

-Having problems selling on the property when your buyer's lawyer spots something that your original lawyer missed, for example that a previous owner built an extension without getting the requisite consents.

Remember:

Cheap conveyancers are often cheap for a reason. As is often the case, if something looks too good to be true, it usually is. Always ask yourself the following questions:

-Is this conveyancer going to have to cut corners in order to do the job so cheaply?

-Will I have a named contact at the conveyancing firm? If not, why not?

-If I do have a named contact, how do I know if they're appropriately qualified?

-Do I know who to complain to if I have any concerns?

-Do I understand what the "headline" fee covers and when I might be charged for any extras?

-Am I choosing a conveyancer recommended by my estate agent? Due to the fact that some estate agents receive a commission for referrals, this is common practice but it does not always result in the best and most efficient legal advice. You are under no obligation to use such a firm and it is usually preferable to seek an independent recommendation.

-Have I checked that the firm I am thinking of using is accredited as a legal business by Lexcel and / or is an accredited member of the Law Society's Conveyancing Quality Scheme?

-Does my conveyancer have requisite experience in similar transactions? While most property transactions offer little out of the ordinary for the experienced conveyancer, sales and purchases of listed properties or those of non-traditional construction may benefit from attention from someone accustomed to working with other properties of that nature.

-Is my conveyancer suggesting solutions to any problems that arise during the transaction? Although, occasionally, a conveyancer may unearth issues significant enough to convince you to call off the transaction, other problems may be resolvable. For example, many buyers run into difficulties with planning issues. In such cases, you should expect your conveyancer to explore the possibility of asking the seller to apply for retrospective planning permission or to take out an insurance policy against subsequent enforcement action by the planning authorities.

2. Not doing your share of the work

Yes, you are paying your conveyancer to ensure the property in question moves smoothly from one owner to another. However, to an extent, the effectiveness and efficiency of your conveyancer depends on you passing on relevant documents and responding in a timely fashion to any queries. Relevant documents may include mortgage agreements, and planning consents and guarantees for building works. If you're still at the stage of planning a sale or waiting for offers on your property, that's a good time to get organised (if you're not already) and collate those relevant documents.

Your conveyancer's ability to proceed as swiftly as possible may also be affected by how quickly searches are arranged. If you're the seller, there's little you can do aside from arranging access to the property when requested. However, as the buyer, it makes sense to arrange a survey promptly. Not only are you enabling your conveyancer to get on with their job, you are also signalling to the seller that you are a serious purchaser. Particularly in a seller's market, buyers who are dilatory about arranging surveys and proceeding with the transaction risk the seller re-marketing the property. This can have serious consequences in a strong market where sold property prices are rising.

As the client, it can sometimes be difficult to know when your input is required. Consider asking your conveyancer if you can be blind copied in on all emails relating to the transaction. This may help you spot potential problems earlier.

3. The effect of a chain on conveyancing

It's common knowledge that selling or buying a property that's part of a chain can take longer. In a conveyancing chain, each party is responsible for concluding their own transaction but, overall, the chain can only proceed at the pace of its slowest link. An inefficient, dilatory or reluctant seller or buyer elsewhere in the chain can cause the whole thing to grind to a halt. Equally, an inefficient or inattentive conveyancer may have the same effect. There is little you can do to influence this other than picking an experienced conveyancer yourself and asking them, and your estate agent, to bring appropriate pressure to bear.

The problems arising from some chains are reason enough for some sellers to choose chain-free buyers. Equally, in a buyer's market, where would-be purchasers are not afraid of rising sold property prices outstripping their ability to buy, some people may be more adamant that a seller needs to be prepared to close the chain (usually by moving into rented accommodation). Depending on market conditions, it's worth thinking about how you would respond to this sort of pressure.
Nethouseprice newsletter
You can sign up to our newsletter and join Nethouseprice's community of over 190,000 members who get regular property tips, relevant offers and news, click here http://nethouseprices.com/auth/user-register
Source: Nethouseprices.com 02.03.20