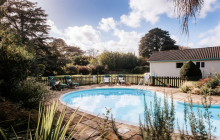 Even before lockdown focussed your mind, you may have considered adding a swimming pool to your property. We take a closer look at the pros and cons of this decision.

An estimated quarter of a million UK properties have their own private swimming pools. And, every year, another 2,500 or so householders install a pool - and this doesn't include those who choose one of the collapsible above-ground pools that are a notch above the average paddling pool.

Installation costs
Installing a permanent swimming pool is not a cheap undertaking. Even entry level models cost at least £20,000 to £30,000, while you can comfortably add another zero for larger, flashier versions.

However, initial outlay aside, are swimming pools a sound investment in your property? And how are they viewed by the average house hunter?

Running costs
One of the first issues to consider is running costs. Any swimming pool requires a certain level of maintenance in order to keep it safe to use. Estimated costs vary depending on pool size and, especially if you're looking to outsource the work, area of the country, but £10 per day is not an unreasonable estimate. And, if your pool is heated, those costs will inevitably increase.

Safety
Secondly, there's the safety issue. Fences, gates, alarm systems and, for indoor pools, lockable doors, are all options, but some people, especially those with young children, may never feel able to relax if their home includes a swimming pool. This is one group of people that may choose not even to view a property with a pool.

Putting yourself in the shoes of a prospective buyer
Leaving safety issues aside, you may be able to absorb the running costs, but it's worth considering how a prospective future buyer of your home might view the same expenditure. Estate agents often view pools as something of a Marmite addition to a home: some buyers love them, but others hate them. If, as a seller, you can attract the former group, that's great. However, if too many of your target market are pool-haters, you are relying on one of them deciding they like your property enough to absorb the cost of removing the pool.

Removing a pool
Pool removal - and the associated remedial landscaping costs - is not cheap. The savviest buyers may price up the cost of removing a pool before making an offer on a property. If you're selling a property with a pool, particularly in a buyer's market, you should not be surprised if would-be buyers negotiate hard in an attempt to ensure that the sale price reflects the cost of removing the pool.

Do swimming pools equal lower sold property prices?
There's no one answer to this question. Although, contrary to many sellers' expectations, a swimming pool certainly can actually devalue a home's value, much will depend on the property's size, specification and location, and on the state of the wider property market. Homes at the very top of the market are less likely to be affected than cases where a pool has been shoehorned into a property in which it is out of place (when compared with similarly sized homes in the same area). Unfortunately, the sold property prices achieved by homes in this category frequently disappoint their sellers.

If you're set on installing a pool, think about the following tips from estate agents before beginning the project:

-Plan the pool's location carefully. At least in the UK, outdoor pools should not dominate the garden and it is almost never worth sacrificing the majority of the outside space to a pool. Consider using high hedges to screen the pool.

-Maintain the pool carefully, even when it's not in use. As well as paying attention to the water quality, cleanliness and temperature, remember to check for cracked or broken tiles, ensure that the grouting and sealant is in good condition, and that the filters are working correctly and are not blocked.

-Cover the pool when it's not in use. This is particularly pertinent if you're hoping to sell the property: an out-of-use pool with dead insects and drifts of leaves floating in it will not entice buyers. It's possible to buy electrically-operated covers but, whatever you choose, remember that rainwater could collect on the top of the cover and present a potential safety hazard to children, pets and wildlife. Consequently, a pool fence is a sensible precaution for even a covered pool.

-Natural swimming ponds are an increasingly popular alternative to traditional pools. Intended as far as possible to mimic the experience of swimming in a lake or river, they are pools that are landscaped to look natural and wild. As well as water weeds, they are often home to dragonflies, pondskaters, frogs, toads and similar native wildlife. One of their big attractions is the fact that they do not rely on chlorine to keep them clean and safe for swimming. Instead, it is the plants - an integral part of any natural swimming pond - that do the majority of the work filtering and cleaning the water. Any surface debris is removed via a discreet small filter while a pump is used to keep the water circulating and deter mosquitoes from laying their eggs. Due to their similarity to many garden ponds, there are few gardens in which natural swimming pools look out of place. Their biggest issue is the cost of installing them: the average one costs more than £50,000 and prices closer to £100,000 are not uncommon.

-Jacuzzis, hot tubs or the collapsible swimming pools already mentioned can be sensible alternatives to a traditional pool - and just as much fun. Moreover, you may be able to take them with you if you move house.

-When you come to sell the property, ensure you have details of how much the pool costs to run. Where appropriate, you could also make clear where savings could be made. For example, on heating costs or by taking back pool maintenance from an external firm.
Nethouseprice newsletter
You can sign up to our newsletter and join Nethouseprice's community of over 190,000 members who get regular property tips, relevant offers and news, click here http://nethouseprices.com/auth/user-register
Source: Nethouseprices.com 27.04.2020